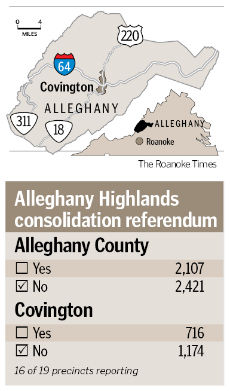 COVINGTON — Voters in Alleghany County and Covington rejected a proposal Tuesday that would have merged the two governments and created the sprawling city of Alleghany Highlands.
The ballot question asked: "Shall Alleghany County and the City of Covington Consolidate? Yes or No."
The "No" vote prevailed in both jurisdictions. Greater opposition was expressed in the city, as a large majority of Covington voters who cast ballots rejected the plan.
A majority of voters in both jurisdictions would have had to have voted "Yes" for consolidation to proceed. If it had passed, the merger would have taken effect Dec. 31, 2012. At 450 square miles, Alleghany Highlands would have been the state's largest city by land area.
The consolidation proposal had been stitched together by two citizens committees — one representing the city and one the county. Their work began in November 2009.
The region has twice before rejected varied forms of consolidation, most recently in the late 1980s. In that referendum, voters in the county and Clifton Forge — then an independent city — approved of consolidation while Covington voters rejected it.
One catalyst for this most recent campaign came in the spring of 2008 when the Alleghany Foundation released a study suggesting that a combination of savings achieved by the merger of Covington and the county and their school divisions, along with the prospect of increased state funding for schools, police and other services, could ultimately yield millions of dollars a year for the economically struggling region.
Proponents said the savings could be used to recruit and retain employers and pay for capital projects.
Also, supporters of merging the two jurisdictions believed a city form of government would have provided more flexibility in taxing and economic development — flexibility that could be important if the region's largest employer and taxpayer, MeadWestvaco Corp., shut down area operations.
Anxiety about MeadWestvaco's future presence in the region tamped down a bit after the company announced plans to invest about $285 million at its paper mill.
Joe Carpenter was chairman of the city's citizens committee and was once a member of the Alleghany County Board of Supervisors before moving to Covington.
"We've known from the beginning that this was an uphill battle," Carpenter said. People often fear the unknown, he said.
Steve Bennett, chairman of the county board of supervisors, has opposed the plan.
"The voters have spoken and we'll continue on," Bennett said. "The really rural people felt intimidated with the idea of being a city and I think the city of Covington was really concerned about losing control.
"If we try to work on something like this in the near future, we've got to include some more details," he said.
Without them, he said, many people envision the "worst-case scenario."
Be the first to know
Get local news delivered to your inbox!