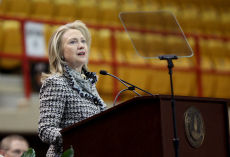 LEXINGTON -- Secretary of State Hillary Clinton paid homage Tuesday during a speech at Virginia Military Institute to illustrious VMI alumnus George C. Marshall, class of 1901.
She praised Marshall's service to the nation in various roles, including as secretary of state, from 1947 to 1949, when he was among the architects of the Marshall Plan to rebuild the economies of war-torn Europe after World War II.
Marshall received the Nobel Peace Prize in 1953 and died in 1959.
Clinton spoke for nearly 30 minutes Tuesday in VMI's Cameron Hall to about 1,600 cadets, VMI staff and the public. Security was tight. She visited VMI to receive the institute's Distinguished Diplomat Award.
Clinton said Marshall recognized that building secure democracies that could become partners with the United States required more than military might.
Effective diplomacy involves a host of approaches and strategies, she said, including humanitarian aid, support for human rights and recognition of the vital importance of economic development and entrepreneurship.
She quoted Marshall, who observed in 1945 about conditions in Europe, "Along with the great problem of maintaining the peace, we must solve the problem of the pittance of food, of clothing and coal and homes."
Clinton touted the importance of using the "three D's" when working with countries around the world -- diplomacy, development and defense -- to build democratically secure and just societies.
She talked about the wisdom of "smart power," which she described as employing a range of tools -- diplomatic, military, economic, political, legal and cultural -- in foreign policy.
She acknowledged the United States has experienced recently a difficult period in its relationship with Afghanistan. But she said it is clear a price will be paid if the U.S. abandons the country.
Clinton said leaders in Iraq have a chance, if they take it, to build a free and democratic country.
She said a "full-court press" of sanctions against Iran could help persuade the country's leaders to disclose the status of its nuclear program.
She said U.S. ambassadors are now blogging and tweeting and otherwise using social media to communicate with people in their countries.
And Clinton said women and girls must be included in discussions as countries fight to emerge as democracies.
"We need to involve women at every step," she said, a line that elicited applause from the crowd.
She noted that women began attending VMI nearly 15 years ago.
Clinton said America's strength is still necessary. Although the country cannot solve every problem worldwide, she said, "there is no big problem that can be solved without us."
Her plans for her visit to Lexington included a stop at the George C. Marshall Foundation at VMI. In June, Clinton received the 2011 Marshall Foundation Award.
Be the first to know
Get local news delivered to your inbox!