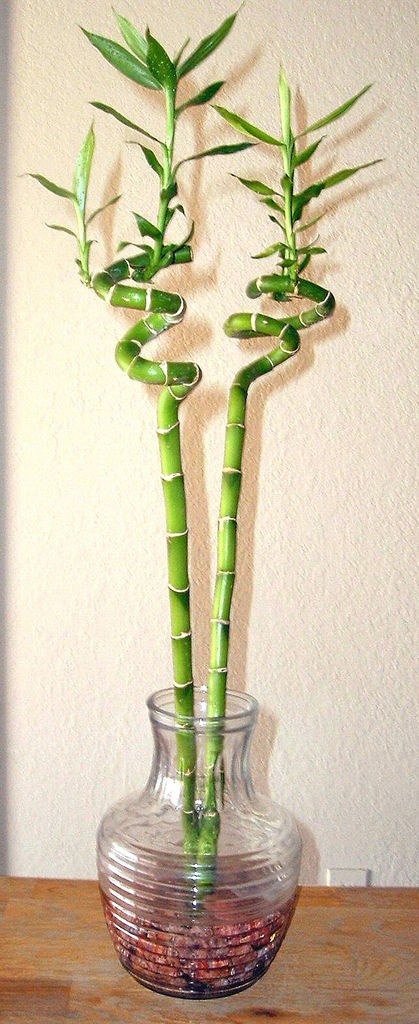 Bamboo has long been known as the Chinese symbol for strength, due to its fast growth and resilience. Lucky bamboo, which is actually a member of the dracaena family and not bamboo at all, is given as a gift of good fortune as it looks like bamboo, but is much easier to grow as a houseplant. A gift of lucky bamboo symbolizes the wish for a strong life filled with prosperity.
If you are giving lucky bamboo as a gift, the number of stalks given determines the type of blessing being bestowed.
Two stalks are sent as an expression of love, and are also said to double your luck.
Three stalks bring three kinds of luck: happiness, long life, and wealth.
Four stalks are never given. In Chinese language, the word for "four" sounds very similar to the word for "death", so four stalks are said to draw negative energy. Giving one as a gift would be very rude and interpreted as giving a death wish.
Five stalks attract health to all five areas of your life: emotional, intuitive, mental, physical and spiritual.
Six stalks attract prosperity and advantages to achieve greater wealth. In the Chinese language, "six" sounds like the word "luck".
Seven stalks bestow good health.
Eight stalks improve fertility. In Chinese, "eight" sounds like the word used for "grow".
Nine stalks symbolize great luck.
Ten stalks bestow a wish for the recipient to feel complete and complacent. The sender wants the recipient to have everything in life that they envision and desire.
Twenty-one stalks are given to bestow a very powerful overall blessing for great wealth and enduring health.