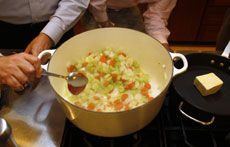 Photo by Eric Brady | The Roanoke Times
Students prepare sauce espagnole during a class at Foodies in Roanoke County.
Related
The five mother sauces
Espagnole: A gravy made from beef or veal stock. Variations: Use Marsala wine to create chicken Marsala.
Bechamel: A cream- or milk-based sauce. Variations: Add Parmesan to make Alfredo; Gruyere to make Mornay sauce; sausage for sausage gravy.
Veloute: A gravy made from clear chicken broth. Variations: Enrich with eggs to create sauce allemande.
Tomato: The tomato-and-herb-based classic. Variations: Add vodka and heavy cream to make vodka sauce.
Hollandaise: An emulsification of butter, egg yolk and lemon juice. Variations: Add fresh tarragon to make sauce bearnaise.
If Marie-Antoine "Antonin" Careme  were alive today, he would undoubtedly have his own television show on the Food Network.
Heck, he might even own the Food Network.
The 18th-century Frenchman was known as "the king of cooks, and the cook of kings," and for good reason: He cooked for Napoleon of France,  Alexander I of Russia, England's George IV  and the Rothschild family of banking fame.
He also created dishes for one of his biggest (and roundest) fans, Italian composer Gioachino Antonio Rossini .
Careme may have been the original celebrity chef, but he left a legacy much broader than his name. He was the first to publish a classification for sauces, calling four basic recipes the "mother sauces."
His four categories included espagnole (brown stock-based), veloute (clear stock-based), bechamel (cream-based) and allemande , a veloute enriched with eggs that is very similar to hollandaise sauce.
It wasn't that nobody was making these sauces before Careme came along; he was just the first to point out that an array of different sauces could be created just by embellishing these mother sauces.
In essence, they are the building blocks of saucemaking.
About 100 years after Careme's time, French chef Auguste Escoffier  updated the mother sauce list, adding tomato sauce.
What would many of our favorite dishes be without a sauce? Imagine the poor fettucine without Alfredo, eggs Benedict without a dollop of hollandaise or pizza with a dry, sauceless crust.
Knowing I could no longer allow saucemaking to be a weakness in my own kitchen, I recently took a "mother sauces" class at Foodies  in Roanoke County.
Our teacher was Steve Alls , a graduate of the Culinary Institute of America who manages all the chefs in the  mid-Atlantic region for Kroger. Alls focused on the mother sauces he was taught at chef school: espagnole, veloute, bechamel, tomato and hollandaise.
"This is the basis of French cooking right here," Alls told the class. "If you can do these, you can do any kind of sauce."
In the days before refrigeration, sauces were often used to disguise the taste of food that was going bad.
Today, a wonderful sauce can be the crown jewel of a plate, complementing or contrasting with other flavors to create a masterpiece dish.
That's why it has always bugged me that my gravies are too thin and I don't know how to make a decent hollandaise from scratch.
Alls taught us that saucemaking need not be hard; it just requires the cook's apt attention. He also warned against thinking of sauces as hoity-toity — your grandmother's beef gravy was essentially an espagnole, and her sausage or chipped beef gravy was an embellished version of bechamel.
Espagnole, veloute and bechamel are all made using the same steps:
1. Sweat mirepoix  in oil or butter in a saucepan. "Mirepoix" (pronounced meer-pwah) is a fancy word for chopped onions, celery and carrots. The veloute, which is supposed to be  very light in color, uses a white mirepoix with parsnips substituted for carrots; bechamel starts with onions only.
To "sweat" means to cook at a low temperature to draw the moisture out of the vegetables.
2. Pour in liquid. For espagnole, you can use beef or veal stock. For veloute, use chicken stock, and for bechamel, use milk or cream.
3. Add herbs, if necessary, and simmer for an hour or so.
4. Strain the vegetables and herbs, leaving only liquid.
5. Thicken the sauce with roux (a mixture of melted butter and flour). For espagnole, you cook the roux until it turns the color of peanut butter. This is called a brown roux.
I'm sure that right now, some culinary school graduates are howling in disagreement. That's because the classical French method calls for thickening the sauce before straining it.
Alls told us it works both ways, and I can see how it might be easier to strain out the herbs and mirepoix before thickening. If anyone wants to e-mail me with a different opinion, I would love to hear from you.
In our class, we also made tomato sauce using delicious San Marzano  canned tomatoes, olive oil, onion, garlic and fresh basil. San Marzano are considered by many to be the best sauce tomatoes available, and I haven't tasted a fresher sauce made with canned tomatoes.
Alls offered tips here, too: Do not cook your tomato sauce for more than one hour, he said, because the color turns brown and the fresh flavor is diminished. If you like a smooth sauce, he said, simply puree it.
Finally, we tried our hands at hollandaise sauce, which falls under the category of an emulsification. The most well-known emulsified sauce is probably mayonnaise.
To "emulsify" is to mix together two liquids that do not normally combine well, such as oil and water. This is done using an emulsifying agent, usually eggs, and slowly adding one ingredient to another while mixing rapidly to disperse and suspend tiny droplets of one liquid throughout the other. The result should be thick and satiny.
Our hollandaise experiment proved the old cliche that too many cooks in the kitchen spoil  the broth (or in this case, the sauce). We missed a small window of opportunity to drizzle the butter into our egg yolk and lemon juice mixture and the sauce "broke," or separated.
To my mind, the failure was a valuable lesson:  Cooking is a process, and we learn from our mistakes.
The best part of making sauces is getting creative with them, and this was also the best part of our class.
Alls described a number of ways to embellish the mother sauces to produce something more complex.
For example, adding Parmesan cheese to bechamel gives you homemade Alfredo sauce. Adding Swiss cheese or  Gruyere creates sauce Mornay.
Tarragon added to hollandaise results in bearnaise sauce. Bechamel mixed with veloute creates a deliciously creamy chicken gravy.
On their own, these sauces can also be incorporated into lots of comfort food dishes. Espagnole would make a delicious base for beef stew, Alls said, and veloute is great for casseroles or pot pies.
He pointed out that with the exception of hollandaise sauce, these sauces can be frozen in individual bags or containers and thawed out for a quick, delicious meal.
Many sauce variations mentioned above are documented and named, but Alls encouraged his students to get even more creative and invent their own versions of the basic sauces.
"Recipes are just a guide," he said. "Play around with it a little."