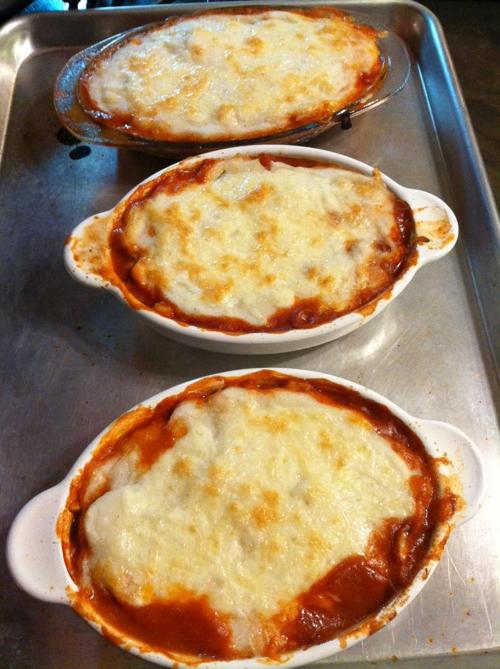 The last few weeks have seen a lot of birthday cupcakes and Halloween candy and sugar hangovers in general at my house. Which are not so conducive to good writing about good food. So today I'm handing the blog baton over to my boss and former Fridge Magnet diva Lindsey Nair.
But before I do, let me throw out a request for guest bloggers. As the holidays approach and take me away from my keyboard and kitchen, I'd love to have a few foodies to fill in. Interested in writing about your culinary adventures for the blog? Leave a comment or email me at christinanifong@gmail.com.
Thanks! And now, here's Lindsey.....
Since I went from food columnist to features editor at the newspaper last year, I've run into many readers who say, "I enjoy Christina's food articles in the paper, but I miss yours, too!"
It is so flattering to hear that sentiment, but I haven't had the heart to tell them that part of me was relieved when I made the move. After seven years of writing a food column and blog, it was liberating to no longer think about turning every meal into a story. I have eaten Luna bars for breakfast and frozen pizzas for dinner with wild abandon and zero shame.
Of course, I'm still a food lover and I still enjoy cooking very much. I take pleasure in stocking the fridge with old standards, but I also feel the urge to experiment.
Recently, I decided it was definitely time to mix up the routine and test some new recipes. So I've pushed my chile verde closer to perfection, baked some sweet and crunchy raisin-nut bars from a recipe I found in my grandmother's handwriting, and tried quick and easy pasta dishes on weeknights.
In a recent week, I took advantage of a new subscription to "Cooking Light" and tried two dishes, Mexican pot pies and autumn veggie pasta made with butternut squash, toasted nuts and fresh herbs. Both are going on my do-not-lose list and are perfect for fall and winter, so I reckon it's time to share the knowledge.
These recipes have both been adapted to make use of ingredients I already had on hand and to make them a little less "light," so I'll share them the way I made them.
Next time, I'll put black beans in this, too.
12 oz. ground or diced raw chicken
1 (10-oz.) can diced tomatoes and green chiles, undrained (such as Ro-tel)
1 (8-oz.) can unsalted tomato sauce
1/2 cup ground yellow cornmeal
1 1/2 cups water, divided
3 oz. Monterey Jack cheese, or to taste
1. Preheat oven to 400 degrees.
2. Heat a large skillet over medium heat; add oil and swirl to coat. Add onion, saute a few minutes. Add chicken, cook 3 minutes, stirring to crumble. Stir in cumin, chili powder and half of the salt; cook 1 minute. Add zucchini, corn, tomatoes, tomato sauce; bring to a boil. Reduce heat and simmer 8 minutes, stirring occasionally. Divide mixture among 4 (10-oz.) ramekins coated with cooking spray (as you can see, I fudged this and used three oblong oven-safe dishes). Place ramekins on a jelly roll pan in case they bubble over.
3. Place remaining salt, cornmeal and 1/2 cup water in a medium bowl; stir to combine. Bring remaining 1 cup water to a boil in a medium pot. Gradually add cornmeal mixture, whisking constantly, cooking 3 minutes or until thickened. Whisk in most of the cheese. Dollop cornmeal mixture among ramekins and spread evenly over the top. Sprinkle with remaining cheese. Bake for 15 minutes or until the top is light golden brown and cheese is melted.
This called for farfalle (bowtie pasta) but I used spiral noodles instead. I also switched the walnuts for pecans because I thought I had walnuts in the freezer, but I was totally wrong. You can roast the squash ahead of time and then just throw this together after work.
1/2 of a large butternut squash (halved lengthwise)
1/2 cup walnut halves (or chopped pecans, or some other nuts maybe)
8 oz. uncooked pasta, such as farfalle (I used less because I like more other stuff than pasta)
1 Tbsp. olive oil or butter
1 1/2 cup chicken or vegetable stock
1 1/2 Tbsp. white wine vinegar
1/4 cup fresh flat-leaf parsley
1 Tbsp. fresh minced sage
2 oz. Parmesan cheese, shaved (I used feta!)
1. Preheat oven to 425 degrees. Coat a baking dish with cooking spray.
2. Take your halved squash and scoop out the seeds. Spray cut side with a little cooking spray and put it in the baking pan. Roast 45 minutes, or until it is tender when pierced with a fork. Remove and let cool, then peel and cut into 1-inch cubes.
3. Cook pasta according to package directions (if you aren't watching your salt intake, salt the heck outta the water). Meanwhile, toast those nuts in a hot, dry skillet or a toaster oven; don't burn. Chop them if they weren't already.
4. Combine oil, stock, vinegar, garlic and squash in a large skillet over medium-high heat. Bring to a boil, then reduce to simmer for 8 minutes, or until the liquid has reduced and thickened. If you want the squash to hold its shape more (I liked mine mashed down a bit), don't add it until near the end of this process.
5. Combine pasta, squash mixture, walnuts, herbs and cheese in a large bowl. Serve and dine.