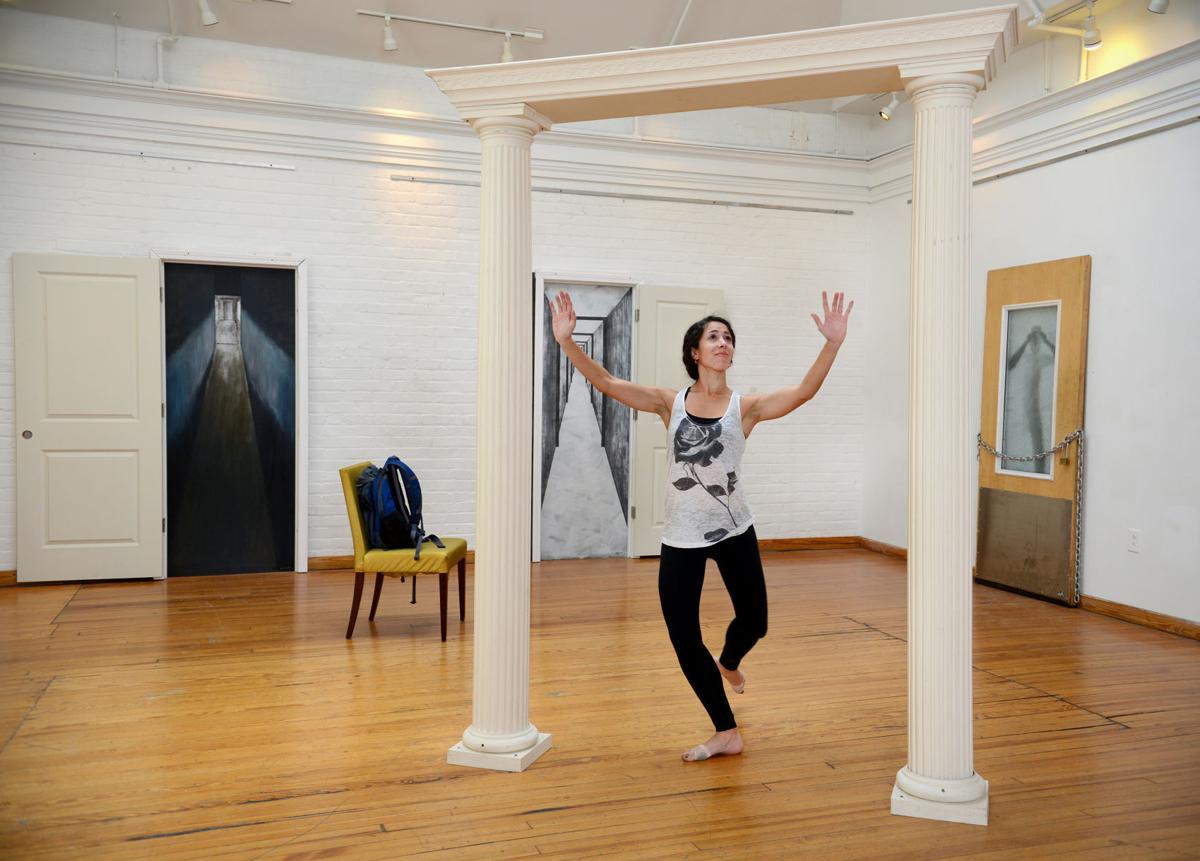 Roanoke artist Karen Carter has been thinking about doors, and the metaphors they can represent, for about three years.
Her art exhibit, "Symbolism of Doorways," provides multiple illustrations of that theme. It opens Friday in Roanoke's 202 Gallery, coinciding with the next Art by Night gallery tour.
"Some people are scared of change," she said. "Doors are there for them to go through, but sometimes there's a fear."
That can be fear of failure or even fear of success, she said.
About half of her show is made up of oil paintings, the other half an installation that makes use of real door frames. Placed along the wall, the doors open into large scenes of Carter's creation, drawn in charcoal and painted in acrylic. Roanoke contractor David Greene helped set up the installation.
Acquired through Craigslist, a free-standing entrance recalling classic architecture sits in the center of the installation. It works well as a prop for dancer Lisa Linger to interact with.
"Symbolism of Doorways" has a multi-disciplinary element that involves dance and music. This addition to the show can only be seen at the opening reception Friday evening. Carter, who's also the pianist for Campbell Memorial Presbyterian Church in Vinton, will play the music that accompanies Linger's dance.
Linger, 27, recently moved to South Roanoke from Asheville, North Carolina. She and Carter met through another of Carter's artistic pursuits. Carter writes regularly for South Roanoke Living Magazine, a gig that often calls for her to find neighbors with creative talent to interview and profile.
Carter had been seeking a dancer to take part in her show. She believes it's no coincidence she found Linger. "She was the perfect person all along."
Linger, who has a master's degree in psychology, grew up dancing. The piece she choreographed is meant to be "a visual interpretation of transition."
Linger has ambitions to combine mental health advocacy and dance, a project she calls "Mental Health in Motion."
Linger's performances start at 7:30 p.m. Friday.
Carter, 52, has always had a passion to create. She has written an essay to go along with the art show she has spent the past six months pulling together. "You will always have life decisions," she wrote, "and this show was inspired to bring an awareness of hope and inspiration and to encourage others to not fear change and also to be aware of their doorways in their life."
Friday at 6 p.m., St. John's Episcopal Church will hold a free All Saints Memorial Concert as part of its Music on the Corner series.
Singers from Saint John's and Roanoke's Second Presbyterian Church will join forces for a performance of Mozart's Great Mass in C Minor.
Jeffrey Sandborg, director of the Roanoke College Choir and the Second Presbyterian choir, will serve as conductor. Sandborg related an interesting additional tidbit via email.
His wife, soprano Marianne Sandborg, a resident artist and voice teacher at Roanoke College, will be one of the concert's soloists, as will tenor Logan Stugart, a West Coast native who is one of her students.
"He's a music major here at Roanoke, having decided against pre-med," Jeffrey Sandborg wrote. Stugart has previously performed in the Oregon Bach Festival. "Logan has an unusually rich background in music and did lots of singing at high levels as a young guy."
St. John's Episcopal Church is on the corner of Jefferson Street and Elm Avenue at One Mountain Ave. S.W. For more information, call 343-9341 or visit stjohnsroanoke.org.