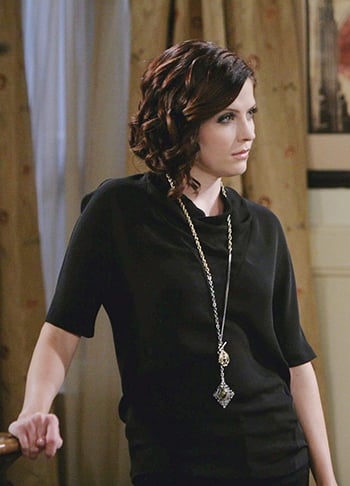 People who work in the performing arts are sensitive about revealing their ages, not for reasons of vanity, but because ageism is rampant in both the stage and screen industries. Many interview subjects have told me that making their age public could limit the parts they can land.
That's what makes Jen Lilley's announcement last week that she'll turn 30 next month particularly striking. Lilley is one of the artists who has talked with me about the potentially dire consequences to her career of revealing her age. The Cave Spring High School graduate plays the villainous Theresa Donovan on the NBC soap opera "Days of Our Lives." She had a small role in the Oscar-winning film The Artist and last year guest starred on the Robin Williams sitcom "The Crazy Ones."
I asked her why she did it, and took the opportunity to also ask what she's been up to lately. Her answers, lightly edited, follow the questions in bold.
Q: You recently revealed your age as part of a charity drive effort. Could you talk about the pressures of ageism you face as an actress (even though you're only 29!) and what made you decide to do this?
Women are still very discriminated against in this business. Right now, in the film industry, these are the stats:
Only 4% of cinematographers are women.
Only 9% of directors are women
Only 15% of writers are women
0% of summer blockbusters were helmed by women! And not for lack of amazing films by women.
And ageism is a huge part of it.  If you're a woman and you're over 25 and you don't have credits (which luckily is not the case for me), then agencies will not sign you, and few managers will. For men the cut off is generally 35, but they're much more lenient.
A fan with good intentions outed my age on Wikipedia a few years ago ... earlier this year I decided to announce that I'm married, and at that point, everyone assumed I was older than 24-25 (my previously assumed age) so I let Wikipedia go. 
Then I thought, well, I might as well embrace my true age because people are more likely to donate for a charitable cause if it's a milestone birthday.  And so I decided for my Dirty 30, I would reveal the dirty little secret that I'm actually 29, and expose the United States' own dirty little secret:
We are the number one producer and consumer of child pornography in the world, and American children are the main victims (http://innocentjustice.org/know-more/). 
Child pornography and human trafficking are the fastest growing industries in this nation. 
200,000-300,000 children in the U.S. are at risk every year for commercial sexual exploitation (Estes & Weiner, 2001).
Those statistics must change! If me revealing my true age helps in any way, then I'll shout it from the rooftops.
Q: What's the latest for Theresa on Days of Our Lives?
Days is going great! Theresa is in over her head after bashing John Black in the head with a fireplace poker, and then framing her husband Brady for the crime.  For the rest of the year, the audience will see her unraveling.  It's very intriguing, and I'm tickled pink to take on such a Herculean task.
Q: What else are you working on?
I'm also working on an award winning web series called Youthful Daze playing Natalie Cardin (who is supposed to be 21 to 22 years old, I might add).  I'm shooting that on the weekends. 
I'm also working on a public service announcement about child pornography in the United States, in hopes to raise money and awareness to make a full documentary.
I'm also writing two sitcoms, but I don't have a timeline for those because I barely have time to sleep as it is. I'm writing one of them with Jade Harlow (from Passions and Days of Our Lives).
I'm planning a huge celebrity bowling tournament on October 19th to raise money for Childhelp (childhelp.org), America's leading anti-child abuse charity and hotline.  Childhelp is extremely legit, has a solid 55-year track record, rescued over 800,000 children last year alone.  
I have a Christmas CD coming out this year.  It's a compilation of celebrity artists, and I'm this year's featured new artist, with a new original Christmas song.  All of the proceeds go to help wounded veterans.  I will be performing it live in New York on December 5th.
Then because of my song on the Christmas CD, I'm working with a music producer on some other songs.  Stay tuned on that.
Later this month, the Screen Actors Guild Foundation has asked me to speak on a panel of experts about social media! 
And other than that, I'm volunteering at my church and my other charities on my website, and planning my 30th birthday party.  I'm doing a choose your own adventure party, so it's four different parties (game night, comedy show, beach bonfire, and making care kits for homeless people) and my friends can decide which one to show up to.  My hashtag for social media is #JensDirty30. 
I like to stay busy, though this is a little much even for me I think.
Be the first to know
Get local news delivered to your inbox!