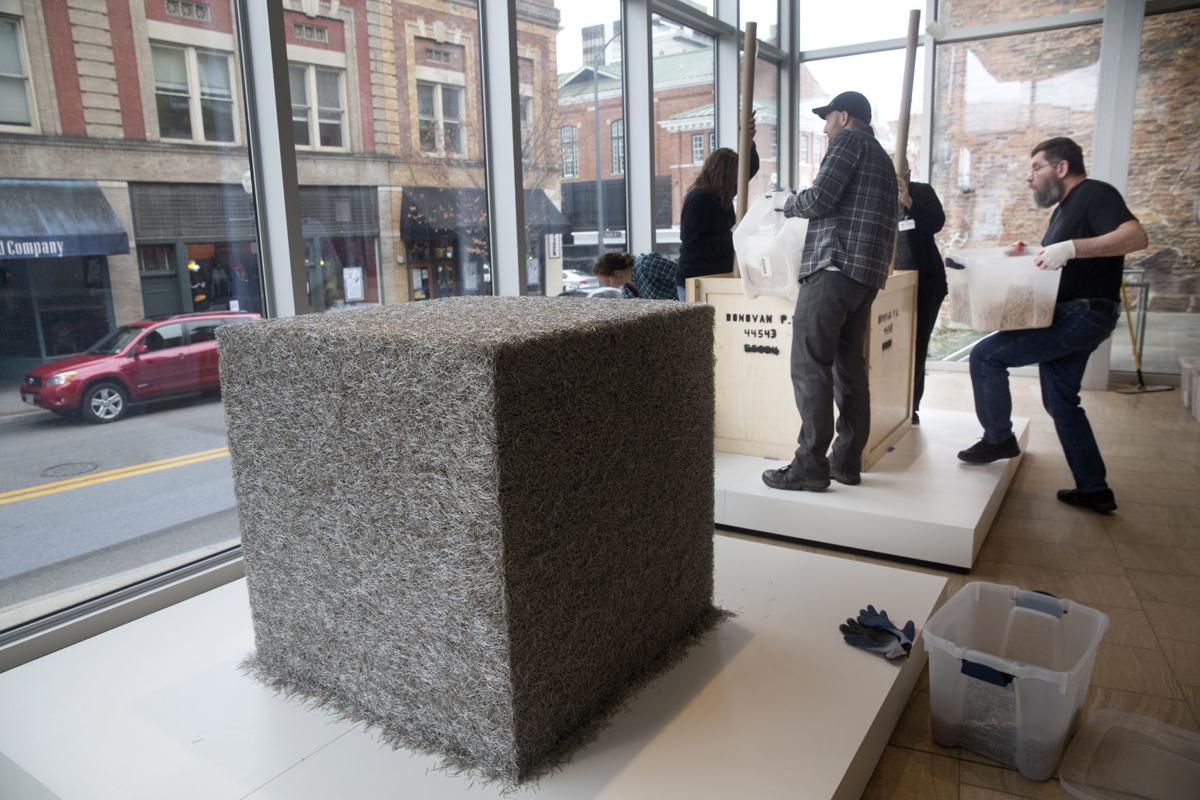 At a casual glance, the two new sculptures in the Taubman Museum of Art's front window might at first resemble a bale of hay and a bale of hair.
Up close — but not too close — you can see that one cube is made of toothpicks, and the other is made of straight pins. The pins and picks are not glued in place. Friction and gravity hold them together.
The installation, which has no title, is the creation of Brooklyn artist Tara Donovan. "A lot of what she's known for is her use of very ordinary materials that she transforms by using them in large amounts," said Patrick Shaw Cable, the museum's deputy director of exhibitions and education.
Her sculptural installations are made from things like Scotch tape, plastic cups, golf pencils or drinking straws, but she'll use thousands or millions of them. For example, a 2006 sculpture that looks like a three-dimensional replica of a landscape turns out to be made from stacks of cups, the varying heights of the stacks creating the mountains and valleys.
The artist has joked in interviews that she works with such basic materials because that's what she could afford when her career was just beginning.
"A lot of her shapes end up being more organic," like clouds or stalagmites, Cable said, which makes the simple cubes on display at the Taubman a little unusual. The museum received Donovan's piece as a long-term loan.
In a description of the artwork, Cable wrote that the idea behind it occurred to Donovan "when she dropped a box of toothpicks and saw that those most tightly packed in the box remained clumped together on the floor. She then began to experiment with packing toothpicks together into larger and larger forms."
Cable wrote that Donovan's cubes call to mind work from the Minimalist movement of the 1960s.
A graduate of Virginia Commonwealth University and a recipient of the MacArthur Fellowship "genius grant," Donovan wasn't present when Taubman staff assembled the cubes at the start of December, but she left instructions to follow. Museum staff used wooden mallets to tamp fistfuls of pins and toothpicks down into two large wooden cubes. (The cube of pins also has a wooden form on the inside, and the pins were packed into the space around it.) Once the packing and tamping had finished, the staff removed the sides of the outer molds and hoped the contents didn't fly apart. But for a few pieces falling loose, both held their shape.
Slowly, the cubes will shed pins or picks, which Cable said evokes the process of entropy, "suggesting their eventual dissolution."
The Taubman has established something of a tradition of large temporary works made of ordinary materials, such as James Grashow's 2010 installation "Corrugated Fountain," which replicated Rome's "Fountain of the Four Rivers" in cardboard, or North Carolina artist Jonathan Brilliant's immense 2016 abstract sculpture "The Stir City Piece," made from 70,000 coffee stick stirrers.
Leiber gallery goes metal
The Taubman Museum has given its Judith Leiber handbag exhibition a new look. It's a bit more metal.
Leiber, who died in May at age 97, was once dubbed "the Fabergé of handbags" by fashion magazine Vogue. Her tiny handbags, made in a variety of shapes — such as owls, monkeys, dragons and more — reflected her often-repeated maxim that all a woman needs with her for a night out is "a handkerchief, lipstick and a $100 bill."
Because of a gift from the late Roanoke philanthropists Sydney and Rosalie Shaftman, the Taubman has one of the largest Leiber collections in the country.
The museum occasionally switches out the handbags displayed in the small gallery permanently dedicated to them. Recently they filled the gallery with a selection prominently featuring Swarovski crystals, semiprecious stones and gold plating, so that the handbags all appear to be forged from silver and gold.
Cable called the display "a nice complement to the 'Drive' show," referring to the museum's exhibition of classic American cars. "It really is a gem of a collection."
General admission to the Taubman Museum of Art at 110 Salem Ave. S.E. in Roanoke is free. The museum is open Wednesday-Saturday, 10 a.m.-5 p.m. and Sunday, noon-5 p.m. For more information call 342-576 or visit taubmanmuseum.org.
Second Presbyterian Church in Roanoke will hold a free concert of music from Handel's "Messiah" on Sunday at 5 p.m. Conducted by Jeffrey Sandborg, director of the Roanoke College Choirs, the concert's performers include Roanoke organist Richard Cummins and Roanoke Symphony Orchestra concertmaster Akemi Takayama.
On Monday at 7 p.m., South Roanoke United Methodist Church will host a "Messiah" sing in partnership with St. Elizabeth's Episcopal Church in Roanoke and Opera Roanoke. Those who wish to join in are encouraged to bring their own score. Admission is free. Donations benefit Child Health Investment Partnership of Roanoke Valley.