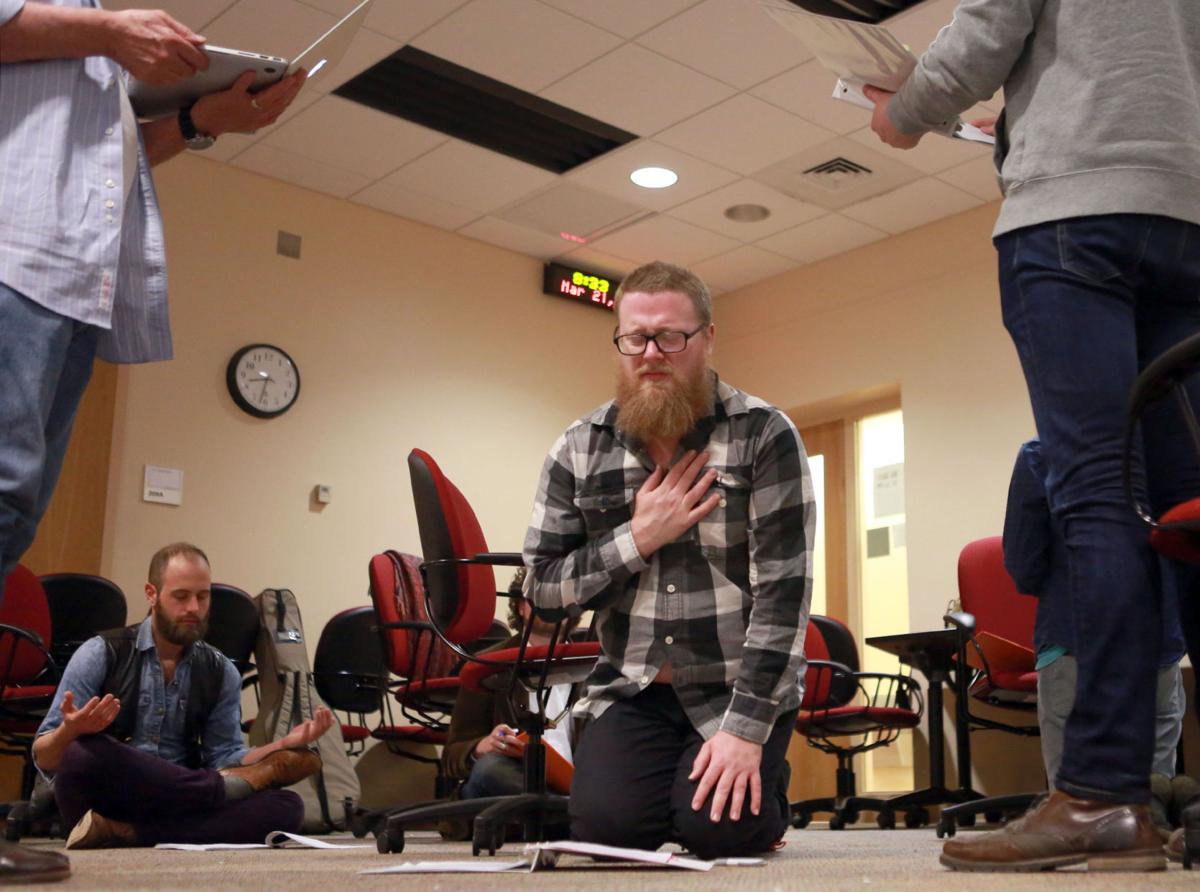 Thomas Murray pronounced a series of French phrases aloud, as he read from a script memorializing a professor slain on the Virginia Tech campus 10 years ago.
Around him, eight other volunteer actors read from their own scripts, each part of a tribute to one of the 32 victims of the April 16, 2007, shootings. They were rehearsing a play, "What a Stranger May Know," that commemorates the lives lost that day. The play premiered five years ago but has never been performed on the Virginia Tech campus.
The artists behind Saturday's performance of the play hope it will spark conversation and healing. They're using it to launch a series of talks about community healing, recovering from gun violence and preventing it from happening again. The play and dialogues are all part of a project called "The Space Between."
Murray's part honors the memory of Jocelyne Couture-Nowak, a French teacher killed in the shooting. Her daughter, Francine Dulong, co-director of the play, watched the actors practice and offered suggestions about following the unusual stage directions.
Dulong, 33, spoke from experience. When the play debuted in 2012 at Rhode Island's Brown University, she read her mother's part.
A native of Nova Scotia, Canada, Dulong graduated from Blacksburg High School and studied theater at the University of British Columbia. "I was writing my final exam during the shooting," she said.
Over the years, she often has been asked how she's coping with the loss of her mother. "The fact that I can actually do this project speaks volumes," she said. "It doesn't ever go away. It just becomes a part of you."
Playwright and Brown University professor Erik Ehn visited Tech in 2009 to begin writing and researching "What a Stranger May Know."
"Erik, being an amazing writer, contacted all the family members to let them know and get their consent," Dulong said.
She chose to take part in the play, she said, "because so many different people have so many connections to the event, to the people who passed away. It's not just my story. It's a collective story."
"I have to say that Francine's presence in the project has been hugely important. Her participation, performing at Brown, was momentous," said Bob Leonard, a Virginia Tech theater professor who's both an organizer for and performer in the project.
During Tuesday's rehearsal, Leonard read the part for engineering professor Liviu Librescu, who died while blocking the door of his classroom so his students could escape through the windows.
The rehearsal took place at the Center for Peace Studies and Violence Prevention, opened in 2009 on the second floor of Norris Hall, in the same building where gunman Seung-Hui Cho fatally shot 30 faculty members and students before committing suicide. Dulong and her stepfather, Jerzy Nowak, first proposed the center's creation, and Nowak became the center's first director.
Dulong's co-director, Dor Cosby Atkinson, led the actors through breathing and meditation exercises, and drills meant to get the cast in tune with the idea of keeping track of what others are doing while reading their own lines. A 2011 graduate of Tech's MFA program in directing and public dialogue, Atkinson took part in a 2012 performance of the play at Santa Clara University in California.
When "What a Stranger May Know" debuted, in commemoration of the fifth anniversary of the shootings, it was performed on 24 college campuses, including one in Ireland, but not at Tech.
"We talked about doing it here, and it became clear that it was still too early for the families to encounter such a memorial," Leonard said.
The play has an unusual structure, which Atkinson said derives from Noh theater, an ancient Japanese tradition that doesn't follow Western narrative structure. To someone who happened upon the play without knowing its content or context, it might look like group performance poetry, with each performer reciting their assigned part simultaneously.
The idea isn't for audience members to watch from a distance, but to wander at their own pace among the performers spread out across Henderson Lawn, pausing by whichever ones they choose, to hear what's being said.
In essence, the play creates a living memorial garden. Each actor sings and speaks about the person they have been assigned. At times, the actors all fall silent at once, or speak in unison. Overall, the monologues are meant to represent the perspective of someone who wishes they could have known the person who was lost.
After Saturday's performance, there will be a community discussion held in Theatre 101 to reflect on the play and the topics it raises. Following that, the organizers of The Space Between — Atkinson, Dulong, Leonard, Murray and Ehn — will preside over a series of dialogues held in different locations around Blacksburg.
"The Space Between is almost 'What a Stranger May Know 2.0,' " Dulong said.
"The creation of performance art within a community can be a catalyst for social change in the community," said Murray, a 34-year-old theater MFA candidate from Chicago.
"My sense of 'The Space Between' is that it's really focused on the active dialogue exchange," Leonard said. "The reading of 'What a Stranger May Know' might serve as a prompt and an inspiration."