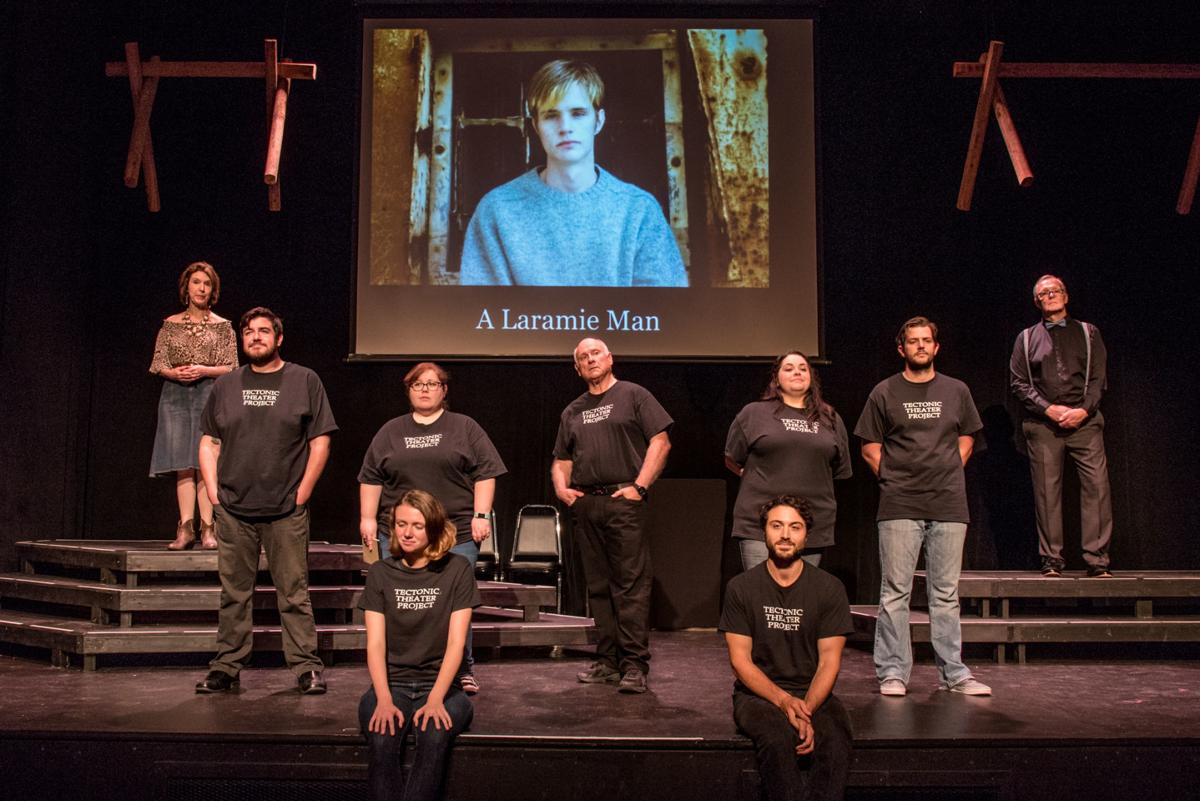 In another setting, large wooden fence posts might make one think of green pastures and pastorals, but when we enter the theater for Essatta Art and Off the Rails' production of "The Laramie Project," the fence posts are a stark reminder of intolerance and hate.
Set in rural Laramie, Wyoming, the play recounts the story of Matthew Shepard, a young, gay man who was tied to a fence post, beaten and then abandoned by his attackers. With a theme of intolerance and a plot that begins with a murder, the scenario itself is a compelling theatrical conceit. But what gives this work its power is that it's a true story. Drawn from interviews with townspeople and news accounts, the play was developed by Moises Kaufman and members of his Tectonic Theater Project. Over the course of the year following Shepard's murder (1998-99), the company visited Laramie six times and conducted more than 200 interviews.
The brutal incident brought national media attention to the small town, and deep-seated social tensions to the surface. While the play does tell the story of "what" happened to Matthew Shepard, its aim is higher. It is an attempt to understand "why" the murder happened. The play literally gives voice to the townspeople, some who knew Matthew (Matt, as he was known to friends) and some who didn't. Through the play we are privy to personal thoughts, difficult questioning and direct confrontations of long-held views.
Under the competent direction of Rachel Sailer, this production has a hard-working cast of 26 actors playing more than 75 different characters. There are a number of standout scenes and performances. Brian Lee moves easily between two very different characters, Doc O'Connor and Rob DeBree. Michael Mansfield gives an especially moving performance as Dennis Shepard. Pete Sheldon as Jedadiah Schultz, a young university theater student, brings just the right mix of earnestness and self-reflection. Kelly Anglim as Reggie Fluty and MaryJean Redon Levin as Marge Murray, Reggie's mother, are the quintessential mother/daughter duo. And the performances of Barry Bedwell, Les Epstein, Janemarie Laucella, Sarah Pressley, Betsy Quillen, Mady Sale, Corey Stewart, Ami Trowell and David Witt all impress. I would like to recognize the efforts of the entire ensemble, which include a number of actors I have not named.
By the end of the play, the fence posts have become a place for the people of Laramie to gather, to contemplate, and to discuss; a place for compassion, understanding and mutual respect. With the coming mid-term elections, I see the play as a call for us to choose hope over hate. As one of the characters says, let's "meet at the fence." I hope to see you there.
Be the first to know
Get local news delivered to your inbox!