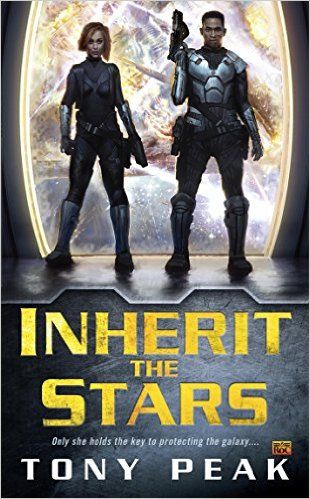 Thanks to everyone who came out to support a local author. Brooke Summerlin, you are the lucky winner of "Inherit the Stars" signed by Tony Peak. Please e-mail a mailing address to suzanne.wardle@roanoke.com and I'll get this book out to you as soon as possible.
---
This week is a special giveaway starring New River Valley author Tony Peak, whose sci-fi novel "Inherit the Stars" came out last month. You can read The Roanoke Times review here. "Inherit the Stars" received praise from Publishers Weekly, Library Journal and numerous other publications. I'm giving away a signed copy.
I did a Q&A with Tony, and for this giveaway, I'm inviting you to join in. To enter the giveaway, ask Tony a question in the comments below. He has graciously agreed to pop by the blog and answer your questions directly. This is your chance to ask a published author about his book, his writing, his ideas, his advice, anything. If you have already read "Inherit the Stars," please jump in to talk about the book, though I ask you to be careful about spoilers.
I'll pick a winner Monday, Dec. 21. If you want a signed copy sooner, Tony will be at the Barnes & Noble at Valley View on Saturday from 5 to 8 p.m.
---
Q: Tell us a little bit about yourself. Have you always lived in Southwest Virginia? Do you write for a living?
A: I was born and raised in Southwest Virginia, and have lived here my entire life. I don't write for a living yet, though that is the goal.
Q: Your website says you "started taking writing seriously in 2008, made my first sale the next year." What prompted you to take writing seriously then? What was your first sale?
A: I'd wanted to be a writer for years, but never gave it my full attention. I'd write the occasional short story, but months would pass before I wrote another, and I never submitted them to a market. Finally, I knew that unless I gave it a serious shot, it would never happen. There wasn't a singular event; I simply made up my mind to do it. So I started writing one story a week to build my discipline. Soon I sent them to short fiction markets, just to see what would happen. That eventually led to my first sale, "Azazel's Journal," a dark fantasy story about a girl who discovers that knowledge comes with a price.
Q: Your first novel, "Inherit the Stars," has been described as "an old-fashioned space adventure" and "a rollicking space opera." Can you share more of what it's about and where the idea came from?
A: It's about a young woman, Kivita Vondir, finding something within herself that can change not only her civilization, but the cold void of uncertainty deep in her heart. Sure, it has epic action scenes, romance, and mystery, but underneath all that is the desire to find one's place in the universe. The story gestated in my mind for years, but I didn't write it until 2011. I'd wanted to craft my own space opera for some time, using material I wrote way back in 1997 for a science fiction RPG that never got off the ground. I never dreamed I'd actually find a use for all of the characters, planets and aliens I'd created.
Q: "Inherit the Stars" is your first novel after years of short stories (or short fiction). It's also the first of a trilogy. What are some of the challenges of writing a novel or series versus shorter works?
A: Actually, it's the fourth novel I've written, but it happens to be the first one to see publication. The challenges, at least for me, are in the revisions. That first draft is easy compared to the amount of rewriting I'll do in subsequent drafts. With a novel, you have a much larger canvas to tell your tale than a short story, but you still have to maintain a cohesive narrative. It's easy to fix plot holes, polish prose, tweak character motivations, and correct continuity errors in a 3,000-word story. Now imagine doing all of that in a 110,000-word novel, with the added challenge that you must keep the reader engaged over hundreds of pages of text. Yet, both long and short fiction have their own challenges. Remember, a novel is ultimately easier because there's so much space to do what you want. Not so with a short story, where brevity and impact go hand in hand.
Q:"Inherit the Stars" comes with a pronunciation guide. How did you come up with names such as Ecrol, Juxj and Frevyx? Do they pop into your head fully formed, or do you draw inspiration from other sources?
A: Sometimes I look at words in a book, or even on product packaging, and then I combine them to make something new. I also like how certain words appear on the page. The configuration of the letters, versus how they are actually pronounced. That in itself can produce exotic, unique names. Take Sarrhdtuu, for instance. It sticks out because it's so odd. Then I'll sound it out in mentally and verbally. But I try not to go overboard. I created the pronunciation guide for the narrator of the audio book version, and I posted it on my website just in case a few readers were scratching their heads.
Q: Your website also says a star map is coming soon. What will that be? How does it intersect with the trilogy?
A: I'm still deciding on what software I'll use to create that. I may go with Cosmographer, an add-on for Campaign Cartographer. The map will provide a visual representation of the story's locales, kind of like the maps you see in old fantasy novels. I've always liked those.
Q: Your regular reads include Archaeology magazine, Astronomy magazine and National Geographic, and you have a strong interest in science and space. How does fact inform your fiction? Do you do a lot of research to imbue your novels with reality?
A: It depends. When writing science fiction, for example, I never break the known laws of physics unless there is a reason (such as having engines capable of faster-than-light travel). No matter how fantastical a story is, it has to be grounded in reality, or readers won't connect with it. Though I'm not a hard SF writer, I do admire such work. Research varies based on the story. I have an unpublished novel that takes place right here in Virginia, in 1755, during the French and Indian War. I did quite a bit of research for that, even to the point of hiking and photographing the story's major locales myself. But everything contributes to my fiction; the more I know about science, history and human culture, the more believable I can make the worlds I create for my stories.
Q: For the writers: On your website, you advise writers to "keep your expectations realistic, be patient, develop a thick skin, keep submitting your work — and write like hell." Any more advice?
A: Write the novel you'd like to find in the bookstore. Be professional. Be humble. And remember that you'll never know all there is to know about writing. It's a lifelong learning experience.
Q: For everyone: What do you like best about living in Southwest Virginia?
A: Southwest Virginia will always be home to me. I love the wooded mountains, the meandering, ancient New River, and the chirp of cicadas during summer twilight. I admire its vermilion and gold majesty at autumn, and the alabaster stillness of winter snow clinging to leafless branches. I like knowing that the ground I tread upon was walked by people who spoke another language, from another culture, in another time.
Be the first to know
Get local news delivered to your inbox!