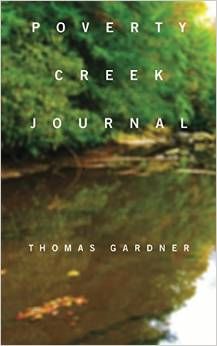 As a former English teacher and runner, I came to "Poverty Creek Journal" by Virginia Tech professor Thomas Gardner with eager anticipation mingled with a little skepticism. The slender paperback felt skimpy in my hands; yet within its few pages lay the promise of lyrical essays Gardner penned after running Virginia trails from January to December 2012.
I remembered the rush of oxygen pumping through my body while running and the interconnected, rambling thoughts and half-thoughts that waxed and waned in my consciousness. I recalled the creative surge just after a run, and so I had high hopes that the book would resonate. At the same time I feared the journal would fall victim to over-sentimentality or drift into a cold and not so lyrical prose.
Instead, Gardner teeters perfectly between the poetic and prosaic thoughts that summon him to the wonder of experience, to the sacredness of the ordinary. As his running becomes nearly an exercise of muscle memory, his thoughts vacillate between the voice of nature and the all too familiar language of grief and desire, disappointment and satiety. "There's an inner music that carries [him] along," and we recognize the melody. Gardener articulates the common experience of all, whether runners or not, as "time after time, he'd think himself into a corner, and time after time, he'd walk himself out, trying to sense for himself the texture of words."
What makes this journal much larger than its length, more panoramic than its scope, is the multitude of companions joining Gardner on his daily runs. At times "the woods murmur and cluck … a single guttural syllable." At other times Gardner encounters Whitman, Dickinson, Stevens, Bishop or Heaney and briefly stumbles over a line or two or three of his poetic accomplices. Still more poignant are the moments he shares with his wife, Laura, and his brother John whom he lost to a heart attack.
"Time moves differently out there," Gardner asserts, and time spent savoring these entries moves us far beyond the page, the trail, and the act of running. Nearly all of the entries are punctuated with a tender tableau, an image or scent or sound frozen in space: "cold feet, the frozen ground," "bushes and leaves … bending down to sip," "empty spaces waiting to be filled," "the anonymity of it all, those exhausted, radiant bodies."
"Poverty Creek Journal" is rich in image and sanctified in incredible humanity. I've read it three times now, and on my daily walks I hear Gardner's voice amid the muffled conversations of my own companions: Whitman, Browning, Merton, Keats, Millay and Rich, my mother, my father, my partner. I recommend this lovely, slender book to anyone mesmerized by the extraordinary nature of being.
As for me, I think I will search my closet floor for those abandoned Brooks Adrenaline running shoes. Poverty Creek Trail is calling me by name.