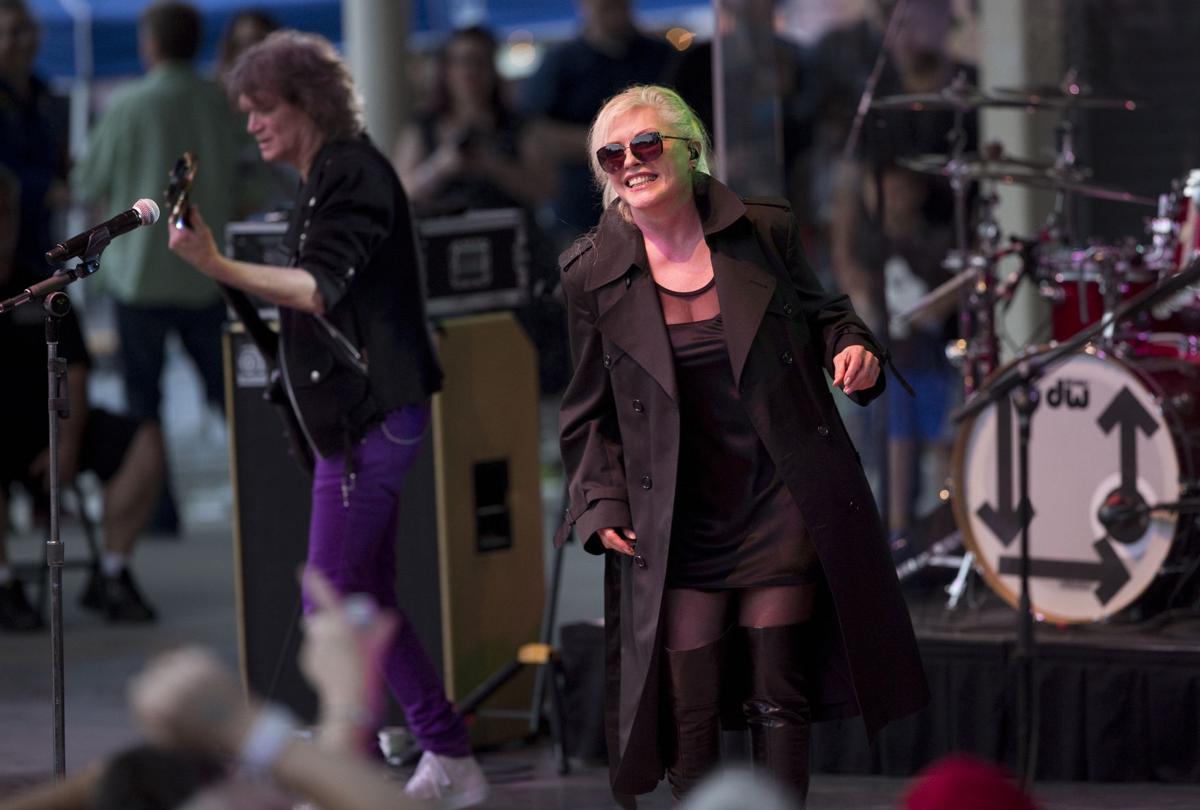 A very cool thing happened during the Blondie show at Elmwood Park on Thursday night. Frontwoman Debbie Harry related hard to Roanoke.
It would have been easy enough during the Rock and Roll Hall of Fame band's roughly 90-minute set to go through the motions and still show the crowd a great time with no one the wiser. After all, the four decade-old sextet with three original members still has the stage chops to keep a crowd engaged. Founding drummer Clem Burke was a driving wheel with a showman's flash, and Harry's voice retained its steely spookiness.
Blondie had plenty of easily recognizable songs in the set list, from show-opening rocker "One Way Or Another" to the shuffling grind of "Call Me" to the dream-pop and pop-rap precursor "Rapture."
But the beautiful and engaging Harry proved that she put some thought into this place, from praising the atmosphere that show producers FloydFest had created to name-checking everyone involved in a locally produced video tribute to one of the band's biggest smashes, "Heart of Glass." Read more about it and watch it at bit.ly/1TSfcKI.
She thanked the video's producer, River Laker, and during the band's own performance of that song, Harry read from a sheet of paper the names of everyone who participated in the video.
It was the feel-good highlight of a show that included a long, mid-show medley that wedged The Beastie Boys' "Fight For Your Right to Party" (with founding guitarist Chris Stein rapping) into "Rapture," and dropped Deee-Lite's "Groove Is In The Heart" into "The Tide Is High." Those moves effectively showed the ties Harry's band had to a variety of performers.
Harry gave another local shout-out, directed at Roanoke pop-rock quintet My Radio, which opened the show.
"I used to go under the covers with my radio," she said, harkening back to an era that predated today's portable digital players and their ear buds. "Did you go under the covers with your radio? There's nothing wrong with that."
It was unclear whether she is a fan of the Showtime cable drama "Homeland," but the hometown band she used for a sly play on words has its own calling card, though more anonymous than Blondie's. It came via the My Radio song "Yeah Yeah Yeah," heard on "Homeland" and other media via licensing agreements.
The quintet, fronted by singer and keyboardist J.P. Powell, closed its 40-minute set with that number, and filled the rest of its show with other catchy and driving pop-rock numbers from a run of more than eight years. Highlights came via set-opening "Aliens," "Life Is A Bitch Slap" and "Bricks and Mortar."
Both bands are working on new albums. That concept may seem passe, but keep eyes and ears out for them.