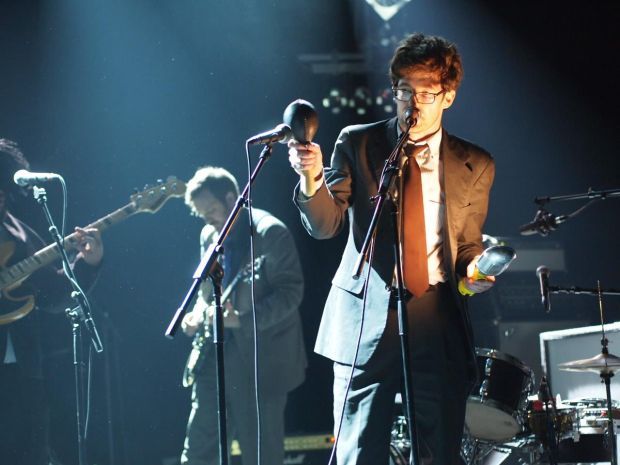 Roanoke-based indie band The Bastards of Fate has released its second album, "Vampires Are Real And Palpable." But don't think for a second that the title has anything to do with pop-culture vampires from the likes of "True Blood" and "Twilight."
"I see it as an Anton LaVey psychic vampire thing as opposed to literal blood-sucking vampires," bassist Jason Wells said.
But the record was inspired by more than the late Satanist's term describing those who drain one of vital energies. Dreams of "Sesame Street" characters Bert and Ernie and of random chords and melodies fired the album as well, according to songwriter and light-swinging frontman Doug Cheatwood.
The band — Cheatwood, Wells, keyboardist/violinist Camellia Delk, drummer Doug Shelor and guitarist Benji Pugh — gathered recently at Pop's Ice Cream & Soda Bar to talk about the new disc. Along for an evening snack of frozen treats and buttered bread was Len Neighbors, owner of North Carolina-based This Will Be Our Summer Records, the label that has released both of the Bastards' records.
Neighbors came up with a term, "mayonnaise music," to describe bands that he finds to be bland. Coldplay inspired the term, he said. His Roanoke friends don't fit into that category.
"This is Sriracha," the hot sauce, Neighbors said. "This is some skull-and-crossbones stuff."
Underground rock critics agree.
Big Takeover magazine wrote that "The Bastards of Fate continue their uncompromising onslaught of demented pop with an incredibly strong sophomore effort … as entertaining as Space Ghost on acid. They just happen to tread in disturbing territory, a fateful reminder of the enemies that surround us every day."
Rebel Noise magazine wrote: "Roanoke is a city of shadows and mist. The Bastards of Fate didn't move there to become famous — they were born there, to grow up obscure. But … the band's reputation continues to spread like a well-executed piece of vandalism."
At least one song on each of the Bastards' two albums — the band's debut was "Who's A Fuzzy Buddy?" — emerged from a Cheatwood dream. In it, Ernie and Bert were singing "Own It," a cut from "Vampires."
"I woke up and I wrote it down," he said. "That happens a lot. Not with Bert and Ernie, but dreaming a song, waking up and writing it down in the middle of the night."
He dreamed up the chords and melody to another "Vampires" track, "Winter of Our Discontent."
Often, Cheatwood will come up with an idea, then call a bandmate's voicemail to record it. Or he'll text message lyrics.
"He'll just call and on our voicemails leave these little sections of songs," Wells said. "He'll sing them, just so somebody will have them."
Performing, then recording
If a Bastards of Fate record is entertaining to hear, a live performance by the indie freaks can be even better. As Cheatwood rambles around, swinging his ever-present hand-held work light, the band churns out dense layers of groove, melody and dissonance with huge energy. By the time the band hits the studio to record, it has the songs down cold.
"Typically before we record, we play the songs that we're going to record for a year or more," Cheatwood said. "Then when we're ready to go into the studio, we just bang them out. I like that way of doing it."
That process allows the band's musical inside jokes to sink into the tunes.
"Our music has a lot of inside jokes in it," Cheatwood said. "Jason will start doing something and I'll think that's pretty weird. Then I'll have to respond to it in some way for it to make sense to me. Then someone will respond to me. It becomes this weird circular thing."
Maybe it's a bad note. Maybe it's a funny approach to a melody. Whatever is it, if it entertains the band, it typically stays in the song, Shelor said.
"A lot of it is based on mistakes or just pure goofing off," Shelor said. "We'll do something and go, that's kind of cool, that's sort of funny. It'll keep popping up, and then next thing you know, you just sort of do it habitually at every show."
After playing the music for about a year — in the exact order in which it appears on "Vampires Are Real And Palpable" — the Bastards headed to engineer John Thompson's Roanoke studio, The Mystic Fortress.
The band spent two days getting basic tracks, then a couple more days doing overdubs. All the while, they looked to bandmate Delk, ever wary of her scowl.
"Cam's our quality control," Cheatwood said. "When something doesn't sound good, she won't say anything. She'll just scowl. And that's when you know that something needs to change. But you have to guess what it is.
"It gets less and less frequent, because you learn what she will like and what she won't like, and you head it off. Like, she'll make me do it again, so I might as well do it [correctly] now."
Delk said she has full confidence in her scowl, which she describes as similar to the face of her cat, Keekers, who is on the cover of "Who's A Fuzzy Buddy?" By the way, Keekers is not on the "Vampires" cover. Instead, the back cover features Delk's other cat, Theo, with various outfits photoshopped onto his body.
She said in an e-mail exchange later that she would have preferred fewer overdubs and a more live sound. Overall, the band is happy with how the record turned out. Guitarist Pugh's reaction was the most inscrutable.
"It sounds like when you're listening to a record and it skips songs and you keep listening to it," Pugh said. "Like you've walked too closely to it, it sort of 'erk,' sort of bumps along. And that's what happens for 40 minutes."
That description broke up the table in laughter.
"He knows how to sell a record," Cheatwood said.
One reviewer mentioned that the Bastards sound more like a live band on this disc, but that wasn't necessarily Cheatwood's goal.
"My only goal is to make everyone uncomfortable," he said, "including my band members."