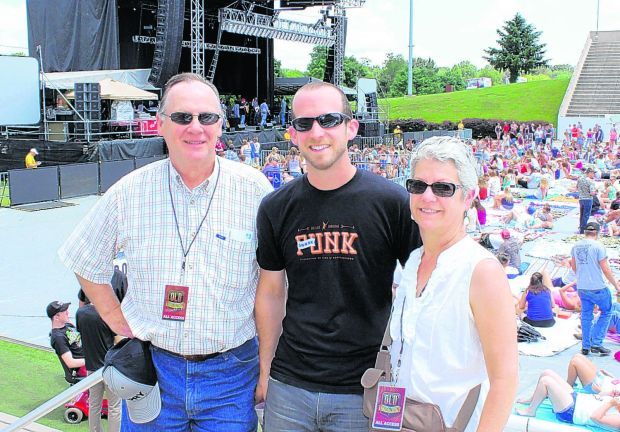 In the universe of rock 'n' roll dreams, 9:30 a.m. is no time to be awake. It's crashing time, or in extreme cases, it's when the post-show party winds down.
But on Saturday at Salem Football Stadium, Whit Sellers sat behind his drum kit on a massive stage, listening to bandmate Matt Ramsey's voice in his monitor. He raised his arm, thumb turned upward — a request for more volume. His bandmates in the Nashville, Tennessee-based band Old Dominion were doing the same.
Then Ramsey and Sellers, Botetourt County natives living and working in Music City, kicked into "Break Up With Him," a slice of breezy pop-rock that feels like a future hit on the country music charts, where pop, rock, metal, even hip-hop are dominant sounds.
By noon, Old Dominion had played a 45-minute set in front of an appreciative, clap-along crowd at Salem's second annual Blue Ridge Music Festival. The event was scheduled to feature Brantley Gilbert, whose new album was No. 1 on the country music chart; Travis Tritt, a country legacy act with plenty of No. 1's of his own; and Thomas Rhett, a young mainstay of country radio these days.
So far, Old Dominion hasn't had a hit of its own, but Ramsey, 36, a James River High School graduate, and bandmate Trevor Rosen have experienced some songwriting success. Rosen co-wrote The Band Perry's recent smash, "Better Dig Two," and Ramsey co-wrote its follow-up single, "Chainsaw."
Old Dominion played both of those songs during their set, and closed it with Ramsey's "Wake Up Lovin' You," a recent top 20 hit for Craig Morgan.
For a short time, "Chainsaw" and "Wake Up Lovin' You" were side by side in the top 15, Ramsey said.
At a glance, it seems like things are happening fast for Ramsey. He recently combined with another Roanoke Valley native, Nashville-based writer/producer Ross Copperman, and a third writer on a song for Dierks Bentley that is slated to be part of a reality show on the History channel. In the space of less than four hours, they wrote the song, put together a demo and sent it off.
"A week later, I'm watching TV and the commercial comes on," with Bentley singing it, Ramsey said. "It was cool. It's great."
In truth, it has taken Ramsey 12 years in Nashville to get to this point. He moved to Nashville after meeting and impressing country music star Phil Vassar, a Lynchburg native.
"That's the big part of it, is perseverance," Ramsey said. "It takes a long time to learn the rules while staying true to what you think is cool and good."
Ramsey and Sellers, a Lord Botetourt High School graduate, were rivals on their respective schools' drum lines.
"He was always way better than me," Ramsey said. "I decided to pick up guitar."
Sellers, 35, continued his drum studies at James Madison University, where he met Geoff Sprung, a bass player from Falls Church. Sprung and another JMU guy, lead guitarist Brad Tursi, moved to Nashville, and by 2006 had persuaded Sellers to join them. Slowly but surely, they replaced the studio musicians with whom Ramsey had been performing.
Since then, they have been recording as a band. That is not quite the norm in Nashville, where studio players make the records and touring bands help promote the records on the road. Sellers said that makes a lot of Nashville-produced records sound the same.
"On our records, you can tell it's a band," he said. "You can recognize it's not studio guys."
On stage Saturday, the band sounded as tight as it does on records such as "Break Up With Him," "Beer Can In A Truck Bed" and "Dirt On A Road," the latter of which has had a lot of play at satellite radio XM's Highway channel. That channel's host, Storme Warren, emceed the Blue Ridge Music Festival and hyped Old Dominion after its set.
For the Roanoke Valley homeboys, it was more than a concert. It was a chance to see family. Backstage, Ramsey chatted with his father, Tom Ramsey. Mother Peggy was not backstage at the time, but both parents "were the first ones here," Matt Ramsey said.
Tom Ramsey had no idea his son's music would bring him to this place in his life. Matt joked: "He just wanted me to turn [it] down." Tom replied: "There were times when I cut the power" to Matt's basement rehearsal space.
A few feet behind them, Sellers stood chatting with his parents, Harry and Beth Sellers, who remembered plenty of drumming going on in their Blue Ridge home.
All of that work appears to be sending Old Dominion toward bigger paydays. Upcoming shows include a July 12 slot opening for The Band Perry at Richmond International Raceway. Old Dominion probably won't get to play "Better Dig Two" and "Chainsaw" on that gig.
Old Dominion's booking agency, entertainment powerhouse CAA, and Morris Higham Management (which also represents Kenny Chesney and Jake Owen) are working hard for the band. When CAA informed Ramsey that the Blue Ridge Music Festival slot was an option, he realized the agency probably didn't even know how close that was to home. But he and Sellers certainly did.
"It's become a big high school reunion," which is equal parts cool and a bummer, Ramsey said. "There's so much going on, and so many people to see, that you don't get to hang with as many people as you want.
"It's awesome to be here, but you wind up a little homesick."
Be the first to know
Get local news delivered to your inbox!