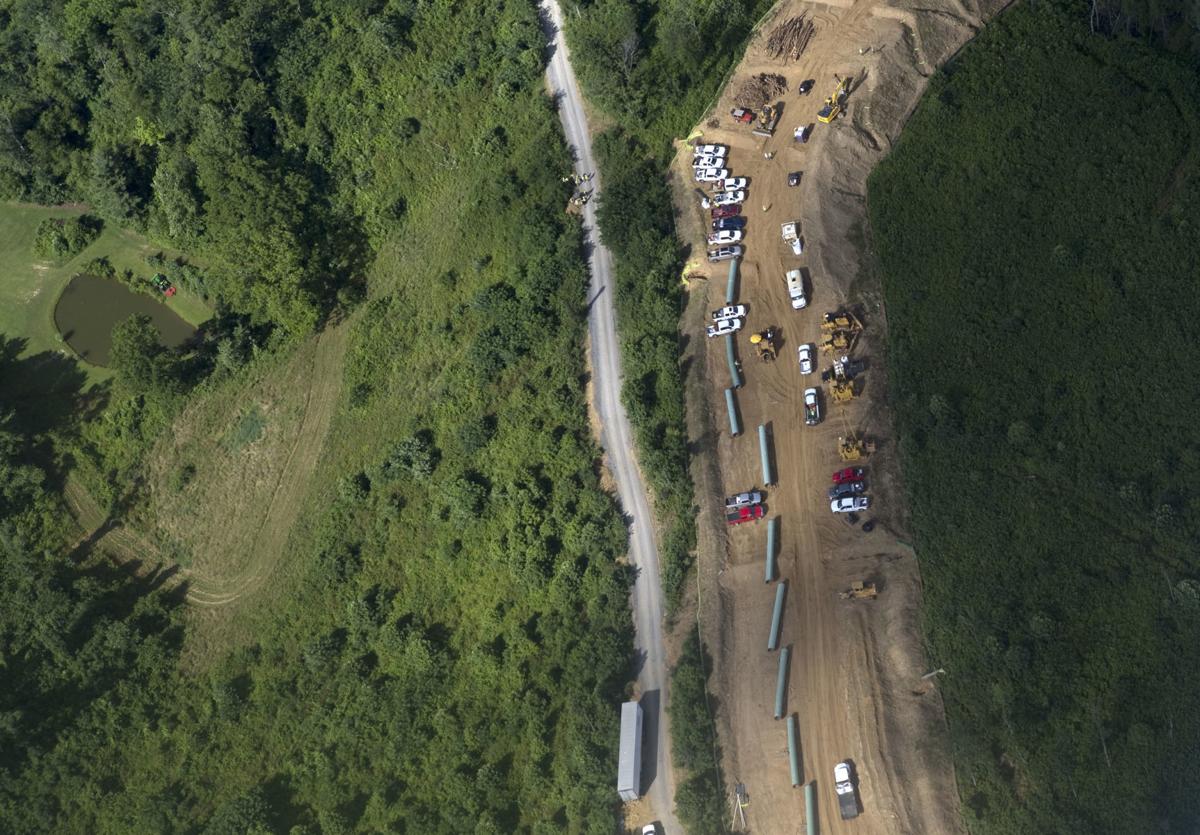 As construction of a mammoth natural gas pipeline grinds to a halt, there's already talk of when it might restart.
In a statement from Mountain Valley Pipeline late Friday night, several hours after the company was ordered to stop all construction for a review of environmental concerns, a spokeswoman expressed hopes for a quick turn-around.
"We will continue to work closely with all agencies to resolve these issues and look forward to continuing the safe construction of this important infrastructure project," Natalie Cox wrote in an email.
Opponents of a 303-mile buried pipeline that is cutting a path through Southwest Virginia were both surprised and elated Friday when the Federal Energy Regulatory Commission directed that all construction must "cease immediately."
FERC, the lead agency overseeing the project, cited a July 27 ruling by a federal appeals court that reversed two approvals — one by the U.S. Forest Service and another by the Bureau of Land Management — allowing the pipeline to pass through the Jefferson National Forest.
Although the forest accounts for just 1 percent of the pipeline's total length, its protected ridgelines have become a formidable obstacle that Mountain Valley must now clear.
That's because the stop-work order covers the project's entire route, for as long as it takes the Forest Service and the bureau to reconsider Mountain Valley's plans to control construction-related erosion and sediment in the public woodlands.
"We believe that the two agencies have the required information to address the issues related to the stop-work order and will work quickly to supplement their initial records," Cox wrote.
Pipeline foes say it won't be that simple.
Tammy Belinsky, a Floyd County attorney who joined lawyers with the Sierra Club in successfully challenging the Forest Service approval, said parts of the review process ordered by the 4th U.S. Circuit Court of Appeals could take six months to complete.
Cox declined to speculate on the timing. But in earlier court filings involving a different phase of construction, Mountain Valley warned that an eight-month delay would cost the company more than $600 million.
In a written declaration dated June 1, project manager Robert Cooper said that if the 4th Circuit stayed a permit allowing the company to cross streams and wetlands in West Virginia, it would cause "irreparable harm" to the $3.7 billion project.
A few weeks later, the appeals court granted the stay sought by the Sierra Club and other conservation groups, preventing Mountain Valley from starting work on more than 500 water body crossings.
The stay was later cited as the reason Mountain Valley no longer expects to finish work on the pipeline by late this year. The new in-service date is the first quarter of 2019, shareholders of NextEra Energy, one of pipeline's developers, were told during a conference call.
Once the pipeline is operational, Mountain Valley expects to earn $40 million to $50 million a month shipping natural gas at high pressure.
"Each month the in-service date is delayed, MVP will lose the benefit of that revenue," Cooper stated in his declaration.
At some point, pipeline opponents say, the cost of delays such as the one imposed by FERC could jeopardize the project's economic viability.
"I would think that the shareholders and other people who have an interest in this will start to realize that it's not nearly as good a deal as they thought it was," said David Sligh, conservation director of Wild Virginia, one of the groups opposed to the pipeline.
But the risks investors might face "pale in comparison to the devastation that has already occurred" by running the pipeline across scenic mountain vistas and through pristine streams and rivers, Belinsky said.
Since Mountain Valley announced its plans in 2014, opponents have said that cutting trees, clearing land, blasting bedrock and digging trenches for the 42-inch diameter steel pipe will despoil some of the region's most prized natural resources.
Harmful sediment dislodged by the work will be washed by rain into nearby streams, they say, posing a risk of contamination to private wells and public water supplies.
Since April, environmental regulators in Virginia and West Virginia have issued six notices of violation against Mountain Valley, warning the company that its measures to control erosion and sediment were deficient.
FERC's stop-work order was "a leap in the right direction that landowners and advocates have worked toward for four years," said Roberta Bondurant, a Roanoke County resident who has been active in a grass-roots campaign against the pipeline.
"We honor and applaud the landowners and communities in the pipeline's path as they steadfastly researched and challenged this dangerous, destructive, and unneeded fracked gas pipeline," she said.
As encouraged as pipeline opponents were by the news, they had few details about what will happen next.
The 4th Circuit ordered the Forest Service to reconsider amendments it made to a management plan that allowed the pipeline to cross federal woodlands in Giles and Montgomery counties and Monroe County, West Virginia. A related decision by the Bureau of Land Management granting a right of way was also sent back to the drawing board.
In a sharp rebuke, a three-judge panel faulted the Forest Service for accepting Mountain Valley's optimistic projections that its erosion control measures would be 79 percent effective — a figure for which the agency's own experts earlier had expressed "grave concerns."
"We discern no evidence that the Forest Service undertook the required independent review" required by an environmental impact statement, the court wrote in its opinion.
A few days after the decision came down, Mountain Valley officials informed FERC that they were suspending all construction in the national forest.
Having done so, "we respectfully disagree with the breadth of the August 3, 2018 stop work order," Cox wrote in her email.
She also said that Mountain Valley agreed with FERC's stated belief that the Forest Service and other agencies are likely to come up with new plans that meet the standards demanded by the 4th Circuit.
Since tree-cutting for the pipeline began in March, officials at Jefferson National Forest headquarters in Roanoke have usually deflected questions.
A public affairs officer in Portland, Oregon, was first designated to handle media inquiries; that role was later shifted to another Forest Service office in Atlanta. Asked about the 4th Circuit's ruling, the Atlanta office told The Roanoke Times to contact a U.S. Justice Department official in Washington, D.C.
"The Department is reviewing the Court's decision and considering next steps with the client agencies," Nicole Navas Oxman, a spokeswoman for the department, wrote in an email last week.
Her response did not address questions about what the review process will entail or how long it might take.
Sligh, who worked as an environmental engineer for the Virginia Department of Environmental Quality before joining Wild Virginia, said he expects the Forest Service will be required to seek public comments in what could be a lengthy process.
And now that Mountain Valley's erosion and sediment controls for the national forest have been called into question, he said, plans for the rest of the pipeline's route through Virginia approved by DEQ are also suspect.
Del. Chris Hurst, D-Blacksburg, said that the stop-work order "shows yet again that this ill-advised pipeline — with its continued erosion management issues — should not proceed further."
Critics have chastised DEQ for ceding review of individual stream crossings to the U.S. Army Corps of Engineers, which issued a permit they say takes a one-size-fits-all approach.
After inviting written comments from the public on the Army Corps review process, the State Water Control Board is scheduled to meet Aug. 21.
Sligh and others are planning to push for more stringent enforcement. One step would be an individual analysis of each stream crossing. The crossings entail damming or diverting the current while a trench for the buried pipeline is dug along the bottom of the exposed stream bed.