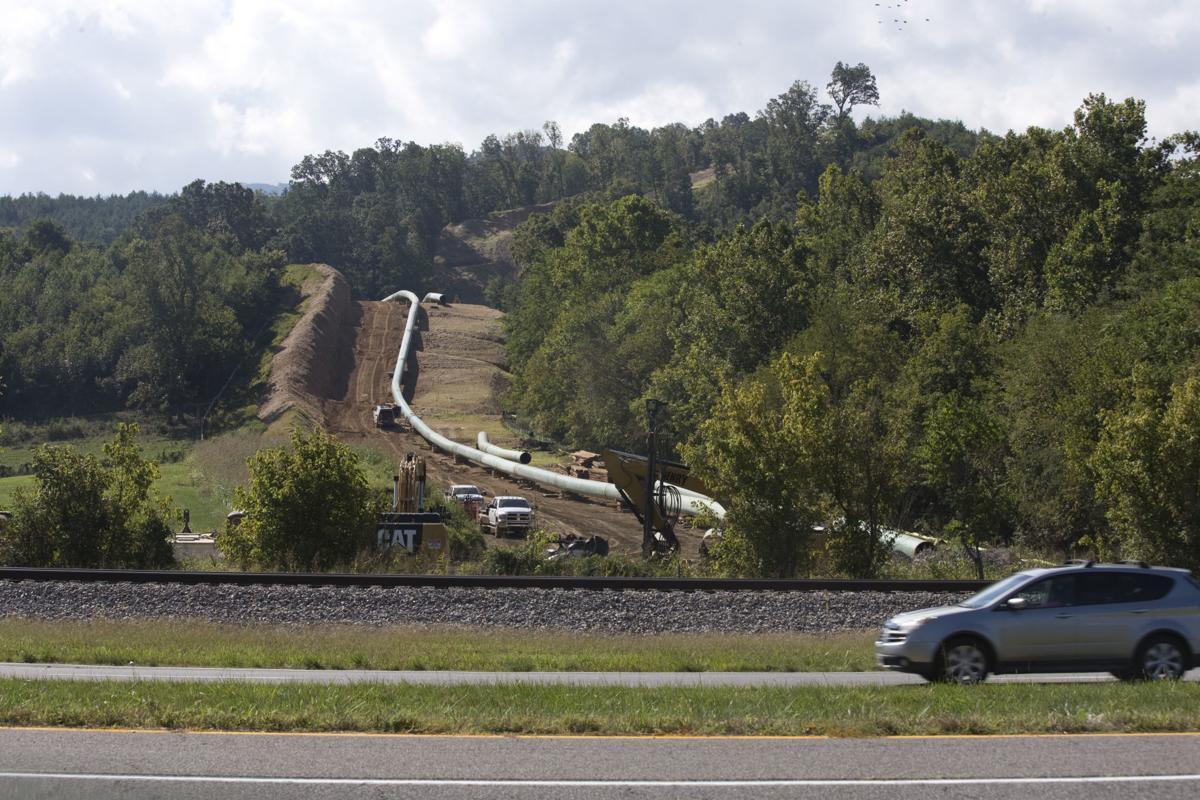 The projected cost of building the Mountain Valley Pipeline has gone up by another half a billion dollars.
And the expected completion date, most recently slated for mid-2020, has been pushed back to the end of that year.
In an announcement Tuesday, Mountain Valley attributed the latest delay and revised cost estimate — now at between $5.3 billion and $5.5 billion — to "various legal and regulatory challenges."
The Pittsburgh-based company has lost three sets of federal permits, following legal challenges by environmental groups that argued the buried natural gas pipeline would pose risks to the water, land and wildlife along its 303-mile route.
"We have encountered unforeseen development challenges; however, we continue to make progress towards ultimate completion," Diana Charletta, president and chief operating officer of EQM Midstream, the lead partner in the project, said in a statement.
"While the temporary setbacks have caused schedule delays and cost overages, completion of the MVP project is critical to serving the growing demand for domestic natural gas in the mid-Atlantic and Southeast regions of the United States," Charletta said.
When work began in February 2018, Mountain Valley said it would be done by the end of that year at a cost of $3.7 billion. Several delays and cost increases have been announced since then.
As costs have risen steadily, some opponents have voiced hopes that investors will pull out of the joint venture, made up of five energy companies.
But considering the amount of work that has already been completed on the pipeline's route through West Virginia and Southwest Virginia, one financial analyst who has followed the project closely saw a "very low probability" of that happening.
"I don't think that EQM has any intention of giving up on this project, given how much capital has already been devoted," said Josh Price, a senior energy analyst for Height Capital Markets, an investment banking firm in Washington, D.C.
Three compressor stations and interconnections in West Virginia, a major part of the installation, have been completed, Mountain Valley said.
Construction crews have finished about 80% of the pipeline work, including 264 miles of pipe welded and in place, according to the company. Final restoration has been completed on about 50% of the right of way.
In recent filings with the Federal Energy Regulatory Commission, the lead agency overseeing work on the pipeline, Mountain Valley said it was preparing for a usual winter lull in construction by stabilizing work sites and installing erosion control measures.
But even without the seasonal slowdown, work has been stopped by the loss of permits for the pipeline to pass through the Jefferson National Forest and across more than 1,000 streams and wetlands.
A third legal attack by environmental groups, this one of a U.S. Fish and Wildlife Services opinion meant to safeguard endangered and threatened species in the pipeline's path, is before the 4th U.S. Circuit Court of Appeals.
The court stayed the Fish and Wildlife permits Oct. 11, pending its review of the case early next year. That in turn led FERC to order Mountain Valley to cease all work the following week, except for restoration and stabilization of unfinished areas.
Mountain Valley has said it intends to have all of the suspended permits restored.
But pipeline opponents "will almost certainly" bring additional challenges of any new approvals for stream crossings and building the pipeline in the habitat of endangered species, Height Capital Markets said Monday in its weekly report on pipeline construction.
Still, construction has progressed faster than that of the Atlantic Coast Pipeline, a similar project to the east that was approved at the same time by FERC.
Led by Dominion Energy, the Atlantic Coast project has also encountered legal resistance from environmental groups.
The cost for that three-state pipeline has gone up by about $3 billion, to $7.75 billion, and construction is running two years behind schedule, with completion delayed until late 2021.
The business news you need
With a weekly newsletter looking back at local history.