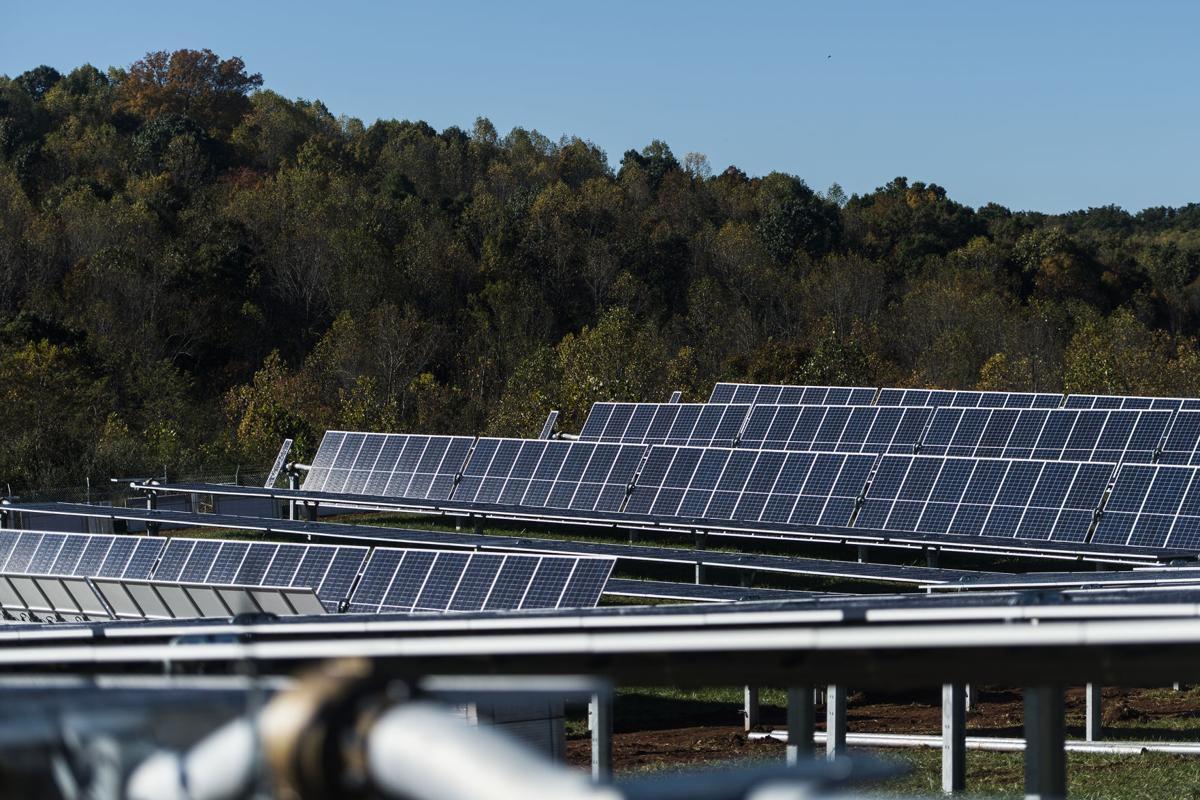 Appalachian Power Co. is still looking for a bright spot in its search for solar energy.
After making a request for proposals for large-scale solar farms in November 2018, the utility recently re-issued its call for bids when the first round "did not result in any viable projects," it said in a news release.
Appalachian does not own any solar facilities, although it has agreed to purchase power from a 150-acre bank of solar panels planned in Campbell County. The Depot Solar Center is expected to generate 15 megawatts of electricity when it is completed late this year.
In its latest request for proposals, Appalachian said it is looking to buy projects that will produce up to 200 megawatts — enough to power more than 30,000 homes.
"By expanding the RFP we expect to receive additional submissions from developers," Appalachian president and chief operating officer Chris Beam said in the news release. "Having more proposals increases our ability to identify viable utility-scale solar projects that reduce customer costs and expand our renewable portfolio."
About 15 developers submitted bids previously.
The proposals were not accepted for a variety of reasons: They did not meet the outlined criteria or were not considered economically competitive, or the developer failed to resolve permitting or cost issues before a contract could be signed, according to Appalachian spokeswoman Teresa Hall.
Appalachian gets about 80% of its electricity from fossil fuels — coal and natural gas — and some critics say the utility is not moving fast enough to transition to renewable energy, especially as the costs continue to decline.
"Solar is cheaper than ever before," said Mark Kresowik, a regional deputy director of the Sierra Club's Beyond Coal campaign.
"Appalachian has certainly done some good things in shutting down its old and dirty power plants, but it needs to do more," he said. The utility ceased operations at its coal-burning plant in Giles County in 2015 and converted a plant in Russell County to natural gas the following year. While the utility has no coal plants left in Virginia, it still relies on three in West Virginia.
As for solar, "My read on the situation is that Appalachian is issuing a much better RFP now than they did in the past," Kresowik said. In 2018, the minimum size for a solar farm was 50 megawatts; that has been reduced to 10 megawatts.
Appalachian said it hopes the smaller size, as well as an option for developers to use a battery system to store energy, will lead to a wider variety of bidders.
A law passed by the General Assembly in 2018 requires Appalachian to construct or acquire solar generation projects capable of producing at least 200 megawatts by July 1, 2028.
The mandate was part of an overhaul of regulations for Virginia's two largest electric utilities, Appalachian and Dominion Energy, that ended a freeze on rates while calling for steps toward grid modernization, renewable energy and efficiency programs.
Appalachian's current energy capacity portfolio is about 60% from coal-burning power plants, 19% from natural gas, 11% from hydroelectric and 7% from wind turbines. About 1,200 of the utility's 500,000-some Virginia customers have installed solar panels on their property, but the output is too small to be counted as part of the generation mix.
The business news you need
With a weekly newsletter looking back at local history.