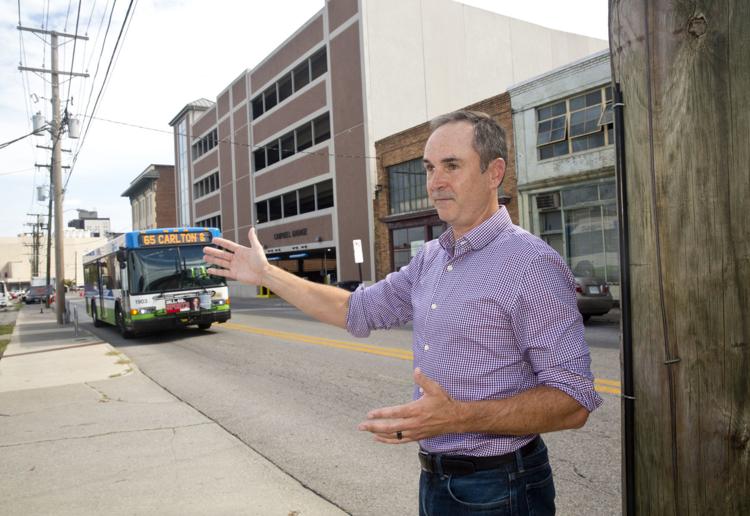 Before Bill Chapman stepped in, the 300 block of Roanoke's Salem Avenue was a sleepy business and warehouse district.
With a $27 million investment, the Richmond developer turned it into a well-trafficked enclave with a Mexican restaurant, drink-on-site brewery and apartments for hundreds.
Now, he says, its quality of life will decline if the city builds a proposed bus station in the next block, three blocks from the current, cramped and outdated Campbell Court bus station.
"There's going to be significant problems with this project. They're going to cause damage that cannot be mitigated," Chapman said. "And quite frankly I want to protect my assets. The Lofts at West Station and the money that we've put into this area is the largest asset that I have."
City officials say a new station is long overdue, believe they have chosen the best place for it and can find the $9.5 million estimated cost.
To receive federal funding for the bus station, however, the bus project must first undergo a review to determine the effect on the area's historic attributes.
Chapman and allies have created the Salem Avenue Business Association to fight the project.
A bus station is wildly incompatible with what's near it, according to Chapman, who asserts that the Roanoke Board of Zoning Appeals should not permit it. And if it does, he said opponents are prepared to fight in court.
Confident city leaders are pressing on. They plan to apply for a special exception permit early in 2020.
"You're taking an existing building that's reaching the end of its useful life and is certainly complicating operations and replacing it with a new building that now will go for another 30, 40 years minimum [and] will make service that much better for those that are actually using it," City Manager Bob Cowell said.
The city-owned Valley Metro bus service is heavily used by the city's low-income residents, but the current bus station falls short of what's needed. Cities that Roanoke competes with for economic development have built new stations recently.
"It's critical that it get done," said Chris Morrill, the former city manager. Morrill, under whose administration planning began, called it an urgently needed economic driver. "And you can't really wait for the most optimum time."
At Campbell Court, built in 1987, modern buses struggle to come and go because they are wider and longer than when the station was built.
The station — the oldest operating municipal bus station in Virginia, according to the Department of Rail and Transportation — teems with more than a dozen Valley Metro buses and scores of passengers during transfer times, about 20 a day.
The buses wait stacked nose to tail in multiple lines while riders take five to 10 minutes to disembark, find their next bus and reboard.
Consultants have said that the narrow boarding islands between buses cause congestion for passengers and that moving about is a struggle for those dependent on wheelchairs or other mobility assistance.
"We are very excited about the fact that the new bus station will be bigger and brighter and better than the bus station that's there now," said Karen Michalski-Karney, who occupies a seat on the bus system board of directors reserved for a person with a physical disability. She directs the Blue Ridge Independent Living Center in Roanoke.
"It's going to alleviate a lot of stress on the operators," said Cliff Headrick, the Roanoke-based executive board member of the Amalgamated Transit Union Local 1493. Operators, as drivers are called, have struck no pedestrians in Campbell Court thanks to close coordination between operators and on-the-ground supervisors, Headrick said.
Valley Metro riders have indicated their highest priority is for expansion of bus service from 15 to 18 hours a day and for at least some buses to run on Sundays. An estimated 1,500 people a day ride the bus and see it is a vital link to the necessities of life.
Right now, Valley Metro's users are predominantly the working poor, according to a 2014 survey that found that 71% of Valley Metro riders lived on an annual income below $20,000 and that 63% worked. Nearly 85% don't own a vehicle.
Valley Metro ridership fell 4% between July 2018 and May 2019.
Cowell said the money isn't available to spend on the expanded hours, which would increase annual operating costs.
Riders also have requested improved waiting facilities, and the city, which owns Valley Metro, wished to oblige with a new bus station.
The problem was where to put it.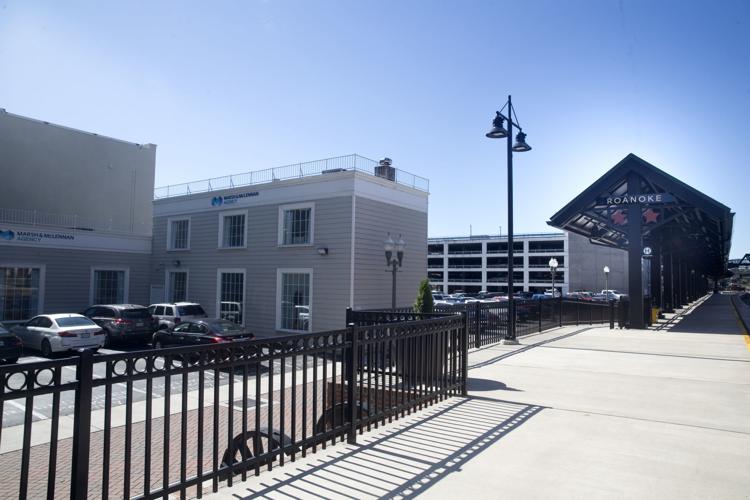 A solution to that question seemed to present itself with the return of passenger rail service to the city in 2017. The state contributed $100 million for infrastructure to allow Amtrak to bring service to Roanoke, including paying for the platform along Norfolk Avenue. But it was left to the city to provide parking and a train station.
City officials saw a chance to meet the bus and train needs with a single, multimodal solution.
Roanoke paid a consultant $284,000 for a 100-page report that likewise saw "an excellent potential opportunity to construct a state-of-the-art intermodal transportation facility in downtown Roanoke that brings together passenger rail, local bus, regional and/or express bus, inter-city bus, bicycles, shuttle services, taxi and/or other shared ride modes of service.
But the multimodal idea stalled because the land that was ideal for it wasn't available, and available land wouldn't work.
Lucas Thornton, managing partner of Hist:Re Partners, put together concepts for a new development that would have solved the transportation questions. Through his efforts, the city reviewed options at two addresses near the platform almost immediately north of Campbell Court. One option was building on the parking lot beside the platform, owned by John Lampros of Roanoke County. It would fit there, officials determined. One depiction showed a 9-story building on Lampros' lot.
But Lampros wouldn't sell. He said the land belongs to a group of parking lots leased to a single provider of parking services and he wished to keep the group together. He would have considered leasing it and he would have considered trading the land for other land, he told The Roanoke Times. "Anything is possible," Lampros said.
A different site, on Jefferson Street at Norfolk Avenue, was available through Thornton, but the space was judged too small.
That seemed to put an end to a combined bus/train station.
Forced to look elsewhere, the city found a lot three blocks west in front of the Virginia Museum of Transportation. It belonged to the family of former Roanoke Mayor Robert Woody and was available. The city bought it Sept. 30 for nearly $2.19 million.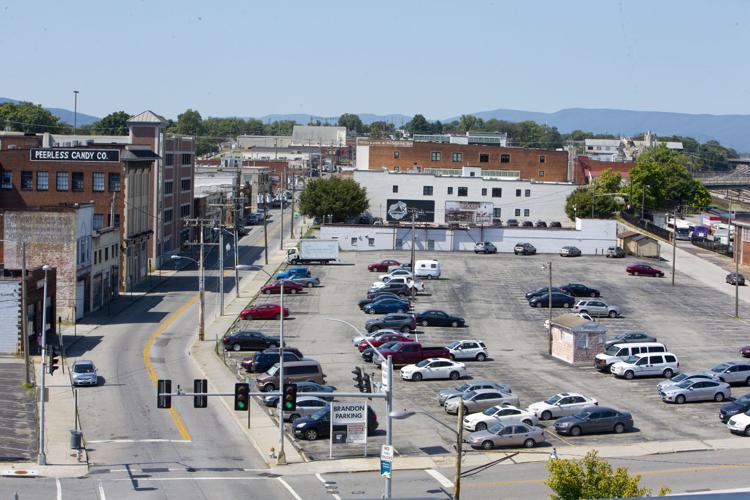 Known as the Brandon Lot, museum users have parked there, though it isn't museum property.
What came together was a three-way deal between the city, the Greater Roanoke Transit Co. (Valley Metro), and Thornton's company. The city intends to trade the recently purchased parking lot to Valley Metro, leaving it to Valley Metro to create the new bus station there.
In return, Valley Metro will give the city Campbell Court. The city intends to transfer Campbell Court to Thornton's company for a $40 million, mixed-use development. The city will receive a commercial building at Jefferson and Norfolk that belongs to a partnership that Thornton controls, according to current plans.
The city intends to remodel that address, which currently houses Marsh & McLennan, an insurance company, for a future Amtrak station would have a waiting area and restrooms, though no Amtrak office. It's the least costly and likely the last to be completed piece of the three parts, city officials said.
The city engaged in closed-door negotiations to create the deal, then announced it in January. When it became public that the city planned to move the bus station to a few hundred feet from Chapman's Lofts at West Station, it was the first he'd heard of it, he said.
"You can imagine if the city announced it was building a bus station across the street from your house," he said, "you'd probably be pretty pissed."
He led opposition to the bus station plan, including packing opponents into a Roanoke City Council meeting in January. They decried what they saw as the potential for crime and bad behavior that they now associate with Campbell Court.
Councilman Bill Bestpitch acknowledged that the proposed new site was not ideal because it didn't allow a combined bus and train station, but said "this is the best that we could come up with."
Chapman has since attacked with two other arguments — that opening a bus station with outdoor boarding on Salem Avenue will damage the value of nearby historic buildings, and that it's fundamentally a bad fit.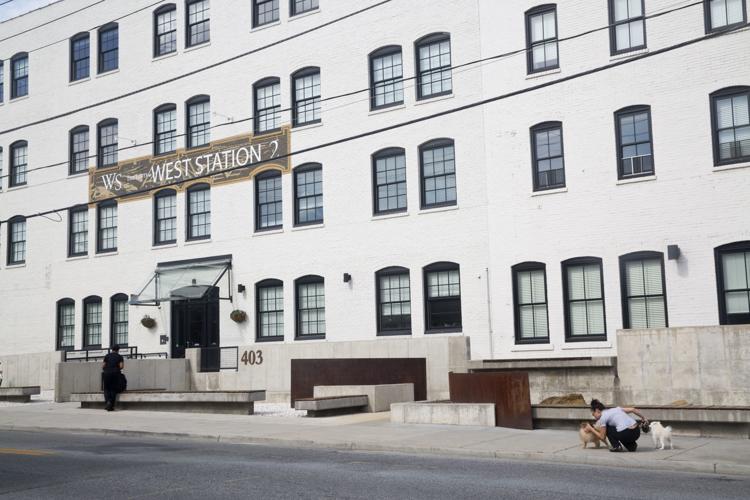 "A nonstop parade of buses from 5 in the morning to 9 at night, at an outdoor bus station, what in the world is that compatible with in our neighborhood?" he asked. "There's nothing."
Thornton countered that he thinks a well-designed bus station would benefit the commercial investments Chapman made possible.
He said he finds it ironic that Chapman opposes the bus station on compatibility grounds when the site abuts an area that had numerous auto-related businesses and dealerships from the 1920 to the 1950s and, partly because of that, has been federally designated the Salem Avenue/Roanoke Automotive Commercial Historic District.
"What in fact could be more compatible than locating a transit facility in the historic motor district?" Thornton asked.
He called on Chapman to give input on how the station should look.
"Bill is good at design. His projects are good for Roanoke," Thornton said.
The new station has not been designed but officials have so far said it will consist of a story and a half building with restrooms and waiting and customer service windows for both Valley Metro and Greyhound.
Preliminary site plans position the main structure against Third Street on the site's eastern edge. Passengers will board at a pair of parallel, canopied islands running the length of the parking lot.
Unlike at Campbell Court, where buses at the rear of the line have to wait for the buses at the front to leave, each vehicle will have a designated bay. Eight of the buses will come and go on Norfolk Avenue, while six will use Salem Avenue.
Before that, the city will erect a temporary station and begin using the parking lot as its transfer station while the permanent facility is built, city officials said. Thornton has agreed to pay $500,000 for the temporary station to speed up the relocation of services out of Campbell Court so he can begin his project.
But first, the city must win a special exception permit from the board of zoning appeals. Roanoke permits a bus passenger terminal or station downtown only with prior board approval.
That body, appointed by the Roanoke City Council, reviews petitions for special exceptions based on six criteria.
One requires that the proposed project would be "compatible with the character and appearance of the surrounding neighborhood by virtue of its height, bulk, location on the lot, and the design and location of parking, signage, landscaping, and other outside activities or structures."
The other criteria scope out potential effects on water, sewer and stormwater systems and streets; examine setbacks; and check for alignment with the city's comprehensive plan.
According to Roanoke Planning Director Chris Chittum, the interpretation of "surrounding neighborhood" varies depending on a project's context, scale and nature. Chittum did not address the bus station specifically.
While the bus station downtown is beside and across the street from apartments, it will be up to the board to determine the compatibility of the proposed new station with that neighborhood's housing complexes. Appeals of board actions can be filed in circuit court. An appeal doesn't automatically stop an approved project, but a judge could halt work until the appeal is resolved.
"We're going to follow the zoning ordinance; that's what we do," said Assistant City Manager Brian Townsend. Based on the city's current timeline, that will likely occur in the first part of 2020.
Chapman said he believes the permit will be denied. "They're driving down a one-way road right now with a brick wall at the end," he said. He believes he and other businesses will have standing to pursue a court appeal.
To have standing to appeal a board decision, a person or business must own or occupy property near the use in question, and because of it suffer harm that's different from harm to the general public, according to Virginia case law. Under a decision in a 2013 Fairfax County case, speculative harm isn't enough to give a person or business standing to appeal.
If the city prevails on the permit, it still must convince the Federal Transit Administration to grant millions of dollars for station and boarding area construction.
Chapman predicts the city also will fail on that point.
History surrounds the proposed future bus station site. Although the parking lot isn't historic, it is between the Salem Avenue/Roanoke Automotive Commercial Historic District and the Downtown Historic District. And it's feet from the former Norfolk & Western freight depot, now the transportation museum. The building is on the National Register of Historic Places.
Chapman argues there's no way the bus station won't damage those historic resources, on which basis he predicted the FTA won't fund the project.
"This will cause irreparable damage to the neighborhood," he said. He believes the state Department of Historic Resources will agree.
The DHR does research and advises the FTA and will do so before FTA decides whether it will help build Roanoke's new bus center.
City officials called the historic resources impact assessment a routine step. They aren't tearing down anything historic, they said.
"I think it's going to be relatively straightforward to demonstrate how a transit facility, designed in partnership with the neighborhood and the community, is not a detriment … versus what is today a parking lot," Cowell said.
If state historic resources experts find a risk of adverse effects, the transit authority would solicit suggestions from the involved parties for ways to lessen those effects. The Salem Avenue business group would want to have a voice in those talks, should they be needed, the group said.
Such mitigations can be as simple as documenting what will be lost.
Morrill, the former city manager, noted that the bus station in Savannah, Georgia, where he worked before coming to Roanoke, was built in that city's downtown historic district with FTA approval.
The initial project concept would have required demolishing an old Greyhound bus station eligible for historic listing. To lessen the potential effect of the station's pending loss, the FTA required a photographer to take pictures inside the station and out, according to the FTA's decision on the project.
In 2011, the FTA approved a revised finding after the station plan changed to save the Greyhound station. Georgia's historic resources office still opposed the plan because the interior of the station would be changed, FTA documents show. But again the solution was to mitigate those effects by taking photographs.
The station opened in 2013.
Here, Chapman seeks a consulting-organization role in the review process for the business association representing Salem Avenue stakeholders.
"They will be negotiating directly with us," he said. "The group they've been ignoring for the last 10 months is who they're going to have to work with."
City officials want federal funding for the project, but say they're prepared to go it alone.
City money for the entire project is at the ready in case it's needed.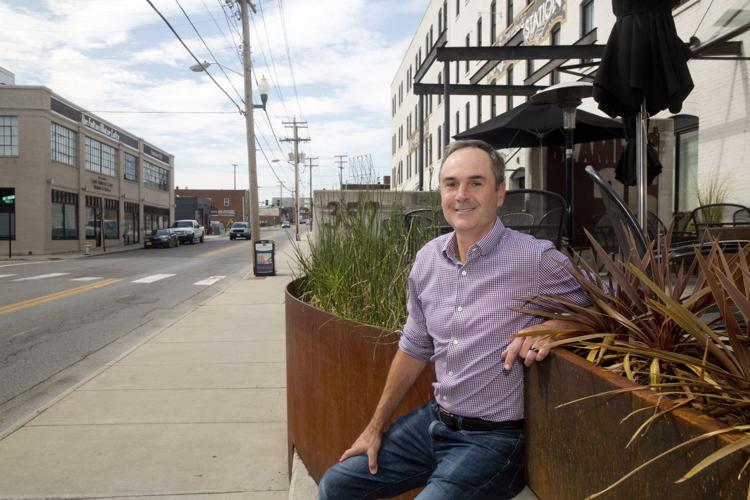 Chapman had considered buying the parking lot where the bus station is planned and made an offer a couple years ago. The site cries out for more robust development than a bus-transfer operation that would leave most of it in asphalt, he said.
"That land has a better and higher use than taking it off the tax rolls," he said. But his offer — half what the city paid, he said — was turned down.
He's done numerous redevelopments of downtown Roanoke buildings in recent years.
"Up until January of this year I don't know that I could have had a better relationship with city hall," he said, praising the city's customer service and communication efforts at the time.
In response, Chapman hasn't mothballed any planned projects in the city, he said, "but I'd say we're not as aggressively looking."
Roanoke likely will know next year if Chapman and the Salem Avenue Business Association are successful in stopping the bus station project.
That would delay or cancel Thornton's planned apartment, office and retail project in place of Campbell Court.