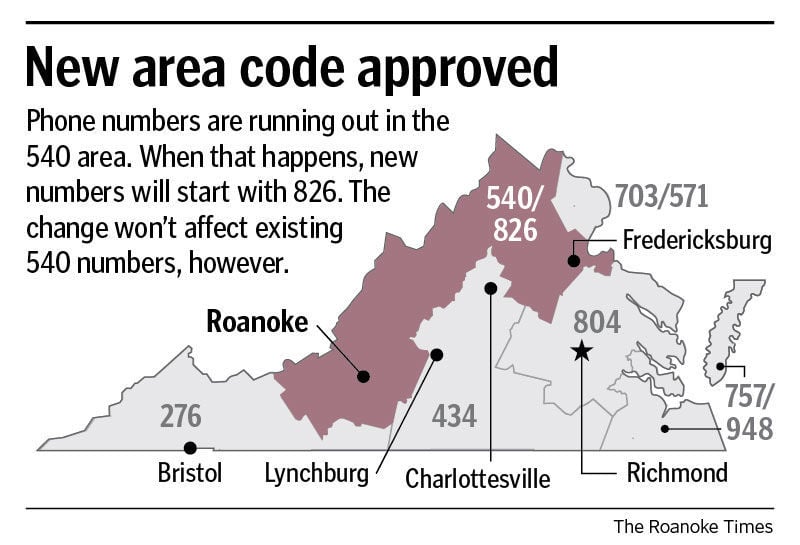 The 540 area code is running out of phone numbers. But if you have one now, you can keep it.
In an order Wednesday, the State Corporation Commission approved a second area code — 826 — for a region that includes the New River and Roanoke valleys and a swath of Western Virginia that stretches north to Winchester.
According to the SCC, the region will exhaust its available numbers with a 540 prefix sometime in 2022.
Although all existing 540 numbers will remain the same, callers will have to dial the area code when making what previously had been a local call. Once all combinations that start with 540 are used up, new accounts will be assigned the 826 area code.
An increase in telephone accounts, along with a larger number of mobile devices, led to the need for a second area code in a region that was created in 1995, splitting off from the 703 area code.
The new two-area-code region is expected to have a lifespan of 30 years, according to a report last month from an SCC hearing examiner.
After holding hearings across the state, Mathias Roussy recommended the creation of a second superimposed area code. Other options had included splitting the region into two separate area codes and creating an overlay with 540 and one of two adjacent area codes, either 434 or 276.
Adding a new area code to the 540 region will be "more durable and/or less disruptive than other alternatives," the commission said in an order Wednesday.
The idea was first implemented in rapidly growing Northern Virginia, which added the 571 area code to the existing 703 one, which once covered half the state. When 826 becomes operational, Virginia will have nine area codes.
Unlike in the past, the idea of a new area code did not stir people up.
No one attended two hearings held in Roanoke in March to take public comments. Of the 36 written comments submitted to the SCC, more than 80% favored a dual area code throughout the entire region.
Had the region been split, some 540 callers would have been forced to switch to 826, and businesses would have had to make changes to signs, advertising and stationery.
An SCC staff analysis also found that cities, counties and communities of interest could find themselves suddenly divided by area code.
Improvements in technology may have been one reason for the lack of controversy over the selected option.
In his report, Roussy noted that the primary disadvantage of having two area codes for a single region — having to dial the three-digit prefix for all calls — is much less of a concern today than it was in the past.
"Widespread wireless use, mobility, and technology have already made dialing 10 digits for telephone calls a routine occurrence for many customers," he wrote. "Moreover, wireless technology and cordless home phone technology allow customers to program phone numbers, meaning someone often only has to touch a screen or one button to make a 10-digit call."
While the SCC approved the change, the 826 area code was selected by the North American Numbering Plan Administrator.
It will take at least 13 months to implement the new area code. For a six-month period, calls in the 540 area code can be made using either seven or 10 digits, which the SCC said will be part of a program to educate customers about the change.