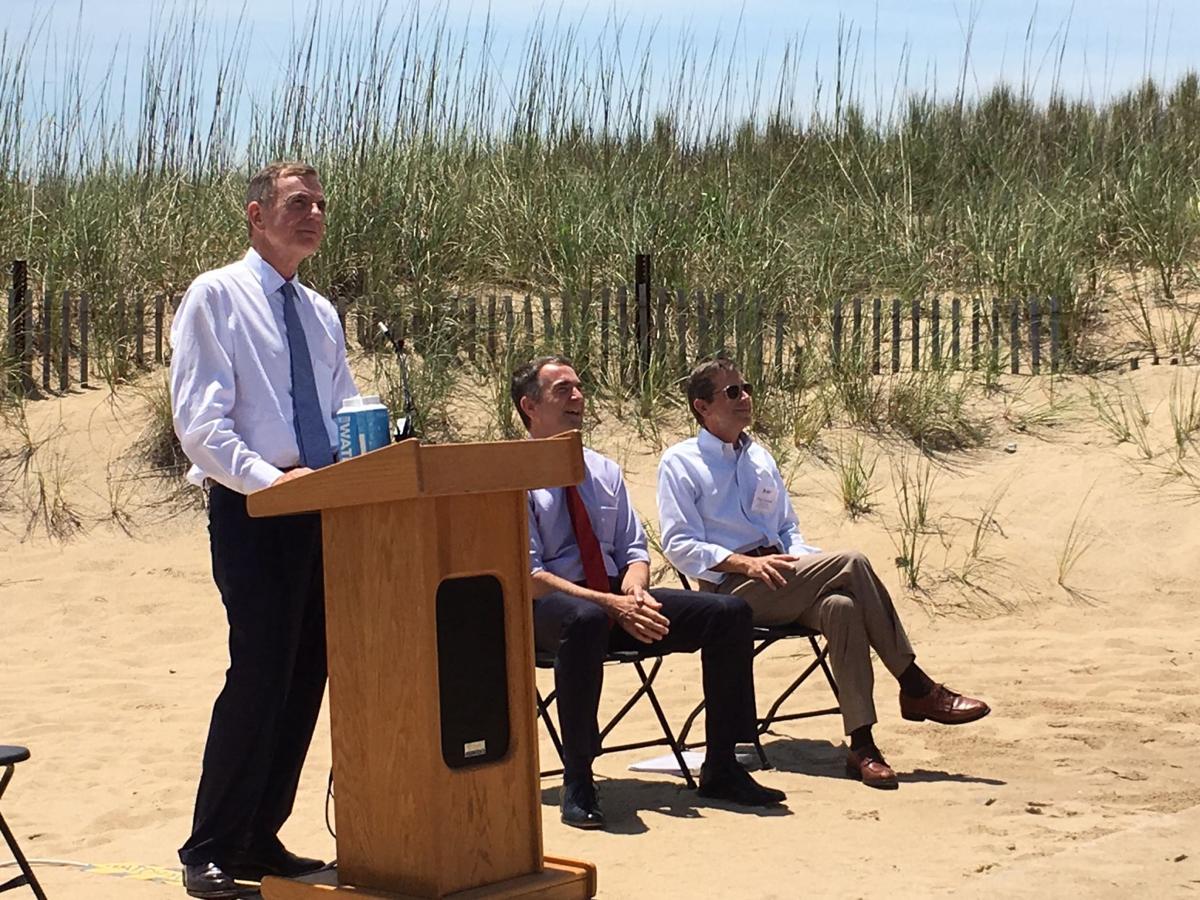 Dominion Energy on Wednesday announced that it has laid the keel for an offshore wind turbine installation vessel in Hampton Roads as part of its project to create what will be the largest offshore wind farm in the U.S.
By build-out in 2026, the project, 27 miles off the coast of Virginia Beach, is expected to provide 650,000 customers zero carbon electricity at peak output, according to Dominion CEO Bob Blue.
Gov. Ralph Northam said Wednesday that the vessel "is what will make the offshore wind industry possible in Virginia," because it is big enough and strong enough to transport and install the foundations of turbines at the offshore site.
During a virtual news conference Wednesday, Blue, U.S. Sens. Mark Warner, D-Va. and Tim Kaine, D-Va. and Northam said they hope the vessel will be a catalyst to help make Hampton Roads the hub of a wind energy supply chain on the East Coast.
Keppel AmFELS, a global marine shipbuilding firm, is building the vessel at its shipyard in Brownsville, Texas.
Dominion — which will own and operate the ship — and the Virginia officials said it is the first such vessel that is compliant with the Jones Act.
That federal law requires goods shipped between U.S. ports be transported on ships that are built, owned and operated by U.S. citizens or permanent residents.
"This is good news for our company and for the cause of clean energy," Blue said, noting that the vessel will be based in Hampton Roads, with a U.S. crew.
"It has the potential to help attract related businesses to the area to make Hampton Roads a supply chain hub for offshore wind, creating jobs and revenue for the region."
Warner said the milestone underscores that Virginia has become a leader in offshore wind. He noted that the tunnel in Hampton Roads, rather than a bridge structure, gives Virginia an unusual opportunity to ship huge wind turbine components and blades.
"At the end of the day we think this could create 14,000 domestic supply chain wind-related energy jobs right here in Virginia," Warner said.
Kaine said Hampton Roads is an ideal spot for the project because of its infrastructure, workers and port and because the region already well knows the effect of climate change due to rising sea levels.
This year Northam signed the Virginia Clean Economy Act, which seeks to reduce carbon emissions and lead Virginia to 100 percent renewable energy in the coming decades. Critics on the left say it doesn't go far enough on climate change, and critics on the right say it could hurt Virginia ratepayers.
Dominion said in October that two wind turbines the company installed in June off the Virginia coast in a pilot project had completed reliability testing and were ready to enter commercial service.
(804) 649-6645
Twitter: @AndrewCainRTD