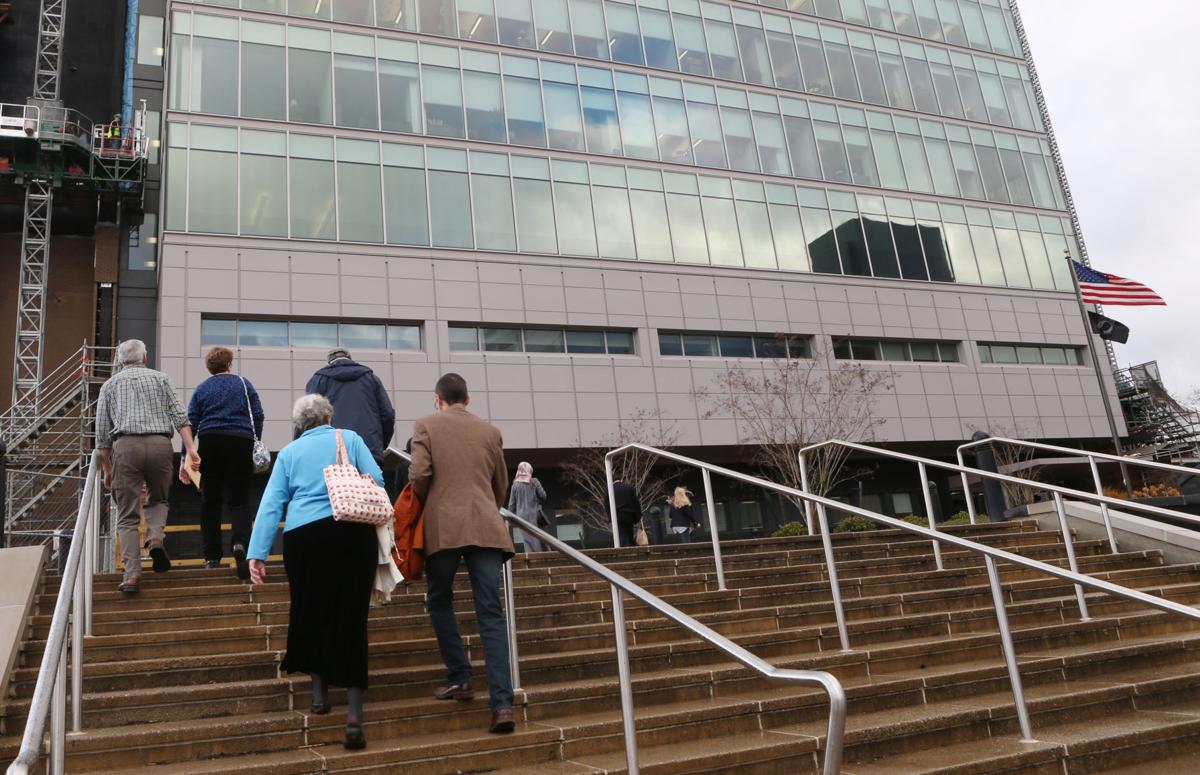 Even as it asks a federal judge to allow it to run a natural gas pipeline through land it does not own, Mountain Valley Pipeline LLC is considering changes to the pipeline's route.
In October, the company invoked its power of eminent domain to seek easements on nearly 300 pieces of private property that lie in the pipeline's path — over the objections of affected landowners in the Roanoke and New River valleys.
Since then, Mountain Valley has either made or is considering adjustments to the pipeline's route to avoid a large sinkhole, a family cemetery and a closed landfill, according to statements made this week in U.S. District Court in Roanoke.
The 11th-hour tweaks show that plans for the buried pipeline are too uncertain, and are changing too fast, for Mountain Valley to obtain the injunction it seeks that would provide immediate access to the land for tree cutting and other preliminary construction, attorneys for the landowners argued.
"MVP has rushed to use eminent domain without ensuring that they got it right," said Norfolk attorney Stephen Clarke.
A marathon, two-day hearing ended at 7:45 p.m. Saturday with Judge Elizabeth Dillon saying she will decide later on whether the company is entitled to the easements.
"These have been long days, and I know this case is emotionally charged," Dillon said in asking attorneys to submit brief s before she issues a written opinion.
Clarke cited the Slussers Chapel Conservation Site in Montgomery County as one example of how Mountain Valley continues to reconfigure the pipeline's route. On the property is a large sinkhole, the kind of karst terrain that includes underground aquifers vulnerable to pollution.
Although Mountain Valley had originally planned to run the pipeline through the site, the Federal Energy Regulatory Commission directed it to take an alternative route when it approved the project last October.
The commission's approval was based on a finding that the pipeline met a public need.
That in turn authorized the private company to use eminent domain — a process more commonly employed by governments to take private property for public use — to acquire the land it needs.
Less than two weeks after FERC approved the pipeline, Mountain Valley filed legal papers in Roanoke's federal court seeking forced easements on properties in the counties of Giles, Craig, Montgomery, Roanoke, Franklin and Pittsylvania.
Included in the properties cited for condemnation was the Slussers Chapel site. Since then, Mountain Valley has changed it plans and will follow FERC's recommended route to bypass the sinkhole.
A similar situation is playing out on top of Poor Mountain in Roanoke County, where James and Karen Scott live on a family farm that sits in the pipeline's path.
The Scotts, who are among the landowners being sued by Mountain Valley, were told over the past three years of several proposed routes — including one that would go through a historic cemetery on their land.
James Scott testified Saturday that while Mountain Valley filed eminent domain papers in October to obtain an easement through the cemetery, company officials have since notified him that they are considering another route that would avoid it.
Based on the most recent letter from the company, Scott testified, "we are expecting additional surveys next week."
Yet another case in which Mountain Valley is entertaining questions about the pipeline route on property it has already filed to condemn is in Chatham, a town in Pittsylvania County near the pipeline's terminus.
There, the pipeline would cross through a town-owned parcel that includes a closed landfill, raising concerns about the environmental risks of plowing through earth containing long-buried trash.
"The exact quantity and quality of the waste in the closed landfill is not immediately known," the town's attorney, Jeremy Carroll, wrote in court papers. "If immediate possession is granted to MVP without an assessment of the risk, considerable harm to [the town] could occur."
In testimony Friday, a Mountain Valley official said the company is open to finding an alternative route around the landfill if needed.
With at least three properties that the company has sought to condemn now being reconsidered, attorneys for the landowners pounced.
"Clearly, MVP, by its own admission, does not have its ducks in a row," Clarke said.
Wade Massie, an attorney for the company, countered that Mountain Valley is only seeking easements on properties along a route that has been approved by FERC.
When alternative routes such as the one at Slussers Chapel are recommended by FERC, he said, the company is willing to work with the federal agency to find a solution.
Nonetheless, Judge Dillon expressed concerns at one point in the proceedings.
"How can I grant you that right to condemn when we don't know what we're condemning?" she asked.
Mountain Valley has already reached voluntary agreements to purchase easements on about 85 percent of the land it needs for a 303-mile long pipeline from northern West Virginia to Chatham.
It is requesting an order from Dillon that would allow it to obtain easements on the remaining land in Virginia after failing to strike deals with the owners. Similar eminent domain actions are pending in West Virginia.
The pipeline company is also seeking immediate access to the land. That would leave the question of how much it must pay the landowners for another day in court while it proceeds with plans to start cutting trees by Feb. 1.
Critics of the pipeline say that cutting trees, clearing land, blasting bedrock, digging trenches and burying a 42-inch diameter steel pipe on steep slopes will be nothing short of an environmental disaster.
Sediment dislodged during construction is likely to be washed downstream by rainfall, contaminating private wells and public water supplies, pipeline opponents say.
Although environmental concerns have been discussed at length during hearings before regulatory agencies, this week's case in federal court turned more on the issue of property rights and the legalities of eminent domain.
But after hearing arguments from about a dozen attorneys and lengthy testimony from Mountain Valley officials, Dillon allowed landowners on Friday afternoon to describe the harm the pipeline poses for them.
The witnesses testified about spoiled views, fears of contaminated well water, sleepless nights caused by worry, and disruptions in farming activity and outdoor recreation on land that would be forever changed.
Fern Echols testified that she fears she will have to move from her home in Newport, where she would be able to see the pipeline from her kitchen window as it passes within 40 feet of her house.
"We have been devastated," the 76-year-old said, explaining how stress from the situation is taking a toll on her 80-year-old husband's health.