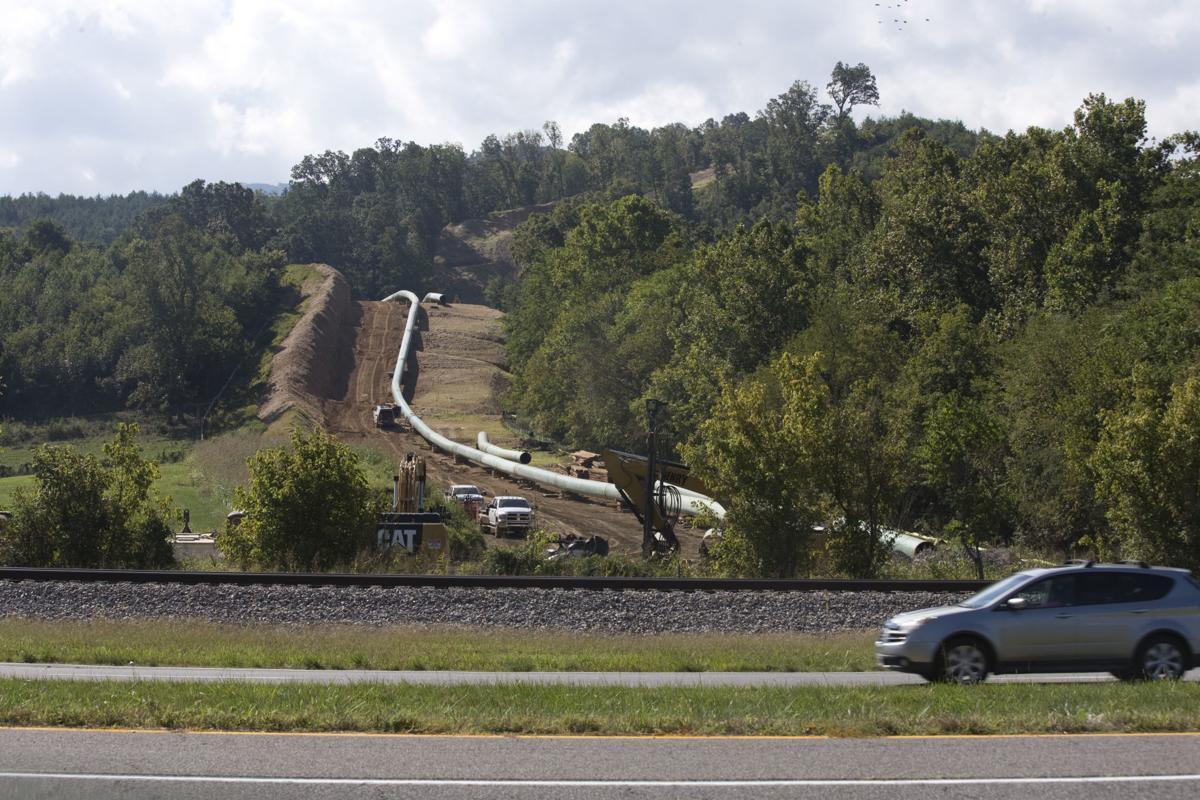 Virginia regulators are seeking an $86,000 fine from Mountain Valley Pipeline, saying the company continued to violate environmental regulations after it paid $2.15 million last year to settle a lawsuit.
The Virginia Department of Environmental Quality brought the suit in 2018, saying that erosion and sediment control rules were broken more than 300 times during construction of the natural gas pipeline through Southwest Virginia.
Since the $2.15 million settlement, DEQ said, there have been repeat cases of noncompliance, mostly during a lull in work.
Melanie Davenport, the agency's director of water permitting, made the disclosure Monday during a meeting of the State Water Control Board. She did not say whether the fine had been paid.
Mountain Valley spokeswoman Natalie Cox later wrote in an email that the fine "has not yet been decided or paid due to ongoing discussions" about the alleged violations, most of which took place while a consent decree that settled the case was being finalized.
The consent decree covered violations through Sept. 18, 2019, but it was not approved by a judge until December. In a letter demanding payment for the most recent violations, DEQ wrote that they occurred from Sept. 19, 2019, to March 10, 2020.
Since work began on the controversial project more than two years ago, digging trenches to bury the 42-inch diameter pipe along steep mountainsides has caused repeated problems with erosion, washing harmful sediment onto nearby properties and into streams and rivers.
In announcing the consent decree, Attorney General Mark Herring said a key part of the agreement was a provision that allowed for enhanced monitoring and tougher penalties should there be violations after Sept. 18, 2019.
While there were far fewer problems found after that date, they carried maximum fines, such as $1,000 per day.
Opponents say the fact that there were any violations — coming during a period when construction was largely stalled by legal challenges — shows that state and federal regulators should never have allowed what will be the largest pipeline in Virginia to traverse such mountainous terrain.
David Sligh, conservation director for Wild Virginia, noted in a letter to DEQ in February that the infractions happened while Mountain Valley was working almost exclusively on erosion and sediment control measures.
"Mountain Valley's violations during a time when its sites are mostly dormant are particularly inexcusable," he wrote in a letter to the agency's director, David Paylor.
"We are happy that the DEQ has finally taken action in response to MVP's repeated violations," Sligh wrote in an email Monday. "However, we are puzzled as to why the agency needed this long to enforce the provisions of the consent decree."
Meanwhile, construction of a 303-mile pipeline that was supposed to be done by the end of 2018 has yet to resume.
Mountain Valley is still working to regain three sets of key permits, which were vacated or suspended following court challenges by environmental groups.
Earlier this month, the company said the pipeline would be completed by early 2021, at a cost that has shot up from $3.7 billion to as much as $5.7 billion.
The business news you need
With a weekly newsletter looking back at local history.