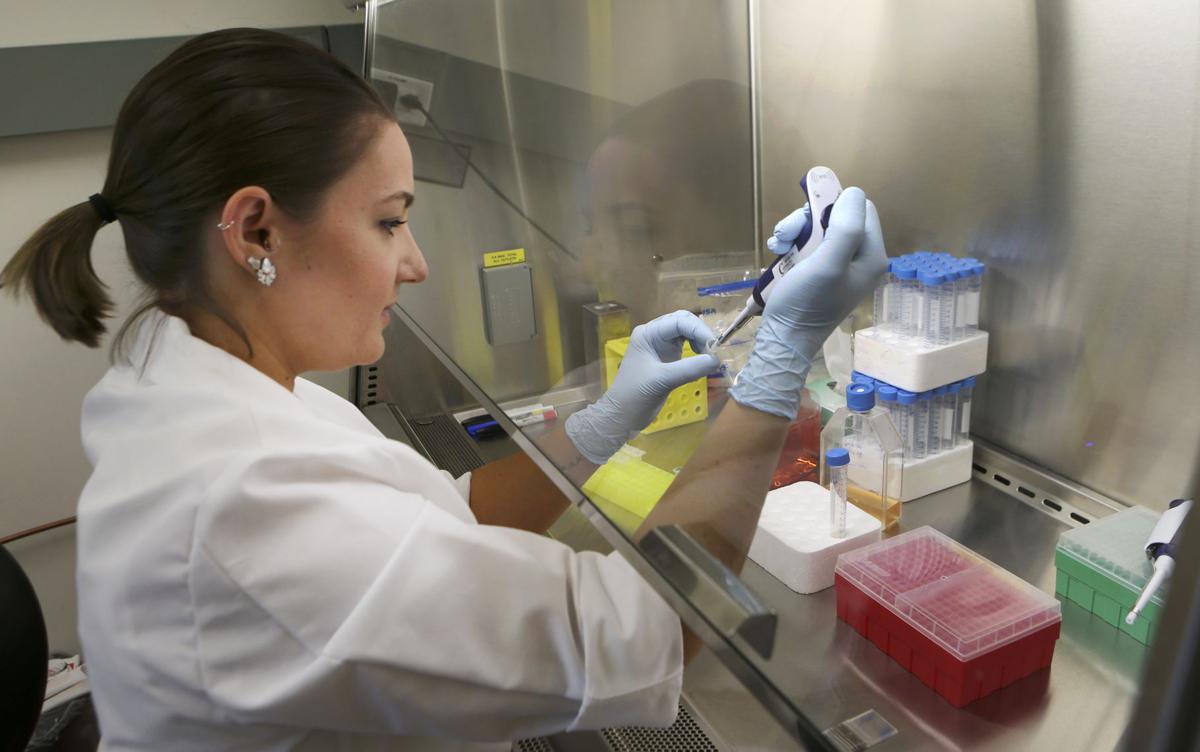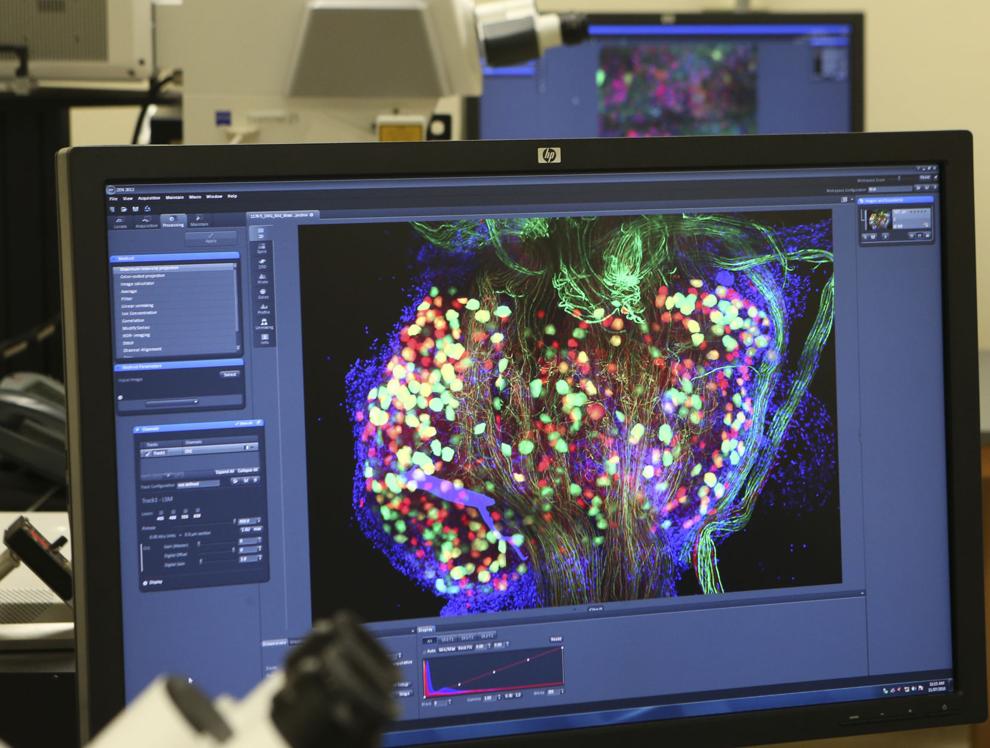 Michael Friedlander leads a guest into the compact nerve center of the Virginia Tech Carilion Research Institute. He walks to the middle of a space no larger than a suburbanite's walk-in closet and points over the control panels at opposing windows that open onto twin functional MRI suites.
The machines stand ready to link study participants' brains with others on Tech's main campus, 40 miles away in Blacksburg, and to a network of similar suites in labs across the globe.
Until the research institute in Roanoke opened six years ago, the ability to peer into several people's brains as they communicate with each other, in real time, across space, existed only in sci-fi movies.
"This room is the hub for the world of the human functional interactive brain," Friedlander said. "This is really unprecedented work. No one else in the world is doing this."
It is one reason Friedlander in 2010 left Baylor College of Medicine in Houston to come to Roanoke as the research institute's founding director. Virginia Tech and Carilion Clinic's investment in building the network enticed four other neuroscientists to come with him.
They arrived before all the floors at the new $59 million building were finished and furnished. They brought a desire to advance not just their own research and careers but to be part of a broader experiment. But it was a risk.
Today, the research institute is poised to double in size and launch Tech's plans to become known as well for neuroscience as it is for engineering, and to serve as the hub of an innovation district that will stretch from the Riverside complex to downtown Roanoke and be packed with students and scientists developing medical cures and businesses taking them to market. Today, 25 scientists run labs in Roanoke.
The plan to double the space and the labs might be bolder than the one begun nearly a decade ago.
In 2007, a land grant university in Blacksburg noted for engineering, agriculture and, some might say, football joined with a Roanoke health system that was transforming from a collection of hospitals and primary care offices into a Cleveland Clinic-type system to try something no one else had done. They created a new medical school that would require students to immerse themselves in research.
As they announced the venture, the nation's economy skidded into the Great Recession. The National Institutes of Health began to apply the brakes to research funding, and university owned medical centers around the country contracted.
Research, stripped to its core, asks questions. What would happen if Tech and Carilion bucked the trend and invested in technology and research?
Would anyone come to Roanoke, a city lacking any reputation for medical research?
Friedlander was chairman of Baylor's department of neuroscience and the director of neuroscience initiatives, a position he took after leaving the University of Alabama at Birmingham. At Alabama's medical school, he founded the neurobiology department.
At 60, Friedlander needed to decide if he'd stay put until retirement or accept one of a few dangling offers at bigger, established centers. Then in 2010, he got a call about Roanoke. Years before, he had studied in Charlottesville so he thought he knew that Virginia Tech was in Blacksburg. But Roanoke? He pulled out a map.
"This was a brand new medical school, a brand new research institute. Nobody works there yet. How scary is that? My first inclination was thanks, but no thanks," he recalled.
Then he talked with Tech's then-president, Charles Steger, and Carilion's then-CEO, Ed Murphy.
"I thought they had a great vision. I started to think, how many times in your life do you get an opportunity in my field to build something completely from scratch?" he said. "It captured my imagination."
He was in. Who would follow?
"Could I attract the best and the brightest to come to Roanoke? Nothing wrong with Roanoke, but people don't know the place. They may have heard of Virginia Tech, but it didn't have a history" in medical research, he said. "Could I pry people out of big-time, important jobs in existing medical centers and attract young people just coming off their training at Harvard or the NIH and say, 'Hey, how would you like to be here instead of Duke or NIH or the University of Chicago or Pittsburgh?' I didn't know what the answer was. I worried a lot about that. I just didn't want to fail."
He looked first at his Baylor colleagues.
Among them is Read Montague, who figured out how to connect functional MRIs so that scientists can do what once seemed impossible: watch humans' brains think together. Friedlander said Montague came for the same reason that he did — the commitment by Tech and Carilion to build a world-class network.
He also brought junior researchers.
"Several of us were at a point in our professional and personal lives" where the timing was right, said Pearl Chiu. She, Brooks King-Casas and Steve LaConte were young and making their mark. Chiu said the recession and funding cutbacks in Houston were concerning. What was happening at Baylor was being duplicated across the country as Congress cut NIH funding and research-based foundations contracted during the recession.
"Mike brought several of us out on a couple of visits to see the community and check out the housing options," she said. Chiu had always lived in large cities. "I fell in love with Roanoke. You open your door, and it's fresh air and greenery or snow or spring. Any of the seasons are just fabulous."
The Baylor recruits were impressed by Tech and Carilion's commitment to spend $50 million outfitting the labs. They were in.
"It would have been extremely difficult for any of us to come alone," Chiu said.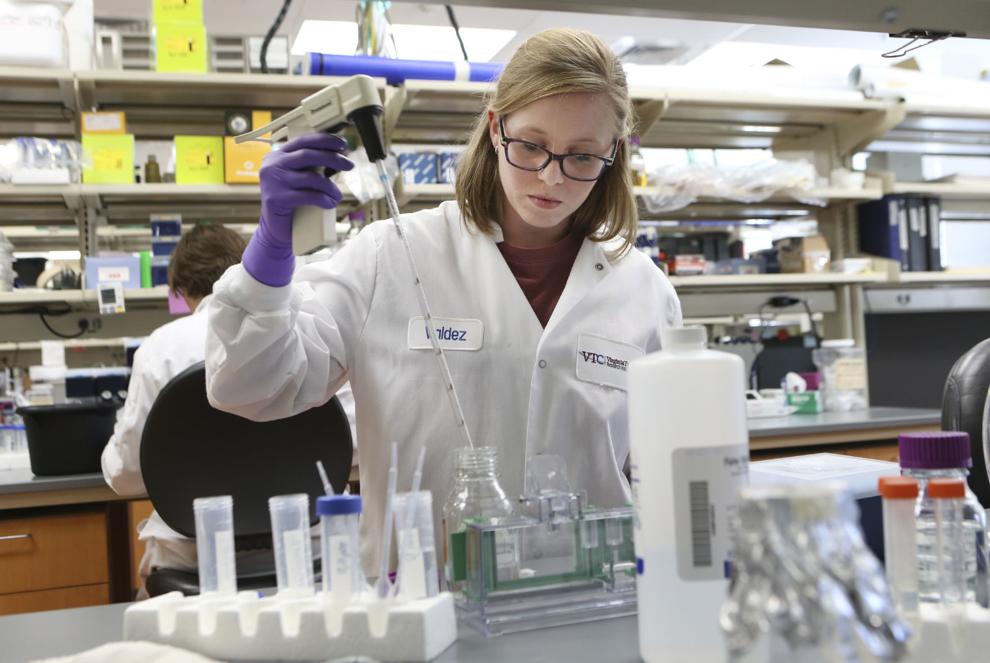 Friedlander then placed ads in two top journals, Science and Nature.
One caught the eye of a professor at the Medical University of South Carolina who was looking for a new challenge.
Robert Gourdie studies the heart, and his lab had discovered a compound that calms inflammation. It also showed promise in healing nasty wounds, such as diabetic ulcers, so Gourdie and his postdoctoral student formed FirstString Research Inc. to advance the discovery through clinical trials.
Within days of answering the journal ad, Gourdie received an invitation to visit Roanoke.
"I liked the way Mike was combining basic and translational science and wanting to take it from our labs and move it out to the market and the clinic instead of just doing ivory tower research," Gourdie said. "Mike was interested in me because I was doing that kind of thing. I was starting companies, taking patents out and making new drugs that seem to be helpful to treating conditions."
Gourdie accepted a senior research position.
"I had the opportunity to move from a mature department, in which I achieved the academic goals I wanted to achieve, to a new vibrant situation that was fast moving, and a chance to establish relationships with researchers in other areas," he said. "My old department was very focused on the heart. Here, I interact with neuroscience, cancer and with people I never could have worked with."
A few of those people are in Roanoke because of Gourdie.
Steve Poelzing was an associate professor at the University of Utah researching sudden death in otherwise healthy young people. While other investigators wanted to identify the genes behind sudden death, Poelzing took a different approach: What event triggers the dormant gene to become active?
He focused on the electrical activity between cardiac cells and discovered that if water collects on the outside of those cells, electrical activity can go haywire. But he couldn't figure out how the water collected.
And then five years ago, he went to the American Heart Association's international meeting and set up a poster about his research. Gourdie's poster was on the other side of the stanchion.
"Rob wandered over to my side and he's like, 'Steve' — I know this is going to sound a lot like a Reese's peanut butter cup. It is. He said, 'I have a structure for your function,'" Poelzing said.
Gourdie's discovery of a little pocket on the outside of cardiac cells helped explain Poelzing's theory. Poelzing since has learned that changes to the heart's hydration causes the size of those pockets to also change, which, in turn, triggers misfires.
Now Poelzing is developing a better bag of intravenous fluids to prevent arrhythmia in hospital patients who are most at risk for sudden cardiac death.
He could have stayed in Utah and worked long distance with Gourdie. Both mainly focus on hearts, but in Roanoke, unlike at other research centers, they can work across diseases, which advances their own investigations at a brisker pace, and sometimes pulls the research in an unlikely direction.
That same compound Gourdie developed to promote wound healing might also retard an aggressive type of brain tumor — a discovery that might not have occurred if cancer researcher Zhi Sheng hadn't come to Roanoke.
Sheng was finishing his postdoctoral fellowship at the University of Massachusetts Medical School and was looking for his next post. He thought he'd land at a cancer institute, but then he was invited to give a talk in Roanoke.
"I thought if I expose myself to something different, I might end up with an unexpected collaboration that would enhance my cancer research career," he said.
The first thing he did in Roanoke was contact Gary Simonds, Carilion's chief of neurosurgery. Sheng needed brain tumors and would have to build a tissue bank.
Simonds and his team began to ask patients if they would agree for some of the tissue excised during surgery to be used for investigation at the research institute.
"Our patients are some of the most generous people you'd see," Simonds said. "We let them know that most likely this will not affect their individual care, but, in the end, it's for the greater good. To a patient, they have agreed and said, 'Anything you can do to help people in my situation.' It is very heart-tugging."
Unfortunately, Sheng's lab now has hundreds of samples because the type of tumor he studies, called glioblastoma, is common.
"It's one of the most lethal tumors in this world. If you treat it with all the standard of care, the patient can live 10 to 12 months," Sheng said. The cancer cells become resistant to the best available drug treatment, he said.
One of Sheng's graduate students put Gourdie's inflammation-calming compound into the tumor cells. At first, nothing happened. Sheng added the drug used to treat the tumor to the mix, and the resistant cells responded.
He's now working with researchers the Virginia-Maryland College of Veterinary Medicine at Virginia Tech to test the combination's safety and efficacy in treating glioblastomas in dogs. If it's successful, Sheng is confident it would move quickly to human trials because the drug is federally approved and Gourdie's compound nearly is.
"If I tried some cancer research by myself in a cancer research center, I would probably never imagine working with this drug, because I'd have no chance to get it," Sheng said.
Simonds imagines the day that testing moves beyond animals to his patients. He's hoping they will benefit from clinical trials that arise from research in Roanoke.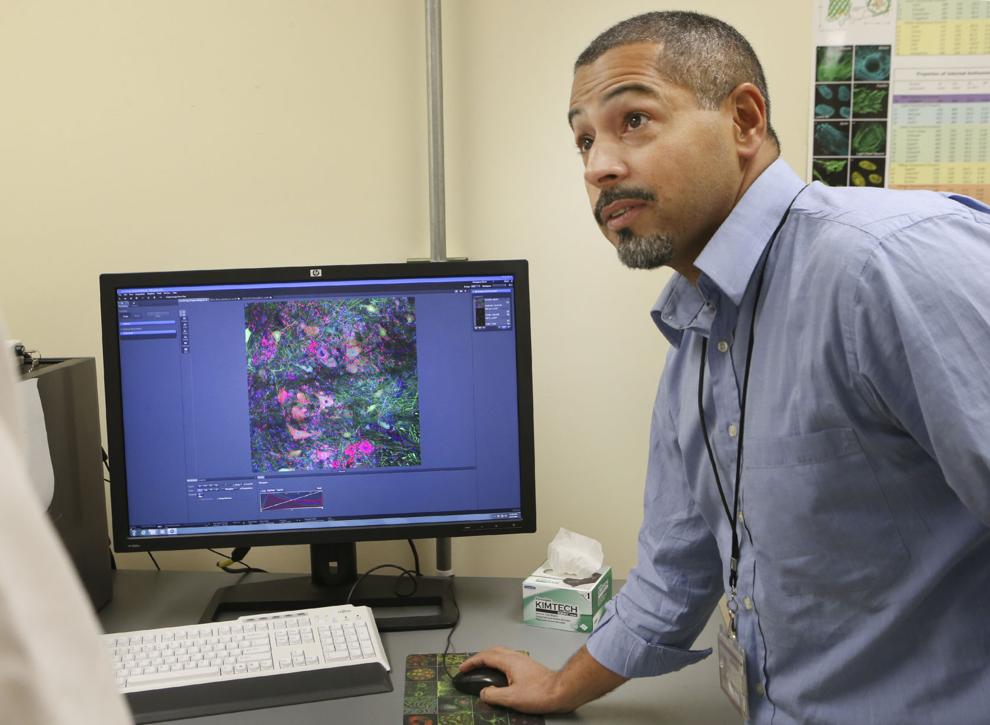 Carlion's neurosurgery specialists also are working with scientists studying Parkinson's disease and epilepsy and are playing a role in the new center that was set up last year when Harald Sontheimer arrived in Roanoke.
Sontheimer was brought here to develop Tech's new undergraduate School of Neuroscience. The school will cross-train students in a variety of disciplines in the structure, function and diseases of the brain, and in how it makes decisions, spawns creativity and forms beliefs. The school was developed under the theory that anyone's career can benefit from this understanding.
"There is a lot of angst among scientists in this country about the eroding financial support for what we do, whether federal or private sources," Sontheimer said. "I see the exact opposite in the state of Virginia, especially in Roanoke and Blacksburg with Virginia Tech. Real commitments are being made. Rather than being in a rut, everybody is upbeat about the potential."
The neuroscience school is expected to bring undergraduate students to Roanoke, where 15 of the institute's 25 research teams focus on the brain. It's where Sontheimer is building the specialized Center for Glial Biology. He's already brought an international conference to Roanoke.
The brain has two basic types of cells: the better-known neurons that communicate with each other and the relatively unfamiliar glial that nourish the neurons.
"Your brain is full of glial. What we learned is they are involved in just about any neurological illness. They've been largely overlooked," Sontheimer said.
Sontheimer's center is the first of its kind, which is making recruiting easy.
"Several applicants came to me and said, 'We've been told by our program directors at NIH, that gives out funding, you have to check this out because this is going so big.' It isn't something that has happened before." He said applications are coming from "world-leading researchers from some of the best places in the world."
Each of the professors Sontheimer recruits arrives with about $1 million in research funding and hires five people.
"More established groups like me create 20 or 30 jobs. Each buys a house or rents an apartment, goes out to dinner, buys cars. So the impact on the community is enormous," he said. "So it makes perfect sense for a city, a state, a community to make that investment."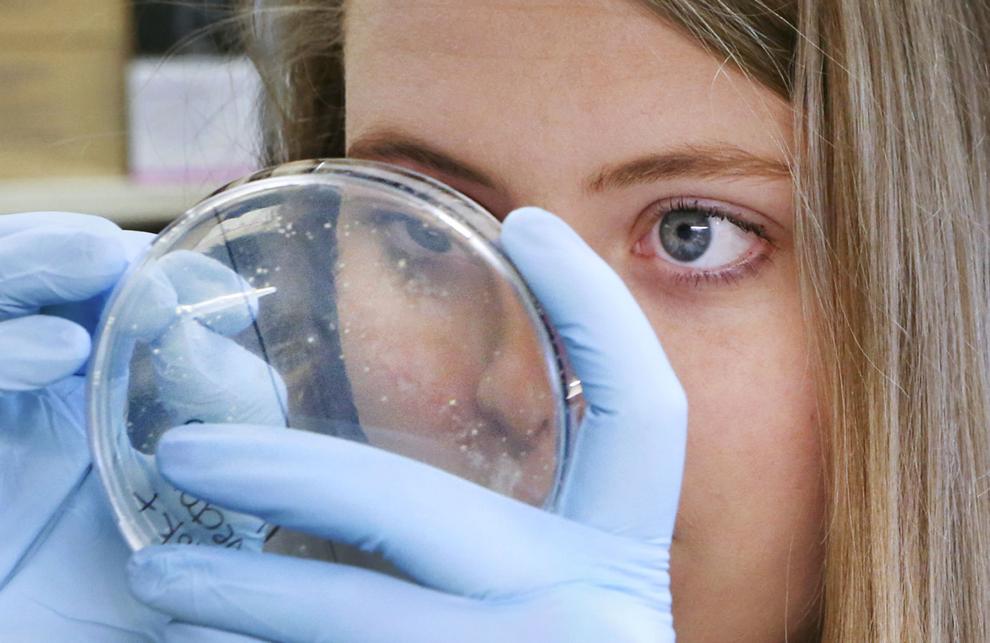 By the time Sontheimer arrived in 2015, the research institute already was filling up with young scientists.
Friedlander's ad had caught their eyes when they were finishing their fellowships or were ready to create their own labs.
For the younger scientists, setting up their first lab is like starting a small business.
Deborah Kelly was completing her fellowship at Harvard when the research institute opened.
"Those first few years you have to hire and manage people. Life, until that point, is I'm a scientist," she said. "Now you are in a position where you manage people who do the science, and you put it all together."
There's always pressure to obtain more grants and publish more papers.
Initially the lack of a cadre of established investigators, and the small size and newness of the institute, were handicaps in applying for grants.
"When we put in grants, we get judged on not only what we propose to do, but our track record. As you get more senior, your track record becomes more important," said neuroscientist Michael Fox. "There's a part of every grant that gets judged on the environment: the equipment, colleagues. Now that we have 25 people, we jumped that hurdle. In 2012, when there were 15 of us, we may have looked small."
The junior investigators' offices line the hallways, and many said they strike up conversations in passing or over coffee that illuminate their own work.
Virologist Sarah McDonald, who came to Roanoke from an NIH fellowship in 2011, said she would welcome more virologists but enjoys the benefits that come from working next to people in other fields — the ability to advance each other's science, publish together and apply for joint funding. She said she wonders if the institute will take on a more traditional separation of specialties once it doubles in size.
"We've had these conversations a lot. Mike is open to whatever he thinks is going to work best for people. But I think we all agree that part of the magic that has made it successful these past five years is because were all mixed together," she said. "Even if there was an opportunity to segregate into our specific units, like all the cancer people go together, I would be one to argue against that."
Many of the junior researchers said the growth of the institute coincides with the growth of their labs, and they are ready for the next step.
"Having a full academic medical center is important for getting things to cross all levels of translational science, from basic science all the way up to clinical trials and implementation," Fox said. "What major medical schools have is the full pipeline, every step of this process. Right now, we are a little more bipolar. We have the ends of the spectrum, but we're missing the middle."
The middle is physician-scientists who see patients and have very vibrant labs.
Connecting to the community
For some researchers, Roanoke provides the perfect laboratory to take their basic science project from the institute into the community.
This spring, Roanoke City Manager Chris Morrill named Sharon and Craig Ramey the city's first chief science officers for human development to further the goal of making rapid progress toward improving children's health and educational achievement.
In 2010, the Rameys were the founding directors of Georgetown University's Center on Health and Education with plans to retire when Friedlander and Montague, colleagues from their Alabama days, invited them to see their new venture.
"We came down to see what they were doing and to praise them, and say, 'Oh, we're so proud of what you're doing,' and to go back home," Sharon Ramey said.
"And, of course, we were lied to," Craig Ramey said.
"This was sneaky recruitment," she said.
Their whirlwind visit concluded with Friedlander driving them to the airport and asking them to join the institute.
On the plane "we looked at each other and said it sounds like the most exciting thing we've heard of in a long time," Craig Ramey said.
There went retirement. In its place arrived an opportunity to put into practice their lives' work of understanding early childhood development in a place where it could make a difference.
"You can get the opinion leaders into a reasonably sized conference room, whereas in Washington, D.C., you couldn't get them all in the ballroom at the Mayflower," Craig Ramey said. "From our perspective, this was the single best fit in the country to do what we wanted to do."
It's a good fit, too, for Warren Bickel, who studies why people continue to engage in harmful behaviors.
For Bickel, being near Appalachia offers him a wealth of people with addictive and challenging health behaviors. High rates of tobacco and substance abuse offer a larger pool of people to recruit for studies.
Bickel said he longed to devote all his time to the lab but was being pulled deeper into administration at the University of Arkansas. Montague, who was working on a grant with Bickel, asked if he'd consider a move.
"It was a gamble for me to do that again, and muster all the resources and get the grant support. I like to tell my trainees, 'Harvest the power of fear,' " Bickel said.
Friedlander said Bickel's successes have made him among the NIH's top-funded researchers in his field.
Bickel is known mostly for his work with addiction and figuring out why people make choices that undermine their health and well-being, a process he calls discounting the future. He's now studying whether this same principle applies to people whose doctors have told them they will develop diabetes if they do not eat better, exercise more and drink less.
Carilion is combing electronic medical records to find patients who might want to participate in the research. Dr. Mark Greenawald said this is the first collaboration for the family physicians with the research institute, and fits their goal to take part in research focused on lifestyle medicine that could cut rates of obesity, diabetes and hypertension.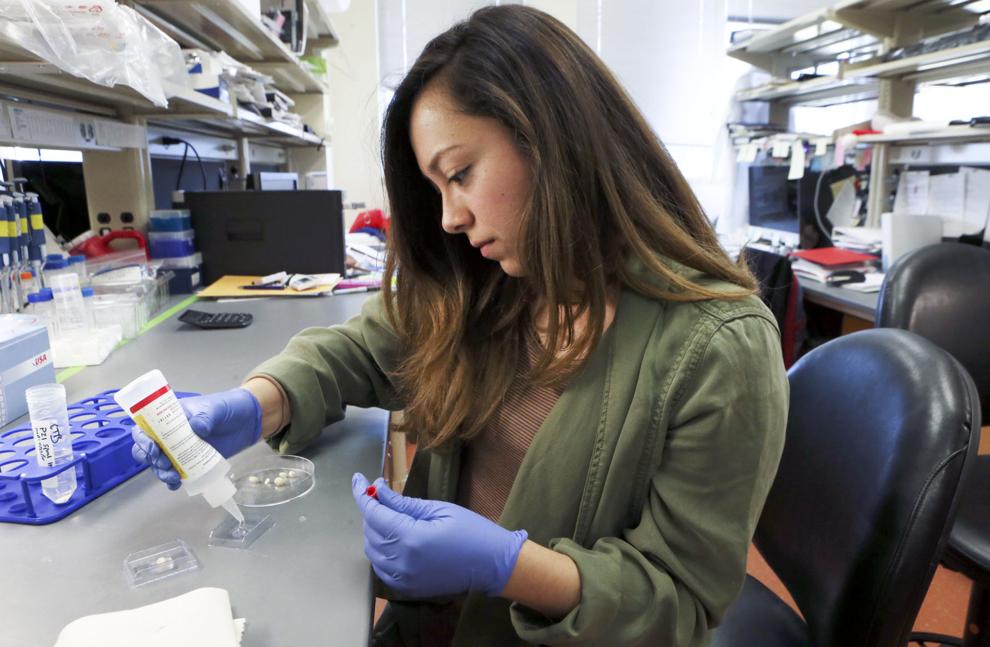 Training the next generation
Friedlander plans to expand the institute around four key areas: infectious diseases, regeneration of the cardiovascular system, the glioblastoma brain tumor, and all the other brain research already underway at the institute.
He continues to recruit not just people to work in Roanoke, but top scientists to give lectures. The idea is that they'll go back to their institutions and spread the word about Roanoke.
In announcing the expansion and the innovation district that's envisioned to grow with it, Friedlander said, "There's a nonlinear energy, at a certain point, that is contagious and infects everyone from undergraduates to old-timey professors who have become a little bit jaded. That's what we're hoping for, that this will be that kind of place and catch the attention of the whole country."
Friedlander was invited to speak about Tech's new doctoral programs during the Society for Neuroscience's convention, which was expected to draw 30,000 neuroscientists to San Diego this week.
He was slated to appear on a panel with Walter Koroshetz, the director of the National Institute of Neurological Disorders and Stroke of the National Institutes of Health, and Edda Thiels, director of the National Science Foundation's program on Integrative Organismal Systems.
Friedlander said it was "pretty cool" that the one university in the country selected to talk about training the next generation of neuroscientists is Tech Carilion.
He no longer worries if anyone will come to Roanoke.
"That tremendous fear of whether we can get the right people to come here has been completely put aside," Friedlander said. "We can and we do. We get the best, and we go head to head with some of the best institutions."