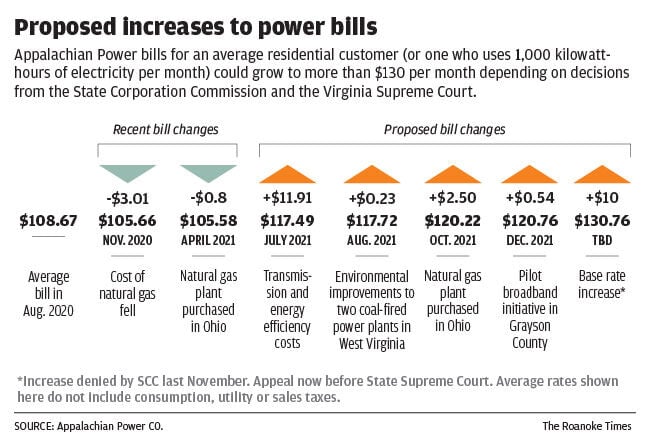 By the assessment of Appalachian Power Co., its monthly bill for an average residential customer was one penny less at the end of 2019 than it was a decade earlier.
A report from the State Corporation Commission looks at a slightly different time frame, from 2007 to 2020, and concludes that bills went up by $42.42 a month, an increase of nearly 64%.
The details quickly get complicated. But this much is clear: Appalachian is seeking a series of future rate hikes — either from the SCC or the Virginia Supreme Court — that would add another $22 to the tab for someone who consumes 1,000 kilowatt-hours of electricity a month in their home.
It started a year ago, when the utility sought an increase in its base rates that would up the average residential customer's bill by about $10. The SCC denied that request, but Appalachian is asking the Supreme Court to reverse the commission and allow the increase.
The rest of the possible increase comes from rate adjustment clauses, often called riders because of the way they catch a ride on the monthly bill, adding charges for things such as the costs of fuel or delivering electricity to a customer.
Currently pending before the SCC are two proposed riders that would increase the average bill by $11.91 for transmission and energy efficiency costs, starting July 1. Three more riders would add another $3.27 by year's end for environmental improvements to two coal-fired coal plants, an adjustment for peak users and a pilot broadband program in Grayson County.
At an SCC hearing last week, there was no opposition to the transmission cost rider. The commission was told it was due in large part to a 50% increase since 2018 to the service change Appalachian pays to PJM, an independent entity that oversees the power grid in Virginia and 12 other states.
But there wasn't a lot of support, either.
"The elephant in the room here is the sheer size and magnitude of this increase," said Meade Browder, a lawyer with the Virginia attorney general's division of consumer counsel.
"That's a big impact on customers and a big concern that we have."
On Friday, an SCC hearing examiner recommended approval of the transmission rider. A decision by the full commission generally comes six to eight weeks after such a recommendation, said Ken Schrad of the SCC.
Appalachian spokeswoman Teresa Hall said the cost of providing electricity fluctuates, and it's difficult to predict what future bills will bring.
"The only thing I can say with certainty is that Appalachian Power is committed to providing a reliable product while mindful of its responsibility to keep costs as low as possible," Hall wrote in an email.
If nothing else, the proceedings show the complexity of utility rates and regulations.
"I'm a lawyer by training, but as I read through these reports I think, 'It sure would help to have an accounting background,'" said Peter Anderson, the Virginia policy director for Appalachian Voices, an environmental group that opposed Appalachian's attempts to raise its base rates.
"Most customers are neither a lawyer nor an accountant."
In addition to the Supreme Court appeal and the riders before the SCC, there's another factor on the horizon: the cost of complying with the Virginia Clean Economy Act, a sweeping law passed last year that requires Appalachian to serve its approximately 500,000 Virginia customers with totally carbon-free electricity by 2050.
Bills are expected to go up another 3.5% over the next five years as Virginia takes steps to address climate change, Appalachian said last year in an SCC filing. Long-term projections are more sketchy but show a possible 55% increase by 2035.
Currently, the utility's residential customers pay about 10.5 cents per kilowatt-hour. The national average is 13.3 cents, according to the U.S. Energy Information Administration.
Rates have been stable over the past decade, Hall said. As for the SCC report that found a 64% jump since 2007, she said that mostly happened between 2007 and 2010, when "rates were low and required an increase to get them where they needed to be."
In appealing the SCC's denial of its request for a 5% overall increase in its base rates, Appalachian argues that its financial health will be jeopardized if it is not allowed to charge its customers more.
Critics counter that the company is a monopoly regulated by the SCC, which is charged by law to ensure a utility can not only cover its expenses but also earn a reasonable return on equity.
They also point to Appalachian's parent company, American Electric Power, a major investor-owned utility with more than 5 million customers in 11 states.
"It's not like they are off on their own," said Dana Wiggins of the Virginia Poverty Law Center, another organization that opposed the base rate increase. Nor is it likely that the industry is overly stressed in a market where the need for power is not in question, she said.
In fact, a study released last week by the Weldon Cooper Center for Public Service concluded that electricity sales in Virginia will grow substantially in the coming decades.
The development of data centers, which host large-scale computer systems with huge appetites for electricity, could lead to a 30% increase in business for utilities by 2035, the study found.
A rise in the use of electric cars, which comes with the fight against climate change, also figures into the forecast for higher electricity sales.
For years, Appalachian has relied heavily on coal, using the greenhouse-gas producing fuel to run power plants to serve about 60% of its customers. The utility has sought to diversify its portfolio in recent years, using more natural gas, wind and solar energy.
Yet it plans to continue to draw from two coal-fired power plants in West Virginia through 2040.
One of its pending rate increases is a rider that would add $2.50 a month to the bill of an average residential customer for environmental improvements to the Amos and Mountaineer power plants.
In a recent filing with the SCC, the Sierra Club presented expert testimony in support of its position that closing the plants and replacing them with renewable energy could save ratepayers up to $1.1 billion.
"Appalachian Power's proposed rate increase to needlessly keep the Commonwealth hooked on expensive coal through 2040 is completely incompatible with Virginia's clean energy goals," Karan Ireland, the Sierra Club's senior campaign representative for Central Appalachia, said in a statement
On Friday, the SCC approved Appalachian's first annual plan to comply with the clean economy act, which entails the purchase of 210 megawatts of solar power and 200 megawatts of wind power over the next five years.
The switch to renewable energy should not be as costly as power companies claim, Anderson said.
"We can't just assume that it will be an expensive transition," he said. "Of course there are going to be costs, but there are also cost savings, if we do it right."
Wiggins, of the poverty law center, said that with all the talk about million-dollar plans and corporate profits, it's easy to lose sight of how another $22 on an electricity bill can be a devastating blow for some people.
"We talk to people every day who are trying very hard to maintain and keep up with everything that is being thrown at them," she said.
"We have to give more grace and time to the folks who it will really influence the most, at a make-or-break level."