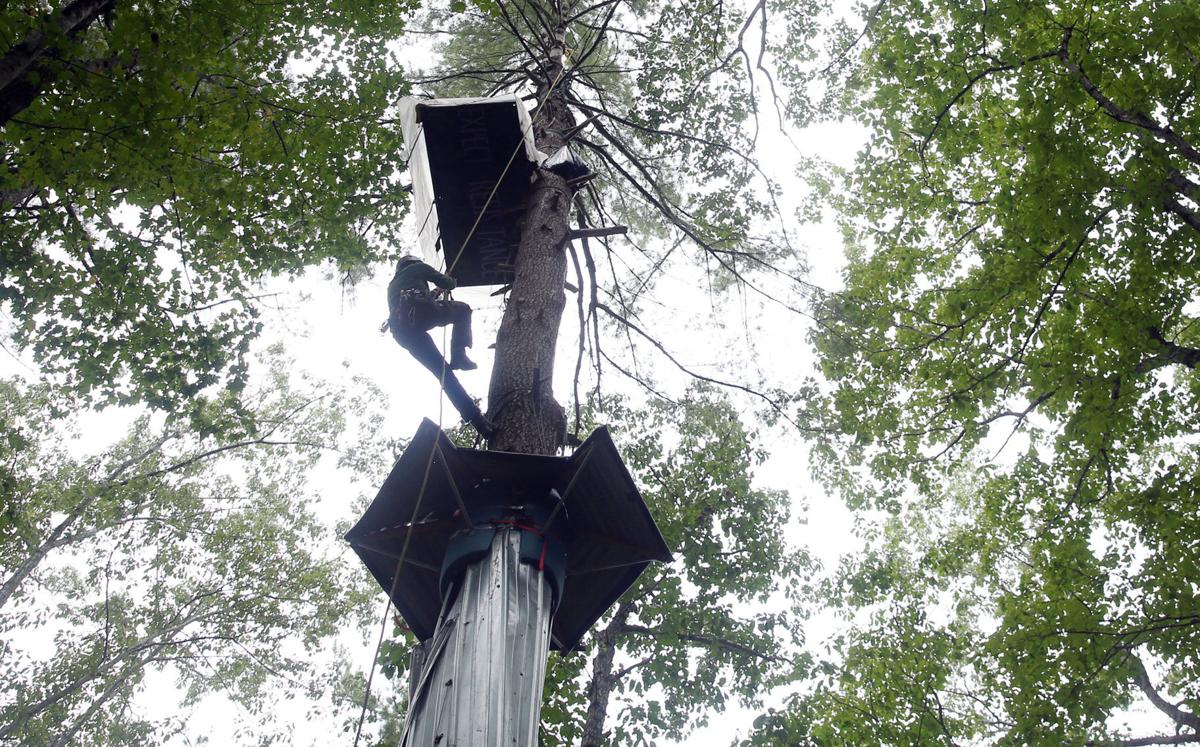 CHRISTIANSBURG — After spending two years, two months and seven days in the trees — where they have maintained an aerial blockade of the Mountain Valley Pipeline — protesters were told Thursday that they have four more days.
A temporary injunction issued by Montgomery County Circuit Judge Robert Turk ordered the three unidentified tree-sitters and 10 of their supporters to be gone by Monday.
While Mountain Valley has a legal right to a 125-foot-wide easement on which the natural gas pipeline will be built off Yellow Finch Lane, it has been unable to cut trees out of fear that it will harm the protesters in and around them.
If the defendants do not leave the property that has been occupied since Sept. 5, 2018, by Monday, "the Sheriff's Office shall thereupon take such measures as are necessary to remove them," the order entered by Turk reads.
Left unsaid in the order and during a two-hour hearing that preceded it was how the protesters might be extracted from tree stands about 50 feet off the ground on a steep, wooded slope near Elliston.
In the past, more short-lived standoffs have been ended by state police, who used a hydraulic crane topped with a railed platform to reach and remove opponents chained to excavators and other high perches along the pipeline right of way.
But the difficult terrain — not to mention the feisty determination of a group of mostly anonymous activists — could make the job at Yellow Finch more challenging.
There was no legal battle Thursday; the defendants did not show up for their court hearing and did not have lawyers to represent them. They have not been reluctant to tangle with Mountain Valley employees, though, and signs posted at the tree-sits declare "We're here to stay" and "Doom to the Pipeline."
Mountain Valley spokeswoman Natalie Cox said the company expects the opponents to follow Turk's order. If not, she wrote in an email, "we will work with law enforcement to identify appropriate steps for ensuring the unlawful activity does not continue."
The 303-mile pipeline being built through West Virginia and Southwest Virginia has drawn fierce opposition from those who say it is scarring the landscape, polluting streams and contributing to climate change by advancing a fossil fuel over renewable energy.
For the most part, Mountain Valley does not know the names of the protesters who take turns living on wooden platforms that went up two years ago in a white pine and a chestnut oak. A third tree-sit was erected in March.
Court papers identified them as tree-sitters 1, 2 and 3. Occupants of an encampment below the trees, who provided food, water and other support to their elevated friends, were referred to as John Does 1-10.
Three protesters whose identity is known — Phillip Flagg, Emma Howell and Evin Tyler Ugur — made an agreement with Mountain Valley in which they consented to an injunction barring them from the property. In return, the company dropped them from the case and will not seek damages.
Jeffrey Klinefelter, director of construction and engineering for Mountain Valley, testified Thursday that the delays caused by the tree-sits have cost the company about $160,000 to date. A security firm it hired has run up a separate bill of $53,000.
Several witnesses with Global Security described the actions of the protesters on the ground, which Mountain Valley attorney Wade Massie said showed they were "in league together" with the tree-sitters.
Videos shown in court included one of a confrontation between security officers and protesters, who struggled for a rope leading up to one of the tree stands. "You're literally supporting the genocide of the world," one of the protesters said.
On another occasion, an employee of a consulting firm who was monitoring bird activity in the area was called a "f——— fascist" and mocked as a "coward" for not responding to the taunts.
"We always got harassed by someone," Global Security employee Larry Wooddell testified. "They started yelling at us as soon as we got there."
According to the injunction order, the owner of property adjacent to the tree-sits did not give protesters permission to be there.
Turk directed sheriff's deputies to read a notice of his order aloud to people at the scene, and to attach copies of it to nearby trees. The injunction applies not just to the tree-sitters and their support team, but "all other persons in active concert and participation with them."
Alan Graf, who has served as a legal observer of tree-sits in Oregon and is now president of the Southwest Virginia chapter of the National Lawyers Guild, said he was concerned that the language is too broad.
Independent legal observers, journalists and concerned residents should be allowed to witness an attempted extraction of the tree-sitters, he said, but could be barred from the site.
"The order gives unfettered discretion to law enforcement to pick and choose who they want to be there," Graf said.