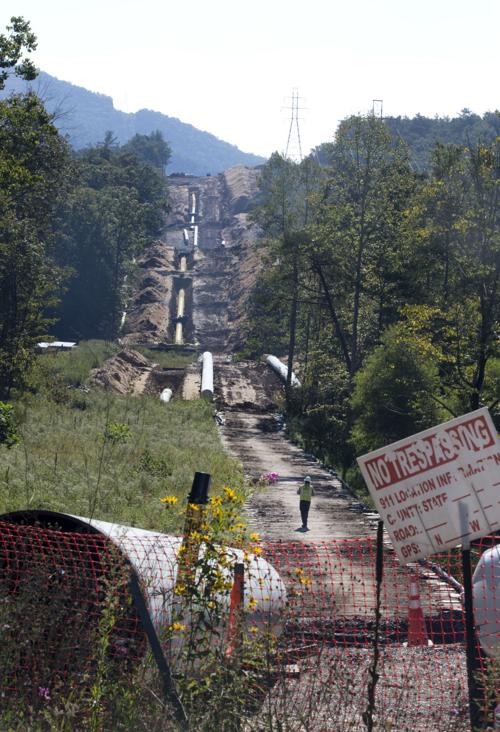 Held up for nearly a year by lawsuits, suspended permits and a stop-work order, the Mountain Valley Pipeline is bidding for more time.
The company building the interstate pipeline asked the Federal Energy Regulatory Commission late Tuesday to extend by two years a key approval that will otherwise expire in six weeks.
When FERC determined on Oct. 13, 2017, that there was a public need for the natural gas that will flow through the transmission line, it granted Mountain Valley a three-year certificate for a project the company said would only take a year to build.
But multiple legal challenges by opponents — who say burrowing a massive pipeline through Southwest Virginia will scar the landscape, pollute the water and kill endangered fish and bats — led courts to set aside three key sets of federal permits.
Mountain Valley has said it hopes to have the permits restored in time to complete the 303-mile pipeline by early next year.
But "due to the uncertainty regarding the timing of these permits and the outcome of any subsequent legal challenge, Mountain Valley asserts that a two-year extension is necessary and proper," Matthew Eggerding, assistant general counsel for the company, wrote in the Aug. 25 letter to FERC.
Mountain Valley spokeswoman Natalie Cox said Wednesday that the company still expects to complete work on schedule but requested the extension "out of an abundance of caution."
Construction is 92% completed, Eggerding wrote in his letter, and would have been done by now had it not been for the legal challenges.
Pipeline opponents question whether the $5.7 billion project is as far along as Mountain Valley contends. "They are saying that to essentially reassure investors and FERC," said Russell Chisholm, co-chair of Protect Our Water, Heritage, Rights, a coalition formed to fight the project.
Trenches for the 42-inch diameter pipe have not yet been dug in large stretches of Giles and Roanoke counties, where construction crews must navigate some of the steepest slopes they will encounter.
Questions also remain about the complicated task of burying the pipe under streams and wetlands, Chisholm said. Permits allowing Mountain Valley to cross nearly 1,000 water bodies have been suspended, and a more time-consuming approval process may be required to complete the largely unfinished work.
In its letter to FERC, Mountain Valley painted a different picture.
Vegetation has been planted over the buried pipe and final restoration work is completed on 155 miles of the 303-mile route the pipeline will take through West Virginia and Virginia, the company said.
Pipe segments have been placed in open trenches, welded together and covered with dirt along about 253 miles, the letter stated. By those measurements, about 80% of the pipeline construction is done, Cox said.
But the 92% figure includes other work — such as the construction of three compressor stations in West Virginia that will create the high pressure needed to transport the gas, and three interconnects to route it to different pipelines — that has been fully completed.
"Mountain Valley remains committed to bringing this important infrastructure project into service to meet public demand across the region for affordable, domestic natural gas," Cox wrote in an email.
That demand has increased with last month's cancellation of a similar project through Central Virginia, the Atlantic Coast Pipeline, Mountain Valley says.
While opponents say more natural gas is not needed as the country turns to renewable energy, they also point to the environmental damage caused by construction so far. Before FERC issued a stop-work order in October 2019, Mountain Valley had violated erosion and sediment control regulations more than 300 times in Virginia, the state asserted in a lawsuit that was settled for $2.15 million.
Many residents who had their land seized for the project told regulators that the mountains were too steep to build on.
"If FERC won't listen to every landowner they dragged through eminent domain and every resident who tried to warn them," Chisholm wrote in an email, "they might pay attention to the pipeline builders themselves and stop digging before the hole they are in collapses completely."
That was a reference to a lawsuit filed this month by one of Mountain Valley's contractors, who said delays in construction had cost it about $104 million.
While Mountain Valley wrote in its letter that litigious opponents were to blame for slowing down the project, others argue that the company's wounds were self-inflicted.
"MVP claims it is a victim of lawsuits and lost permits, and should therefore be able to change the rules once again," Georgia Haverty, whose Giles County property will be cut in half by the pipeline, wrote in a letter to FERC urging it to deny the requested extension.
"Had MVP been competent and honest, you know and I know this pipeline would have been completed on time and on budget," she wrote. "MVP is neither of these things."
The business news you need
With a weekly newsletter looking back at local history.