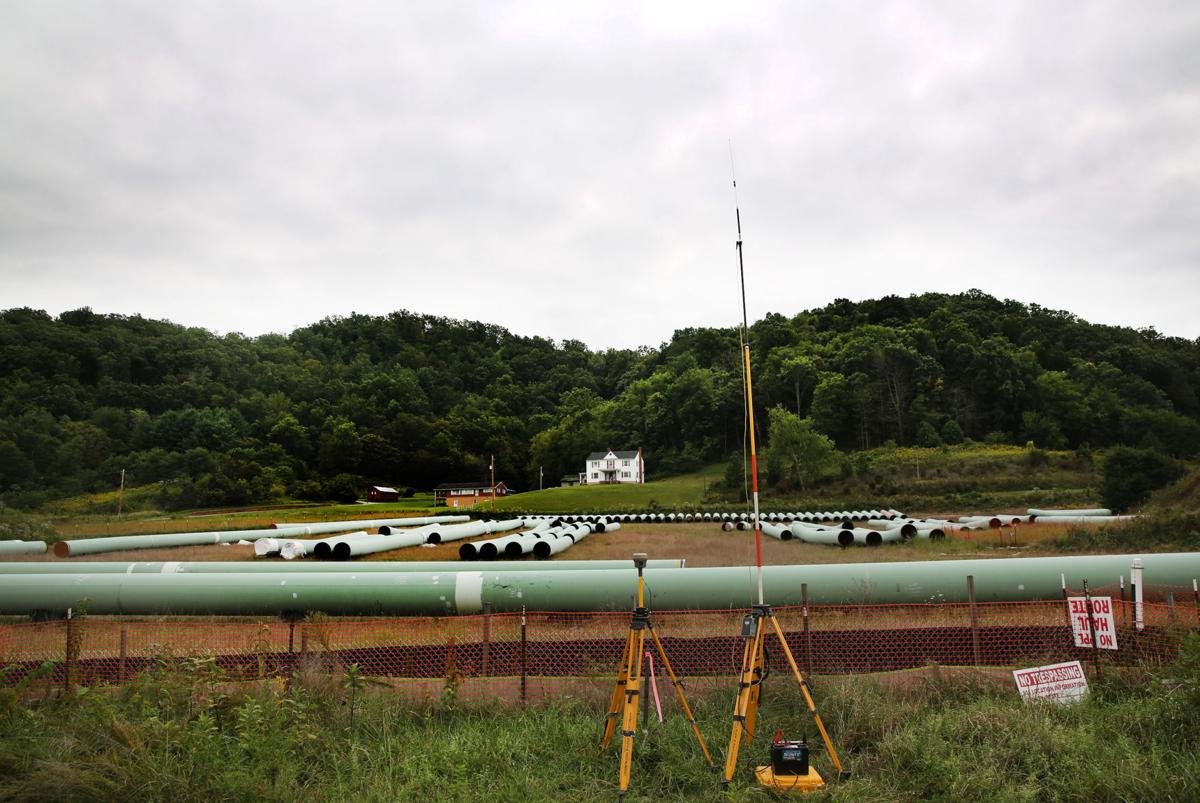 After a winter hiatus in construction that stretched into the spring, summer and fall, builders of the Mountain Valley Pipeline say they are ready to return.
In a letter filed with the Federal Energy Regulatory Commission late Tuesday, an attorney for the joint venture of energy companies requested that a stop-work order issued last Oct. 15 be lifted.
Matthew Eggerding asked FERC to act by Friday "so that Mountain Valley can maximize final restoration and complete as many activities as possible before winter," he wrote in the letter.
Since work began in early 2018, litigation has caused cost overruns and construction delays for Mountain Valley. Not long after FERC issued its stop-work order, the company said it expected to be back on the job by April.
But Mountain Valley still lacks two sets of key permits that were set aside after a federal appeals court sided with conservation groups, who argued that building a 303-mile natural gas pipeline through West Virginia and Virginia was causing widespread environmental harm.
A third suspended permit was reissued earlier this month by the U.S. Fish and Wildlife Service, which found that construction would not likely jeopardize protected species. That in turn led Mountain Valley to request that it be allowed to resume "all construction activities permitted by law."
All work except for erosion control and stabilization was ceased a year ago by FERC, after the 4th U.S. Circuit Court of Appeals stayed the original biological opinion pending a legal challenge that has not gone away.
The buried pipeline cannot cross nearly 1,000 streams and wetlands until the U.S. Army Corps of Engineers grants new permits. And construction of a 3.5-mile passage through the Jefferson National Forest requires a separate approval from the U.S. Forest Service.
In a letter to FERC on Wednesday, the Sierra Club maintained that construction cannot commence until all federal authorizations are obtained.
A start to construction at this point would raise the risk of "bureaucratic momentum," in which agencies that have yet to make a decision might be pressured to go along, senior attorney Elly Benson wrote in a letter co-signed by other environmental groups.
The letter also contains the first official hint of additional litigation that could derail any movement forward for Mountain Valley.
Attached to the seven-page letter is a notice of intent to sue, which was sent to the Army Corps on Sept. 12 by Derek Teaney, an attorney with the nonprofit law firm Appalachian Mountain Advocates.
Teaney wrote that the Fish and Wildlife Service's biological opinion did not address the risks to the candy darter, a colorful fish recently listed as an endangered species, that would be posed by the pipeline crossing the Gauley River in West Virginia.
Should the Army Corps rely on the biological opinion, Teaney wrote, he would file a legal challenge on behalf of multiple environmental groups with the 4th U.S. Circuit Court of Appeals.
Yet Mountain Valley is already preparing for FERC to lift its stop-work order.
"The MVP project team has been working on detailed construction schedules and plans in order to safely resume forward construction activities in the most efficient manner possible," company spokeswoman Natalie Cox wrote in an email Wednesday.
"MVP continues to target its early 2021 full in-service date and the crews will resume activities as soon as possible once we receive approval to do so," she said.
Company officials have said that as many as 4,000 construction workers would return to work in the two Virginias — spurring concerns from critics that they would bring COVID-19 with them.
"We refuse to be made a sacrifice zone in order to reassure investors and boost Equitrans Midstream's sagging stock performance," said Russell Chisholm, co-chair of opposition group Protect Our Water, Heritage, Rights, referring to the lead partner in the joint venture.
"FERC should deny MVP's requests for business as usual and grant our motion for a supplemental environmental impact statement with public participation," Chisholm said in a written statement.