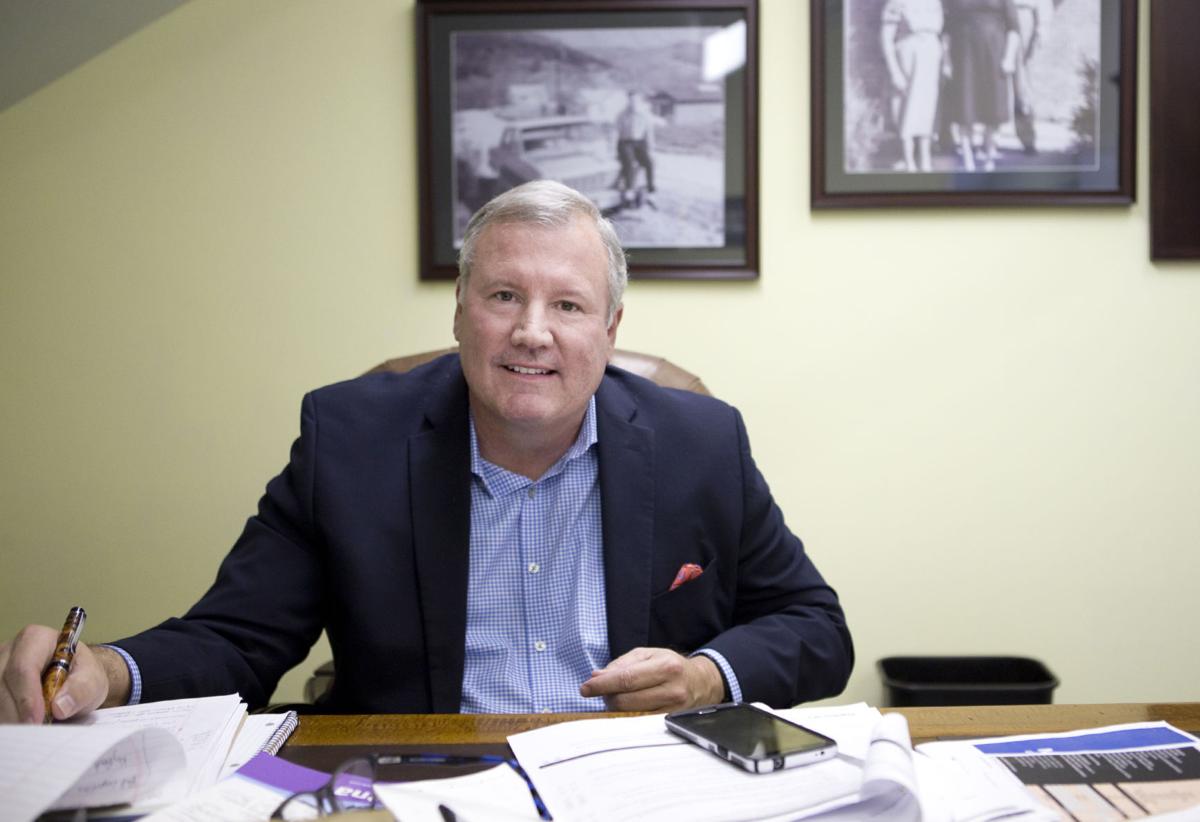 By Thursday afternoon, the first day of Medicare open enrollment, 10 people had already been in to see Burman Clark for advice.
For insurance brokers and navigators, the next two months could be jammed with business owners, new and early retirees, recently laid-off workers and people who have kept their jobs but lost their benefits, all searching for ways to afford health care coverage during 2021.
The good news is that the insurance industry's prices are stable. Medicare Advantage polices may include a few more perks and smaller out-of-pocket expenses at prices similar to this year's. Individual policies on the Affordable Care Act Marketplace in the Roanoke and New River valleys are also similar to 2020's.
And small businesses are seeing the smallest premium increases in five years, said Clark, who is president of Muneris Benefits in Roanoke.
But that doesn't necessarily mean the plans are affordable.
"If you are struggling to keep your doors open, and I deliver you a 5% increase, I'm really excited because that's the lowest increase I've delivered you in five years, but you're still not happy because you don't know whether you're going to get paid next month," he said. "You don't know if you have enough bandwidth in your company to keep all your employees working, and you don't know when the next COVID outbreak is going to happen and the governor closes you down and sends all your employees home."
Some businesses are struggling while others are thriving and looking to make their benefits more attractive to retain or attract top-notch employees, insurance brokers said.
Workers who have lost their jobs, whose hours and benefits have been cut, or who have opted to retire early to avoid exposure to the virus are looking at their options, and much depends on their ages and their income.
If they are 65 or older, they can enroll in Medicare. Open enrollment began Oct. 15 and continues until Dec. 7.
All others can seek plans through the government's Marketplace Exchange, with open enrollment Nov. 1 through Dec. 15, or through Virginia's Medicaid program, which has continuing enrollment.
Lois Caliri, a certified navigator with Enroll Virginia, said one of the biggest challenges this year will be figuring out people's income.
The actual plans and prices in the individual market are about the same as this year. Anthem Healthkeepers is the only insurer offering bronze, silver and gold medal plans on the exchange. Each plan has differing co-pays and deductibles.
Premiums are calculated based on age, but the actual cost depends on whether someone qualifies for a subsidy, or tax credit.
In ordinary years, people know how much they expect to earn, but pandemic-related furloughs and layoffs have changed that.
"I always look at what is happening that day. What is your income as we know it today? Are you collecting unemployment? What else do you have? If you're married, does your spouse have income?" Caliri said. "If you say, 'I hope to be going back to work, Lois,' I'll say, 'If you go back, you call me and we update your information.' If your income goes up or goes down, your subsidy is going to change."
It's important to report income changes as they occur.
Caliri said if someone has $35,000 in income and it changes to $60,000, the subsidy would be less. If it isn't reported, the adjustment will be made when the person files his taxes, and he will be obligated to pay back the money.
If someone's income drops below 138% of the federal poverty level, they would no longer qualify for the exchange and would need to enroll in Medicaid. Failing to do so would also require repaying the subsidy, she said.
While open enrollment ends Dec. 15, special enrollment is available year-round for people who lose their jobs.
Insurance brokers said they have worked throughout the summer with laid-off workers to purchase policies and with older teachers looking to retire rather than return to classrooms.
Caliri advises everyone to look carefully at their options before automatically renewing their existing policy, as even small changes can affect out-of-pocket costs.
The state's navigators are working from home because of COVID-19. Caliri said she can help people enroll online and can meet with them if needed. To make an appointment, call 540-613-1696.
She can also enroll people in Medicaid.
Americans 65 and older could begin on Thursday selecting coverage for 2021. They have until Dec. 7 to make their selections.
Scott Golden, spokesman for Anthem, suggests that Medicare subscribers take a good look at their current and future health needs.
Insurance brokers can help them navigate through all of the options, but Golden said consumers can also call insurance companies directly.
"Many health insurers, like Anthem, have knowledgeable people on the phone to walk them through the options of what is available. If they want, they can have their children on the line," he said.
Anthem this year is offering more options with its Medicare Advantage plans. Not only can subscribers have access to fitness program and dental, hearing and vision coverage, but benefits like transportation to appointments, appointments with a dietician, home meal delivery, home helpers, support for service dogs, adult day care visits, pest control and safety devices could be covered.
Clark said he's seeing more and more seniors who are used to high deductibles and co-pays favoring the Medicare Advantage plans, and their zero premiums, over traditional Medicare supplements. He also said competition by the providers this year is adding more benefits.
"2021 could be one of the best years ever in the Medicare Advantage prescription drug plan space," he said.
Most insurers in the Roanoke and New River valleys are offering these plans. Optima has also joined the local market.
"No one wrote a ton of new business in 2020" because of COVID, Clark said. "When you're sharpening your pencil, you want to gain more market share. If everyone is selling a zero-premium plan and everybody has the same doctors in the network, how are you going to get more market share? You have a better plan than the next guy."
Mark Michie of Roanoke insurance agency Mark Michie and Associates said the disadvantage of the Advantage plans is that they can have high deductibles and higher co-pays, co-insurance and out-of-pocket costs than supplemental plans.
"Medicare supplements, for the money, are a no-brainer at $80 or $100 a month and they are paying all of your health care," Michie said.
Both said it's important for people to become educated on all of the options and look at what best fits their needs.
Small businesses and employees
Most businesses also renew their plans this time of year.
Charlie Webb, principal of Innovative Insurance Group, said his firm's business clients have already selected plans and rolled them out to employees. The process was much different this year, with lots of Zoom and telephone meetings and even outdoor meetings.
He has not seen a drop off in plans or benefits, but the opposite.
"More employers, because of the need to make sure they are able to attract and retain quality talent in a space that is not as easy to do searches and interviews, use benefits as a strategic platform to have access to the very best candidates," Webb said. "They can utilize that to keep their workforce healthy and happy and to focus on the things they do best and the services they provide."
Michie said some small businesses have been hit hard by the pandemic, and it's affecting their ability to offer plans to employees.
At the start of the year, "They seemed to have been feeling optimistic about the economy, and were doing well. With the tightening of the labor market, they wanted to add benefits to entice employees, to retain them and attract them," he said. "Then corona hit and everyone just clammed up and decided not to do anything."
Michie said the government's Paycheck Protection Program helped for a few months.
"If this goes on another six, eight months, a year, you will see a substantial cutback. You maybe keep an employee but you don't have a plan because you need to make payroll," he said.
For the most part, Michie said, premiums are not going up. For businesses with self-funded plans, health care costs were actually lower this year, as hospitals and doctors stopped providing all but essential health care. Rates were being set about the same time that health care services were reopening, so it is not known yet whether delaying care will actually lead to higher costs.
For employees who lose their workplace coverage, some have the option of staying on that coverage but paying the full premium, or going onto the marketplace exchange.
"For the average family of four making $80,000 a year and who had family coverage through a group plan, they are going to be better off going on the exchange than through COBRA," he said.
Clark said for businesses that are struggling through the pandemic, it might make sense to move employees to the individual exchange if they qualify for subsidies. The key, he said, is to figure out what is best to keep their health plan viable until stability returns to the economy.
The business news you need
With a weekly newsletter looking back at local history.