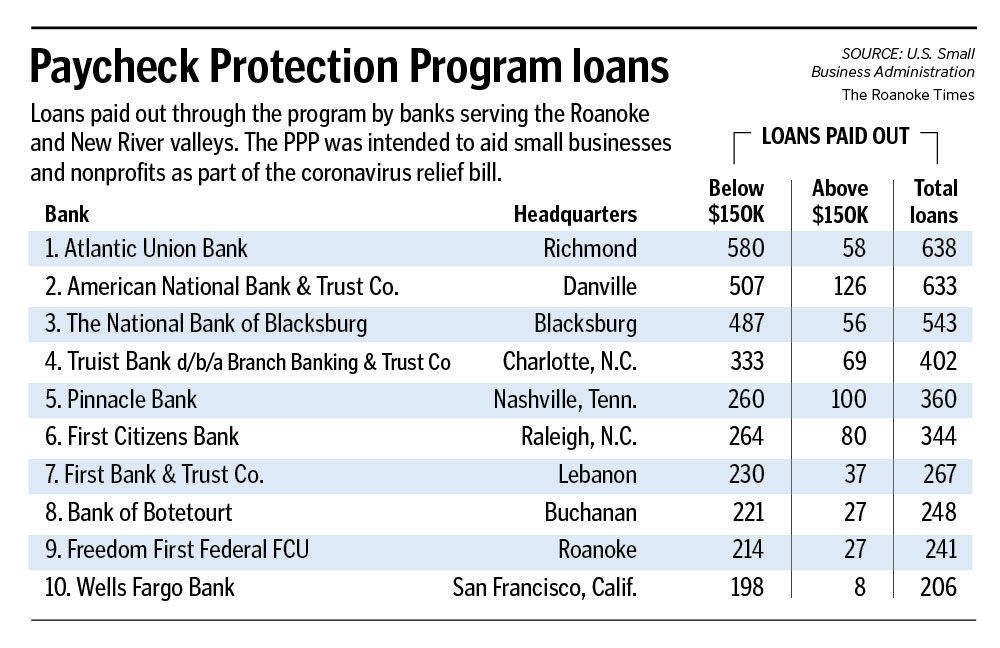 Three regional Virginia banks each gave financial relief to more than 500 small businesses and organizations in the Roanoke and New River valleys as the country locked down for the pandemic this spring, according to data from the Paycheck Protection Program.
More than $440 million poured into the region through nearly 5,400 emergency loans, according to a new government report. The banks that enabled funds to flow have been identified for the first time.
Richmond-based Atlantic Union Bank issued 638 PPP loans in the Roanoke-Blacksburg region, more than any bank serving the area, a Roanoke Times analysis found.
"Roanoke is a critically important market to our bank," John Asbury, CEO of Atlantic Union, said in a statement.
American National Bank & Trust of Danville handled 633 PPP loans, while National Bank of Blacksburg issued 543.
The data was released last week by the U.S. Small Business Administration and covers the first 13 weeks of the PPP, which is taking applications until Aug. 8.
The government could spend $600 billion on the program, announced near the end of March. Banks that ended up handling large numbers of loans described how they quickly ramped up for the application period to begin, then pulled all-nighters to review requests.
"Believe me, we've worked our fannies off and many of us will say we wish this event had not happened," said Jeffrey Haley, president and CEO of American National. "Really what we were doing was acting as an agent for the federal government to get this money out to many small businesses that desperately needed it."
First Citizens Bank of Raleigh, North Carolina, achieved a "massive undertaking" to issue 23,000 loans in its 16-state territory, including 344 locally, spokeswoman Barbara Thompson said.
PPP was part of the Coronavirus Aid, Relief, and Economic Security Act. Banks lent money they already had or borrowed and were compensated for their efforts via fees and interest income.
In all, nearly 4,300 banks and about 900 credit unions participated in doling out nearly 4.9 million loans totaling $521 billion as of the end of June. More than $100 billion is still available.
The government estimated the money saved 51 million jobs, with nearly 1.7 million at religious, charitable and other nonprofit organizations and the rest in the private sector.
The PPP has been described as a grant disguised as a loan. Recipients won't have to repay the money if they use it primarily to continue compensation and benefits and submit documentation.
Forgiven loans will be repaid by the government with taxpayer money. Those loans not forgiven must be repaid by the borrower with 1% interest.
There were other controversial aspects, including the issuance of large loans to well-capitalized, publicly traded companies, some of which paid back the money. Borrowers were required to certify that they needed the money, but banks weren't required to double-check.
The consensus among bank officials interviewed for this story was that the recipients they assisted were truly in need.
Pinnacle Bank of Nashville, which bases its Virginia operations in Roanoke, cited one of its clients, New Vista Montessori School, as an example.
When the pandemic hit, the Roanoke school closed its doors and canceled events that had been intended to generate income for the nonprofit enterprise. "No school, no income," Pinnacle Bank wrote in a report published on the bank's website. The article quotes the school's director as unwilling to terminate staff and grateful for the PPP loan.
The school has since reopened, according to Melissa Dragoo, assistant director. Dragoo declined to reveal the loan amount, which isn't stated in the newly released records.
Thompson, the First Citizens Bank spokeswoman, described an auto repair business in a market outside Roanoke whose top official sent thanks in a letter after loan approval. "And then we started getting letters from all of their employees and their employees' families and even their children, because they were so concerned what was going to happen if they had not received one of these PPP loans," she said.
As a safeguard for taxpayer funds, the government announced a plan to audit all loans of $2 million or more and to spot-check others. Nearly 67% of the loans were for less than $50,000 and 99% were for under $2 million.
Jonathan Richardson, area manager of commercial banking at Pinnacle, said the bank saw its role as learning the program and shepherding clients through the steps amid the pandemic.
"The key thing for us is recognizing this is something our clients didn't have the time to focus on immediately," he said. "There was so much uncertainty and concern and, in some cases, panic, that was happening with our clients."
Pinnacle employees, like those at other banks, worked day and night. One advantage of working late at night was that the SBA's loan submission portal ran faster then than during the day, bank spokesman Joe Bass said.
Wells Fargo, the Roanoke market's largest bank in terms of deposits and one with its name on the skyline, ranked 10th in PPP loans issued in the area, the analysis found.
It emphasized issuing loans of $150,000 or less, both here and nationally. Its average loan size was $56,000. It ranked third nationally in loan count, with 185,598, to leader JPMorgan Chase Bank's 269,424, the SBA said.
Wells Fargo focused "on helping as many businesses as possible and serving those most in need of assistance," spokesman Manuel Venegas said.
Staff writer Henri Gendreau contributed to this report.
The business news you need
With a weekly newsletter looking back at local history.