There is a gaping hole in the streetscape of Franklin Avenue in Roanoke. The former location of the Ramada Inn is dirt.
The city calls this progress. And so do people who play outdoors. Engineers are devising a new, public green space.
Along Williamson Road this year, a bulldozer will create another gaping hole — and development opportunity — when it levels the Budget Inn, which is going out of business.
Roanoke is seeing a wave of motel makeovers. With four projects in progress, both public and private entities see opportunity repurposing hospitality venues on major thoroughfares that no longer serve the original purpose for which they were built.
At 601 Orange Ave. N.E., crews have begun to prepare the former Days Inn, a motel built in 1975, for a Maryland developer to come in. The property changed hands in September for $2.95 million.
"Basically, we're planning to deliver 88 apartments." said Sam DiFrank, executive vice president and chief investment officer at Saul Urban, a real estate development and management company.
The company says it specializes in the "acquisition, development and repositioning of multi-family projects located in the path of the major demographic trends of our times — the revitalization of our urban cores and the growth of the exurban centers ringing our cities."
Future residents will reside in walking distance of the Berglund Center and 1.5 miles from the Noel C. Taylor Municipal Building.
Motel construction flourished in the mid-1900s and catered to Americans' embrace of leisure travel after World War II. According to the June 2017 issue of Smithsonian magazine, the aging motels have largely slipped from public consciousness as today's traveler prefers hotels with online booking websites and high-speed internet, set close to interstate interchanges. Where Interstate 581 intersects with Hershberger Road, a cluster of modern hotels keeps the lights on these days.
As roadside inns have fallen from favor and into disrepair in some cases, that leaves owners of old motels with a couple of options, including restoration.
The Farrell family that owns Berglund Automotive has begun preliminary work to renovate the former Colony House Motor Lodge at 3560 Franklin Road S.W. and reopen it as a boutique hotel, said Mike Farrell, project manager.
"It's going to be refreshed and updated and something that is going to attract a modern traveler who expects good design and accommodations. I think it's not going to be the Colony House that closed four years ago," Farrell said. But no significant changes to the outside appearance are planned.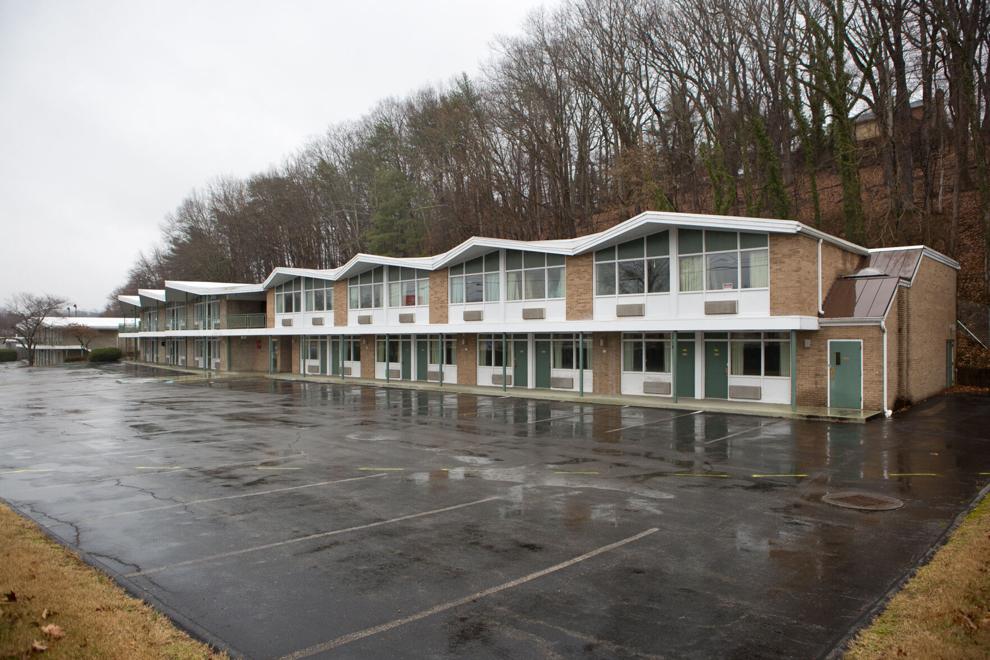 State officials accepted the property onto the Virginia Landmarks Register in December, based on architectural and other features, including its cantilevered, folded plate roofs and swimming pool.
"The motor lodge is an excellent example of mid-20th century roadside architecture designed to catch the eye of passing motorists," according to a description prepared by Kate Kronau and Alison Blanton of Hill Studio in Roanoke in connection with an application to the National Register of Historic Places.
Another option for a motel in the late stages of its life cycle is to stay in business as long as possible.
The Ramada, which opened since 1970s and thrived for decades, gradually deteriorated as time and flooding took a toll.
Toward the end, a portion of its rooms were rented as either transitional housing or emergency shelter for people without homes during the pandemic. That placed a roof over the heads of people who might have otherwise found themselves outside or in a group shelter during times of high transmission of an infectious disease.
The city bought the property in March 2022 for $3.6 million, assisted by a federal government program that pays 75% of the cost to remove flood-damaged structures. Crews have since demolished the building.
Looking to develop a game plan for the land, which must remain green space due to flooding risk, Roanoke's stormwater division requested public input. In 654 public comments, the community called for creation of a thoughtfully landscaped open area.
Citizens called for the restoration of Ore Branch, a stream on the property, and developing the area's synergy with the greenway and parks, city spokeswoman Carol Corbin said.
Wetland Studies and Solutions Inc. started design work last week. City officials hope to release a preliminary drawing in late spring, Corbin said.
The city is advancing another public-benefit project on Williamson Road.
The 42-room Budget Inn has offered inexpensive lodging for decades on a busy commercial corridor. A limited liability company managed by Chirag Patel of Vinton bought the Budget Inn in 2019 and initially he planned to operate it as a motel for the indefinite future. But then a city representative contacted the company, discussions ensued, and a new plan emerged.
"There is a plan to replace Fire Station 2 with a fire station at this site," Corbin said.
Patel said he expects the real estate closing to occur early next month on the sale of the property to the city. A selling price of $975,000 appears in a signed contract for sale dated in September 2022. Demolition of the motel is contemplated.
More motel rebirths could be coming.
The former Apple Valley Motel sits empty at 5063 Franklin Road in Clearbrook, graffiti marring its front. But Eric Thomas with Mountain View Real Estate said a possible interested party has examined the property. He did not know what the party had in mind for the address. The premises are for sale for $750,000 down from $825,000.