Anna Goltz left her job at Feeding Southwest Virginia, where she worked in development and fundraising, with the intent of launching a consulting business where she'd put those skills to use helping other nonprofits.
The 37-year-old mother of two was looking forward to managing her own schedule, perhaps cutting back on her hours a bit to spend more time with her daughters, who are 5 and almost 3 years old.
It turned out that February 2020 was not a great time to start a new venture, as plans were quickly derailed by the COVID-19 pandemic. Her potential clients were slashing budgets and her girls, home from school and daycare, needed their mom.
Though Goltz managed to take on one client and work a few hours a week, she spent most of the last year at home caring for her daughters and managing virtual kindergarten. It's a position Goltz, who described herself as "a career-minded professional lady," never expected to be in.
"I don't think that I'm suited to it. Mad respect for women who this is their life calling, but this is not my life calling," Goltz said. "I think that it's not good for me and my mental health, I think it's not good for my kids' mental health to have me as not the best that I can be."
Working women have been severely affected by the COVID-19 pandemic, with a staggering number leaving the work force or dramatically scaling back from their jobs. Vice President Kamala Harris has called it a "national emergency" and others have dubbed it a she-cession.
Even with women making some job gains as society inches closer to normalcy, the number of net jobs they have lost since February 2020 remains at 4.6 million, according to an April report from the National Women's Law Center. By comparison, the figure for men is 3.8 million.
More than 2 in 5 unemployed women age 20 and over had been out of work for six or more months as of March. And more than 1 in 7 women 16 and over working part-time in March wanted full-time work.
The data from the National Women's Law Center show that Black and Latina women have been hit particularly hard. While the overall unemployment rate for women age 20 and over was 5.7% in March, it was 8.7% for Black women and 7.3% for Latinas.
The women's labor force participation rate is at 57.4%. Before the pandemic, the report states, that's the lowest it had been since December 1988. The pandemic quickly eroded years of progress.
The past year has shaken Goltz's confidence both as a parent and a professional. She wonders if she's made the right decisions for her kids and feels helping her daughter through virtual kindergarten has put strain on their relationship. She worries about what this gap on her resume will mean for her future, acknowledging that these are important years for professional growth.
Goltz has begun to achieve a bit more balance in the last few weeks. Her older daughter, who had done only virtual learning since last year, recently returned to in-person school four days a week. The girls' grandma just moved to the area and can help with Goltz's younger daughter, who has not yet returned to daycare.
Already it's feeling easier for Goltz to breathe and begin to devote more attention to her business endeavors.
"It just opens up space inside my brain," she said.
That women have shouldered so much of the burden created by the pandemic is not surprising to Goltz. She described her feelings about the situation by using the classic parenting line: "I'm not mad, I'm just disappointed."
Reasons for a she-cession
Experts say women have borne the brunt of the upheaval caused by the pandemic for two main reasons: devastation to industries employing a high concentration of women, and the additional childcare duties created by the closure of schools and daycare facilities.
"Apparently this recession hit women much harder than men, which is kind of unusual, because in a normal recession men tend to be hit harder than women," said Suqin Ge, an associate professor of economics at Virginia Tech.
At the start of 2020, unemployment rates for men and women were about the same. But when the rates skyrocketed in the spring during the lockdown, she said, women jumped ahead and continued to outpace men for several months.
"Not only women are losing their jobs, but also it seems like a high percentage of women have withdrawn from the labor market altogether," Ge said.
Some sectors dominated by women, such as the travel, restaurant and personal care industries, many of which require close physical proximity to others, were particularly battered by the pandemic, Ge said.
When schools and daycare facilities closed, families had to quickly come up with new childcare solutions. The responsibility often fell to working mothers, Ge said, because of "the sort of traditional specialization of labor within the home."
"This will definitely have a long-term impact because we know that in the labor market, experience matters," she said.
But, Ge said, there may be some silver linings. Many companies have allowed more flexible work arrangements or employees to work from home during the pandemic. If those habits persist, she said, there could be some benefit to working women, particularly mothers.
Farida Jalalzai, a professor of political science at Virginia Tech, said leaving the workforce — whether that's because of a layoff or a need to stay home with kids — results in more than a temporary loss of earnings.
"Whenever you take time off of employment, the harder it is for you to return to paid labor, even when the economy ends up hopefully recovering," Jalalzai said. "The longer that you are out of a job, the harder it is for you to come back to a position. And you're going to have these earnings that are permanently lost."
And when women do return to the workforce, she said, it might not be in an equivalent position, potentially erasing earlier progress made in their careers.
In cases where a partner's income enabled a woman to leave her job to care for children, Jalalzai said it could result in a decline in the family's economic status or standard of living. And not all women are able to do so, either because they are single parents or the family needs her income as well.
Jalalzai noted that Black women and Latinas have had to drop out of the labor force at higher rates than their white counterparts.
"It seems that this is going to widen already existing gender gaps and racial gaps when we're looking at some of the unemployment rates," she said.
Jalalzai also expressed hope that the attention brought to these issues by the pandemic will result in long-term policy solutions.
Vicky Ferguson, 63, and her husband lost their jobs at the Monacan village exhibit at Natural Bridge, which the couple has been involved with since 1999.
"It goes beyond just not having a job," she said. "For us, it's a niche, being a historical interpreter and interpreting your ancestors, in my case the Monacans. They don't have those kinds of jobs just anywhere."
When Ferguson was laid off in the spring, she hoped it might be temporary.
Since the exhibit had an outdoor component, Ferguson thought it might be able to safely open at some point. Plus she'd heard of other historical programs, like those at Jamestown and Williamsburg, reopening.
But over the summer, Ferguson was notified that she wouldn't be returning.
"I really didn't expect for us to totally lose a program that we had developed for over 20 years," Ferguson said.
Because Ferguson and her husband haven't been at the park caring for the structures, there have been some failures. She said sometime during the summer a wigwam, which they knew would need some repairs, collapsed.
Ferguson started job hunting last fall, though she acknowledged being selective about what she'll apply for. Safety is a top priority, as she noted that minorities and older people — both categories she falls into — have been hit hard by COVID-19.
There aren't many opportunities for historic interpreters in the Roanoke region, Ferguson said, so she anticipates shifting to a different field. She worked in telephone customer service previously and has applied for such jobs. Ferguson worries companies won't be interested in hiring an employee in her 60s and will assume, incorrectly, that she's not tech-savvy. In the meantime, she's been doing some virtual speaking engagements.
Ferguson said she's concerned about what her job loss will mean for her ability to retire down the road.
The myth of having it all
The pandemic forced Djuna Osborne, 45, to take strict inventory of her responsibilities and obligations. She quickly realized she did not have the bandwidth to be a full-time mother, leader of virtual school, psychotherapist, city council member, wife and human being.
She expects the internal reckonings of many women are yielding similar results: What they're able to manage without "totally expiring" is less than they realized, and less than society expects.
"The myth that we can have it all and we can have it all at once is simply a myth," Osborne said.
Two years into her term, Osborne resigned from the Roanoke City Council in September. Though she found the work rewarding, Osborne said it was the role she felt most capable of stepping back from.
Osborne's two daughters, ages 8 and 10, attended virtual school and were briefly placed on a home school curriculum after experiencing major technical difficulties. The girls recently returned to Roanoke schools four days a week.
The pandemic has been challenging for children, and Osborne said it was important she assess her daughters' needs and be both physically and emotionally available to them.
Additional family responsibilities have hindered Osborne's ability to grow the private therapy practice she started in January 2020. She would like to see more clients, but she simply can't take on more right now. Osborne said she is essentially working part-time.
It seemed obvious, Osborne said, that she would be the one to take a step back from her career rather than her husband, who is a physician in the emergency department at Carilion Clinic. He earned more and his job was inflexible.
Despite the challenges, Osborne said her family is lucky.
"We have the resources to be able to do this," she said. "And I think about that, because even with the resources we have, we're struggling."
Tiffany Mitchell, 37, of Roanoke has been wanting for months to scale back from her job at Carilion Clinic, where she serves as the team lead for health care administrative associates in the imaging department.
Mitchell has four children — one each in elementary, middle and high school, along with a toddler. Juggling their different schedules, which have changed repeatedly through various stages of reopening, has been challenging. The oldest is in private school, the two middle children attend city schools and the toddler is in daycare.
Mitchell is also caring for her mother, who suffered a major stroke in 2019 and moved in with the family in March, when Mitchell opted to remove her from a nursing home. On lunch breaks, Mitchell runs home to check on her mother.
Still, Mitchell has been hesitant to reduce her hours because of the financial ramifications.
"It's a lot of money I would be losing for my household," Mitchell said.
Family and friends tell Mitchell she has too much on her plate, she's going to burn out.
"I've never been the type of person to just walk away from something without a backup plan," Mitchell said. "Everybody else keeps telling me, 'Just quit.' But I'm thinking how do I just quit and just lose that paycheck?"
Working mothers want to do it all, Mitchell said — excel at their jobs, help their kids with homework, be a doting friend and partner.
"When do you have time for yourself? When do I breathe?" Mitchell said. "That's how I feel sometimes."
But Mitchell expects things to improve soon. She's searching for part-time opportunities within Carilion that would allow her to maintain her 15 years of service. And she'll be paid for serving as her mother's caregiver through the Consumer Direct Care Network Virginia, allowing her to make up for her reduced wages.
When a 56-year-old Roanoke woman was laid off from her data analytics job in September, with COVID-19 cited as the reason, she thought at first that she'd find another job relatively easily.
"I had a really decent salary and I've got really phenomenal skills in data analytics and I'm a hard worker," said the woman, who asked to not be named because she signed a nondisclosure agreement with her former employer. "I just thought that with the contacts that I had, I thought that it would be 90 days and I'd have a job."
But when 90 days went by without a single interview, she began to grow worried.
It's her first significant period of unemployment. She feels that her age, along with her lack of a college degree, are making it difficult for her to find work.
A career coach the woman is working with has reminded her that job hunting during a pandemic is a unique experience.
"This is a whole new dynamic of entire industries upended and all of these people trying to reinvent themselves and potentially learn new skills and take less money than they would have taken before," she said. "A lot of the unemployed people are in their 20s and 30s and competing with that as an over-50-year-old, it's tough."
She has at times felt as if the search is fruitless. She worries about being forced to take a low-wage job so she can continue making payments on her mortgage and car.
She is single, and she said she's fortunate to have an emergency fund to fall back on, calling the vast difference between her salary and the $378 weekly unemployment benefit — the maximum in Virginia — "a shock to the system."
"I'm very fortunate that I had some money put back for emergencies. I'm dangerously close to running out of that fund at this point, over five months in now," she said in February.
As the pandemic took hold, emergency room nurse Meredith Meier of Roanoke was 38 weeks pregnant, preparing to go on maternity leave.
Meier, 35, typically worked one to two eight-hour shifts a week as a flex employee. She planned to return to work after the time at home with her new baby girl. And Meier did go back in mid-June. But by August, she was handing in her resignation.
Childcare was the main factor in Meier's decision to take a step back from work.
The preschool Meier's 3-year-old son attended had closed. He was home the entirety of her maternity leave. Over the summer, the family relied on a babysitter they already knew and trusted for help with the kids. But the sitter was a teacher and at summer's end was going back to school.
The family didn't want to open their home up to a new babysitter, she said, interviewing candidates about their behaviors and precautions against the virus. She also acknowledged it might have been difficult for the family to find one, since she'd be working in the hospital along with her husband, an emergency room physician.
"I knew it was time for me to stop working and just add a source of stability at home during this crazy time," Meier said.
It was difficult for her to sit on the sidelines, though Meier acknowledged she was privileged to be able to do so. Being a nurse is an important part of Meier's identity, and she said sacrificing that took a toll on her sense of self, though she still feels strongly it was the right decision for her family.
"There was a sense of guilt of being an ER nurse who during this time decided to stop working," Meier said. "I felt needed and I felt bad about not doing it."
In March, Meier returned to work in a community health nursing position, where part of her responsibilities include working vaccine clinics.
Meier decided to return for a number of reasons: The position offered flexibility to work around her husband's schedule so they wouldn't need a sitter, her daughter is now a bit older, her son has returned to preschool and she wanted to be part of the fight against COVID-19.
Photos: Coping with the 'she-cession'
041121-roa-womenworkforce-goltz-01
041121-roa-womenworkforce-goltz-02
041121-roa-womenworkforce-goltz-03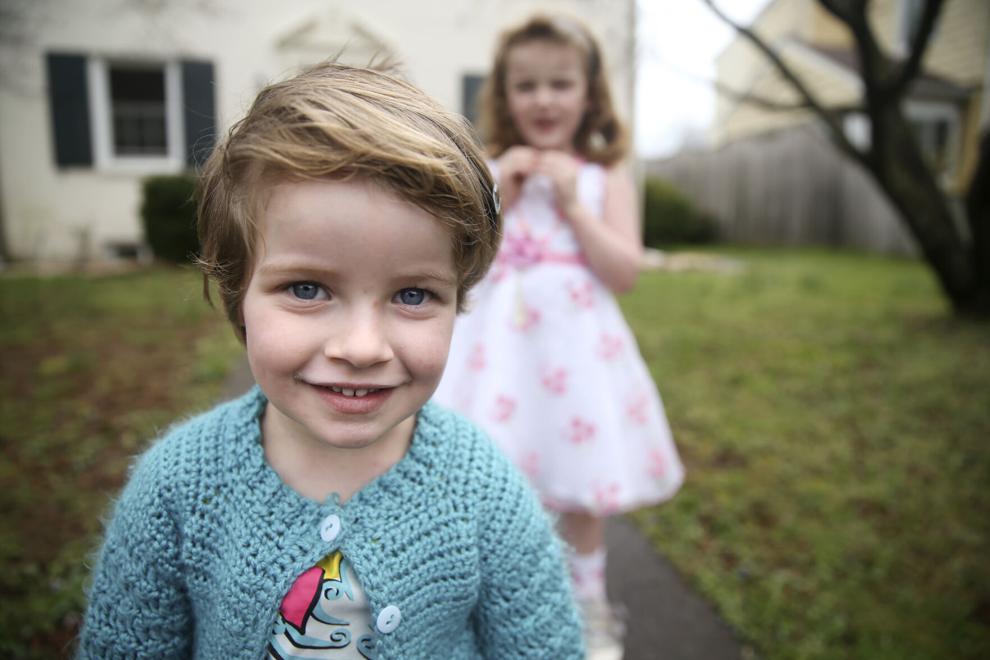 040521-roa-womenworkforce-ferguson-01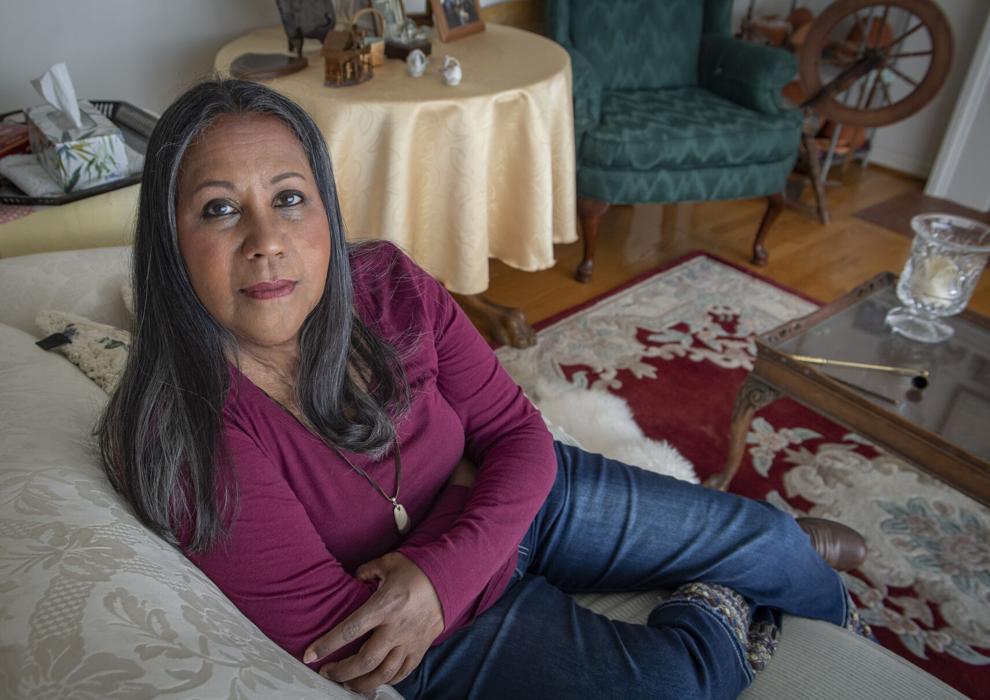 041121-roa-womenworkforce-osborne-01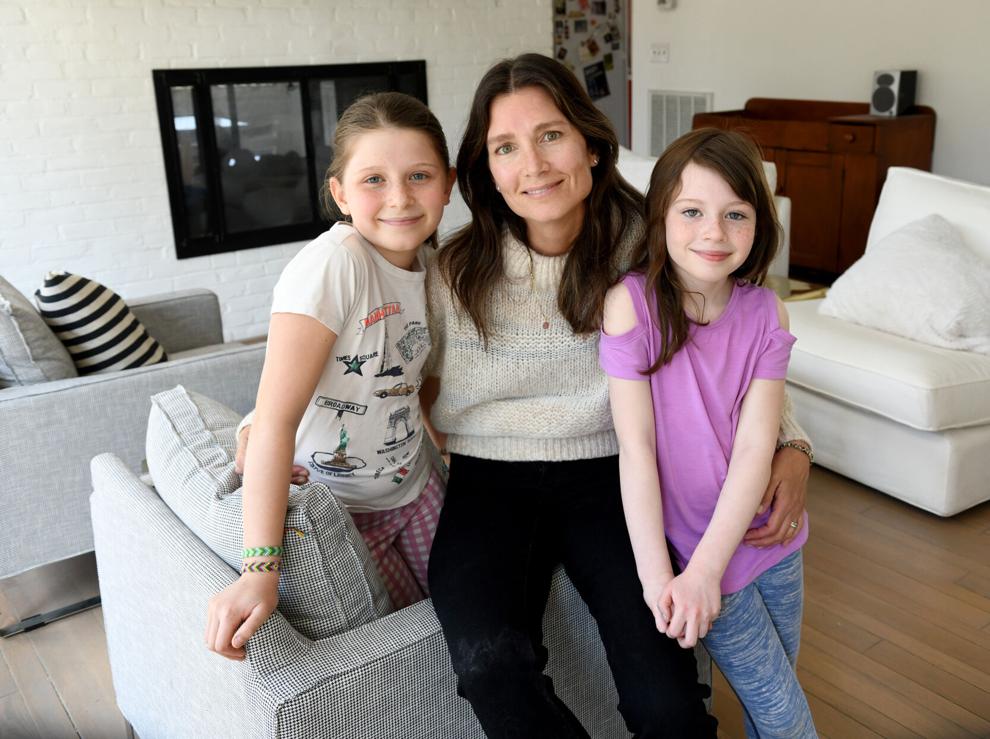 041121-roa-womenworkforce-osborne-02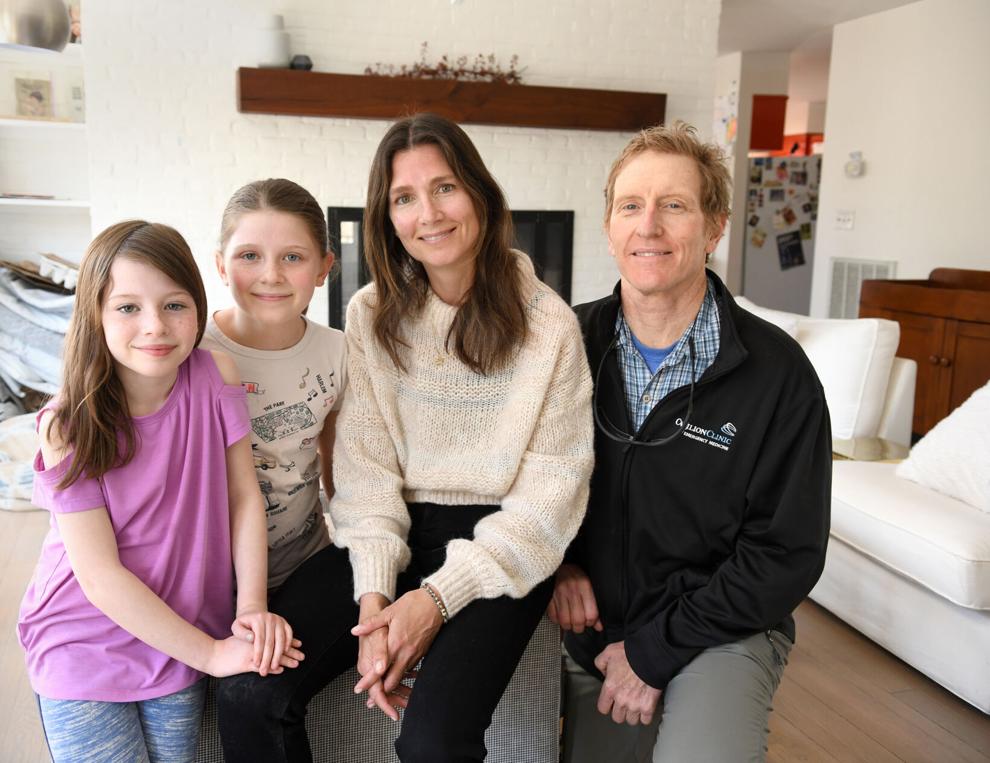 041121-roa-womenworkforce-osborne-03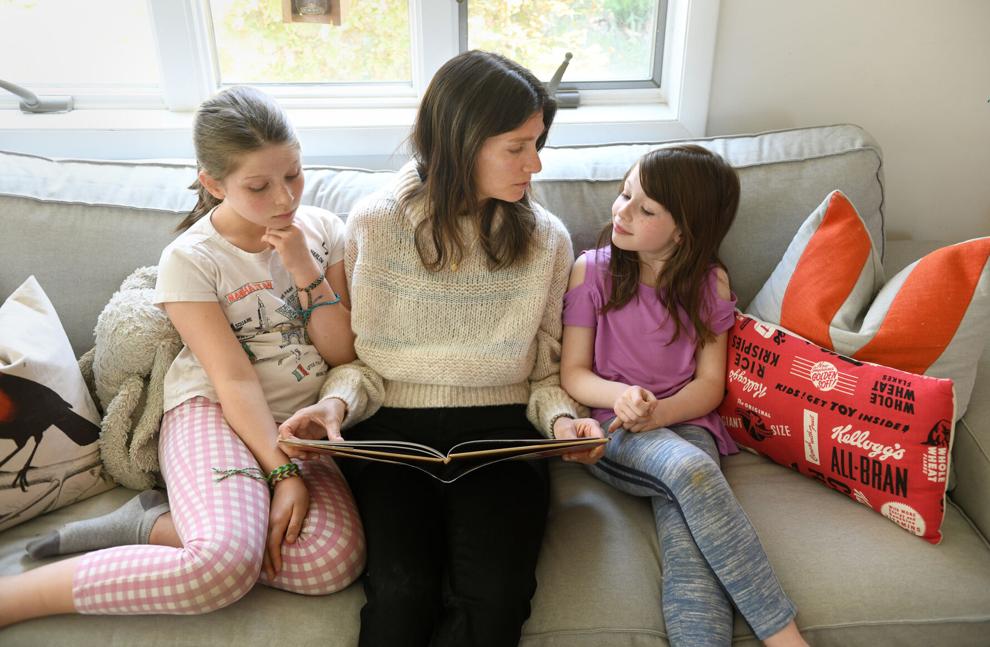 041121-roa-womenworkforce-osborne-04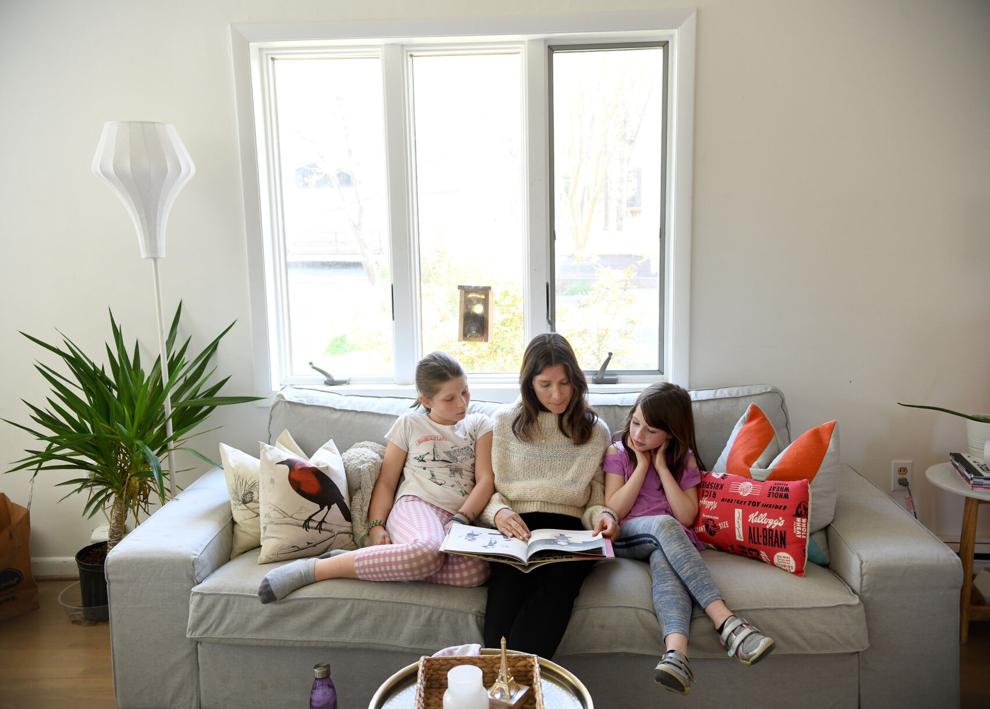 041121-roa-womenworkforce-osborne-05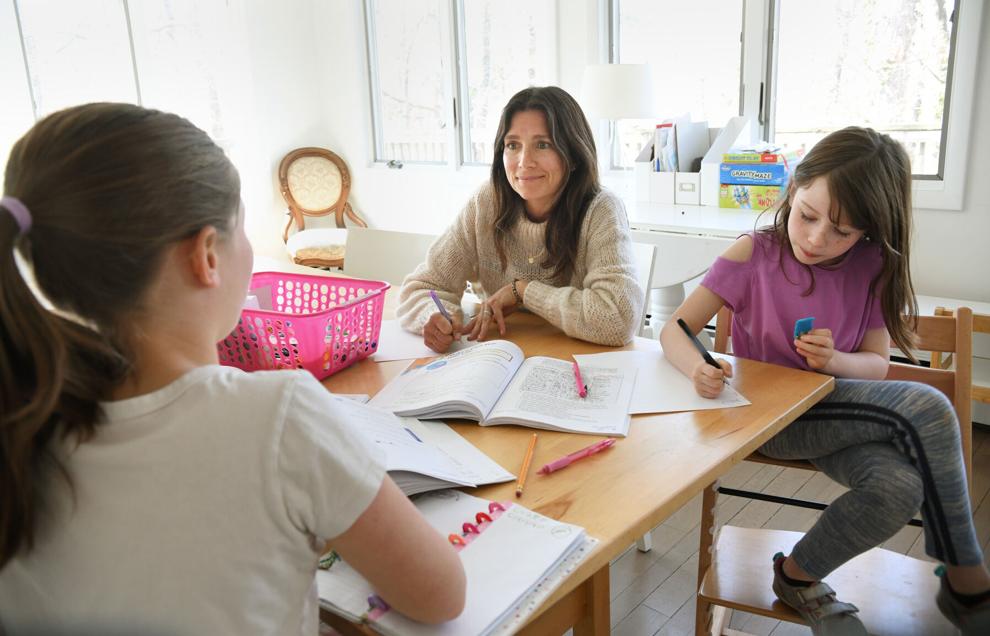 041121-roa-womenworkforce-osborne-06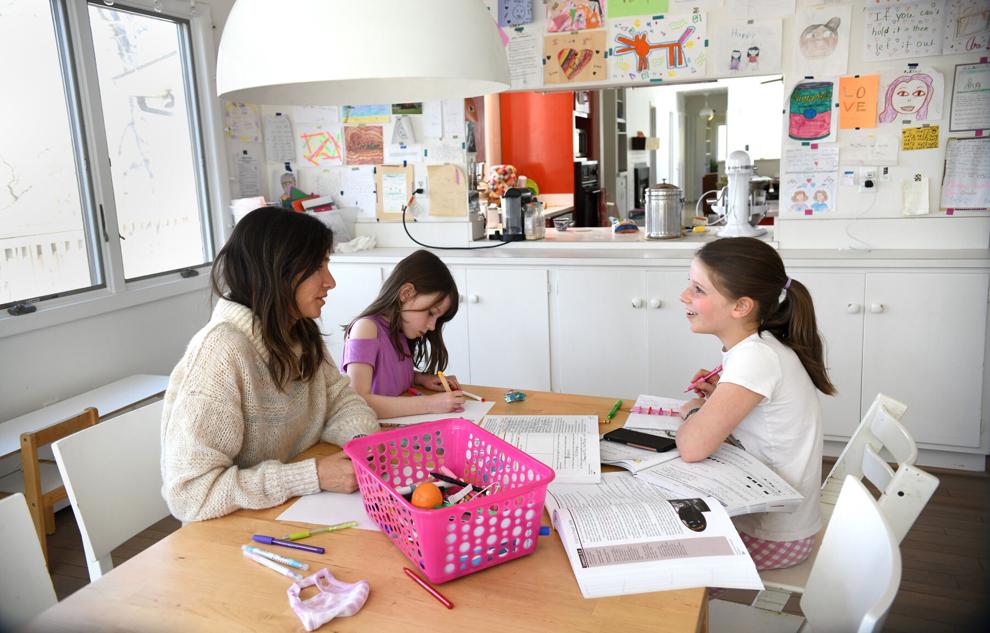 041121-roa-womenworkforce-osborne-07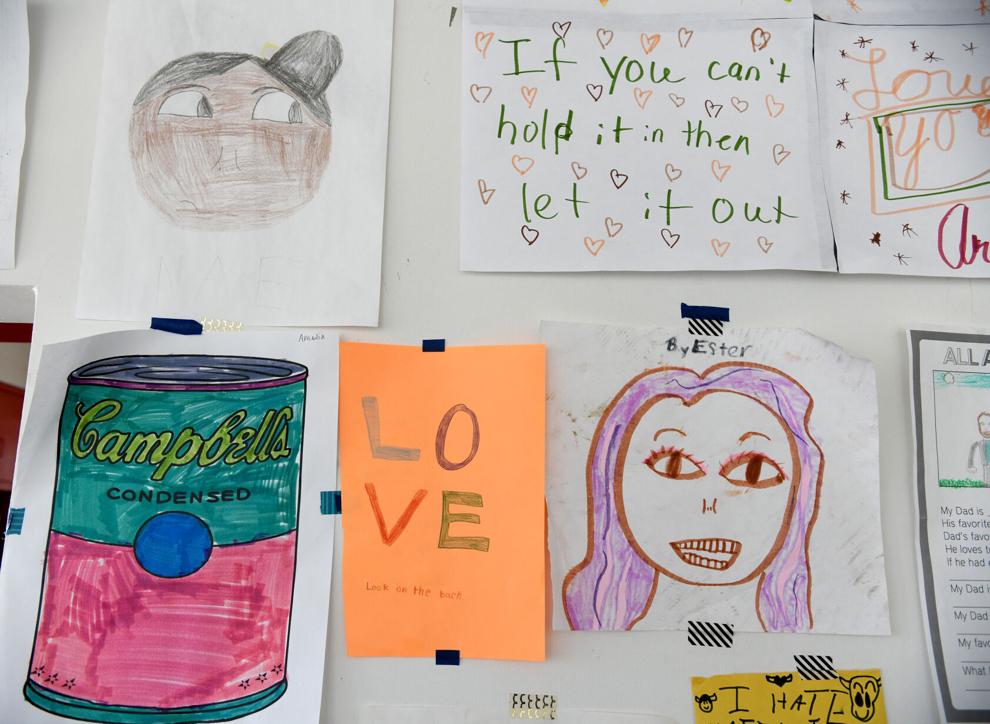 041121-roa-womenworkforce-mitchell-01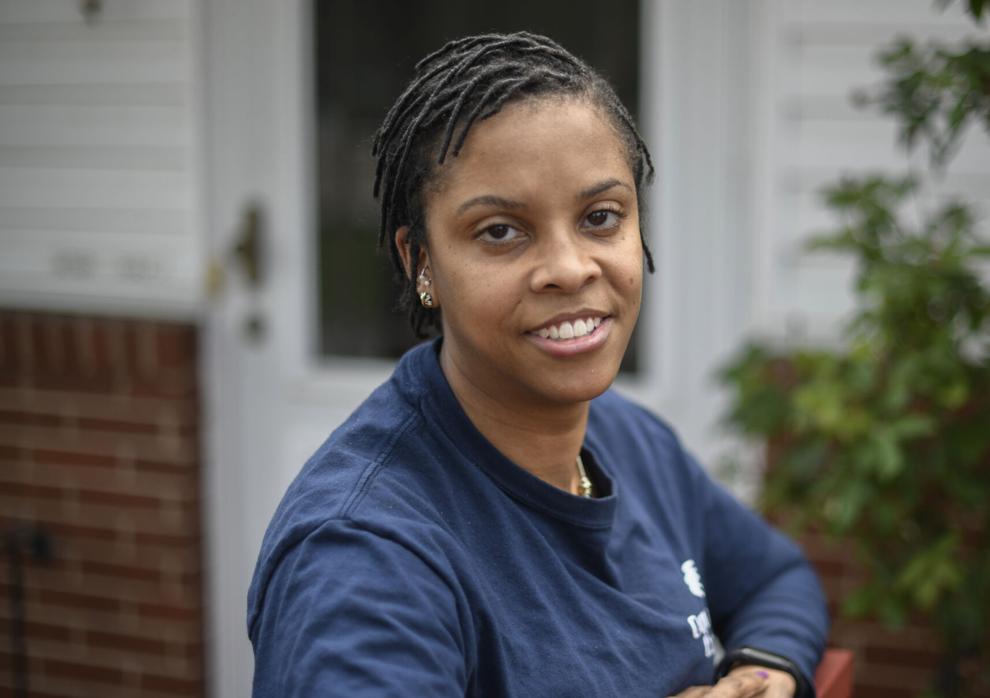 041121-roa-womenworkforce-meier-01