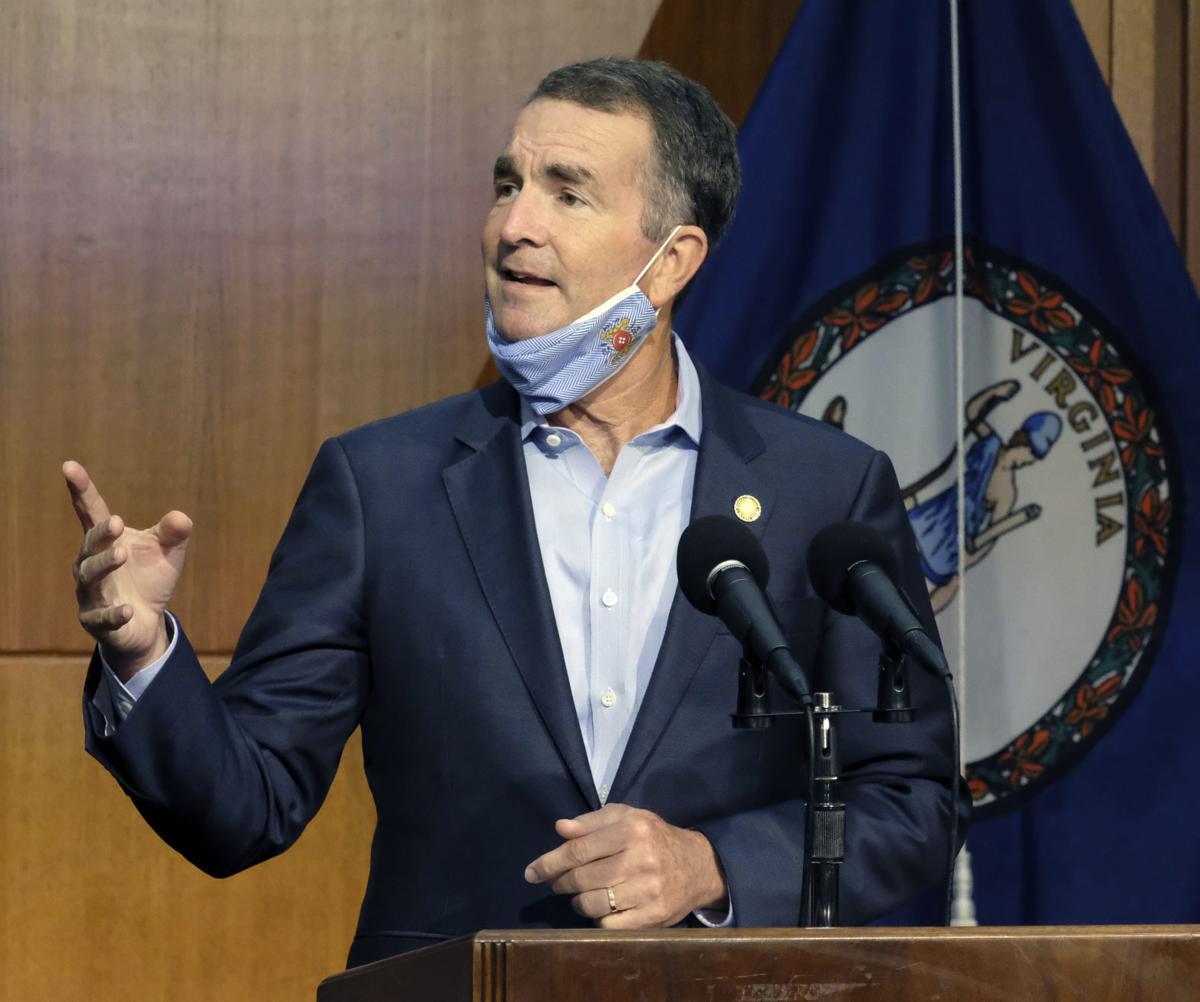 New daily cases of COVID-19 are coming in now at a faster pace in Southwest Virginia than any other region in the state.
Gov. Ralph Northam said during a news conference Tuesday that he doesn't intend to impose any new restrictions and that he thinks Radford University, Virginia Tech and the local communities are doing a good job of addressing the surge.
"The most concerning thing about Southwest, and I'll repeat this, is we just don't have the hospitals and especially the ICU capabilities," he said.
Northam did not elaborate as to which parts of the vast Southwest region he was talking about, nor was there an opportunity to ask him to explain.
The far southwest coalfields experienced a spike in cases in August, and the region's health provider, Ballad Health, shifted services and opened up more COVID-19 beds. Ballad has seen cases trending downward for the past two weeks.
In the Roanoke Valley, Carilion Clinic and LewisGale Medical Center have said throughout the pandemic that they have enough capacity and have plans to add COVID-19 units should the need arise. The Salem VA Hospital has also been treating COVID-19 patients.
Carilion and LewisGale also provide hospital care in the New River Valley, where there has been a surge of cases mostly in college students, many of whom have had mild or no symptoms.
The New River Health District on Tuesday reported it had seven confirmed COVID-19 hospital patients, and six others who are suspected of having the virus.
The majority of hospitalized COVID-19 patients throughout Virginia do not need ICU beds. On Tuesday, hospitals statewide reported 1,015 COVID-19 patients, with 228 in intensive care units. Throughout the Southwest region, 153 hospital beds were occupied by COVID-19 patients, with 36 of them in an ICU.
Dr. Molly O'Dell, who is leading the pandemic response for the Roanoke City and Alleghany Health Districts, said during her weekly media call that seven residents are in area hospitals.
Wednesday marks the six-month anniversary of the first confirmed local case of COVID-19. That was in a Botetourt County woman who was also the area's first fatality.
Since then, 41 people in O'Dell's health districts have died. There are 10 outbreaks, including two in long-term care facilities. So far at least six residents of the Raleigh Court Health and Rehabilitation Center have died. The home reports that it has had 67 cases in residents, with 36 of them current, and 30 in staff, with 19 current infections.
The home's information has yet to show up on the Virginia Department of Health dashboard that reports long-term care outbreaks.
An outbreak that began Sept. 5 at the Berkshire Health and Rehabilitation Center in Vinton was added Tuesday to the state's website. The home reported on its website Tuesday that it had seven cases in patients and four current cases in staff members.
"Every one of the outbreaks comes down to human behavior, and some pause or breach in infection prevention," O'Dell said.
Routine preventive testing required now in long-term care facilities is picking up cases in people who have the virus but don't have symptoms, she said.
But she said people in the community aren't always heeding orders to wear face coverings.
"Well, today, I popped in to get my car inspected, and when I walked in, the person who greeted me to take my keys didn't have a mask on," O'Dell said. "I asked him was he aware he was supposed to, and he said, 'No. I didn't know it was required.' "
O'Dell introduced herself, then gave him an education.
"Do these people not read the newspaper or listen to the radio or watch TV? I don't know. I'm dumbfounded," she said.
Northam, too, said behavior is key to lowering the spread of the coronavirus.
"We are doing all the right things with PPE, with testing, with tracing. But it's the behavior that's the challenge, and that's up to Virginians," he said.
Northam said Virginia's numbers would go down if people would wear face coverings, stay clear of large gatherings and practice social distancing.
"It's that behavior that will put this pandemic behind us. Not testing, not tracing, not PPE, but behavior, and that's what we need to continue to emphasize," he said.
The New River Health District has assembled a task force. Its report on Tuesday noted so far there have been 11 deaths in the district and 50 hospitalizations.
It reported 52 new cases for the day, and an average of 94 a day during the past week.
Returning students to Radford University and Virginia Tech have caused the surge in New River cases.
Radford's dashboard Tuesday afternoon showed 40 new positive tests out of the 575 administered by the school and its partners from Sept. 7 to 13.
The overall positivity rate sits at 11.39%, down from just over 12% the previous week. Radford has administered 3,486 tests since students began returning to campus in late July, yielding a total of 397 positive tests.
Virginia Tech as of Tuesday afternoon showed 13,242 tests given, with 727 students and eight employees testing positive since Aug. 3. Of those, 227 students and five employees tested positive the week of Sept. 8-14.
Staff writer Sam Wall contributed information to this report.