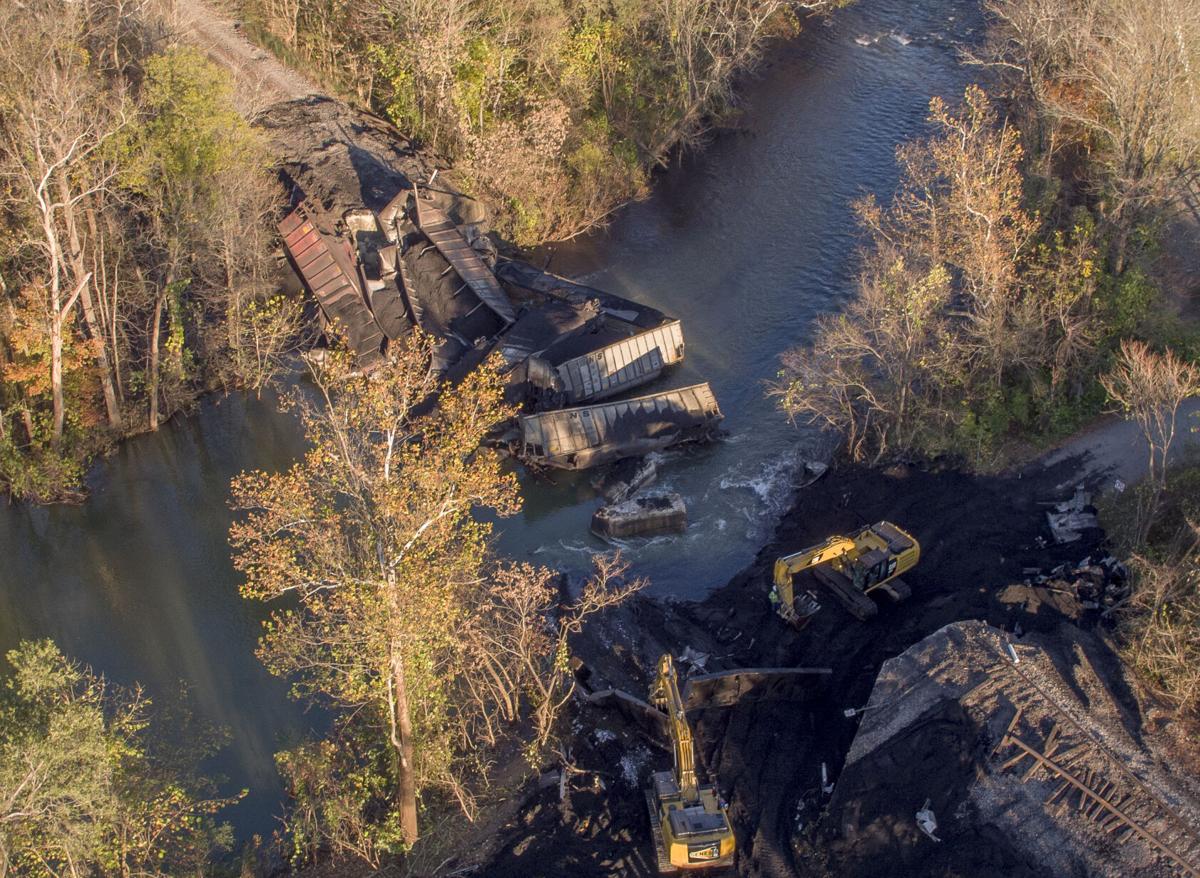 Officials on Monday were still piecing together a complete description of a train crash that took down a bridge over the Roanoke River and released tons of coal late Friday.
One "very preliminary" take is that the train faltered for an unknown reason on the track five miles west of Salem, which set in motion the bridge collapse, said Ken Schrad, spokesman for the Virginia Corporation Commission. State and federal officials went to the site soon after the incident to begin an investigation, he said.
"I don't think anybody believes it was a collapse of the bridge that caused this. The bridge might have collapsed because of a derailment," Schrad said. "It's a matter of, if there was derailment for whatever reason, failure with the car, failure with the rail, once you got loaded coal cars shifting all that weight, it's going to be difficult for anything to maintain integrity."
Roanoke County spokeswoman Amy Whittaker said an eastbound Norfolk Southern train was crossing the river at 11:15 p.m. when the bridge collapsed and 12 of the train's 22 cars fell into the river. The impact released 2,000 tons of coal, she said.
The railroad predicted it would take several weeks to rebuild the fallen bridge and has diverted freight to other routes. On Monday, it announced the complete removal of the coal cars from the waterway and significant progress removing the coal.
Barley Drive in Roanoke County, where the incident occurred, is primarily an industrial area but is also scattered with homes.
The incident halted withdrawals of water from the river for drinking purposes but did not appear to have killed fish or wildlife.
The city of Salem drew from groundwater wells again Monday as it awaited tests to determine if it's safe to resume drawing river water to feed its treatment plant. Those results were expected by Tuesday, city spokesman Mike Stevens said.
There were no visible signs of contamination at the city's plant 3.4 miles downstream from the spill, he said. Daily sampling will continue through the week.
Meanwhile, the Virginia Department of Environmental Quality found no adverse impacts to fish or wildlife, spokesman Greg Bilyeu said.
"Environmental impacts, if any, are expected to be a result of material deposited on the river bottom," the department said in a tweet Sunday.
With the route closed, trains can no longer service the Smith Gap Landfill, which forced the Roanoke Valley Resource Authority to make other arrangements for the time being.
The disruption required fast action at the resource authority. With trash unable to move by rail, officials switched to trucking it, CEO Daniel Miles said.
All garbage trucks will take their loads to the Salem Transfer Station and not use the Tinker Creek Transfer Station. Loads will go from Salem by tractor-trailer to the New River Landfill in Dublin.
Consumers who want to drop off household trash by vehicle can continue at both transfer stations, as usual.
Leachate generated at the Smith Gap landfill, which had been hauled out by rail, will also move by truck at least temporarily, Miles said.
"At this time, we are not sure if RVRA can sustain this sudden change in its transportation mode for the duration of the outage. So, this has obviously put RVRA into 'scramble' mode to keep our doors open and accepting the region's solid waste. This operational change will remain a 'work in progress' as we proceed down this unfortunate path," Miles said.
Train track owners must arrange for annual bridge inspections, under Federal Railroad Administration rules, which require reports be made public.
Inspections are part of a complete bridge management program "to prevent the deterioration of railroad bridges by preserving their capability to safely carry the traffic to be operated over them, and reduce the risk of human casualties, environmental damage, and disruption to the Nation's railroad transportation system that would result from a catastrophic bridge failure," according to the code of federal regulations.