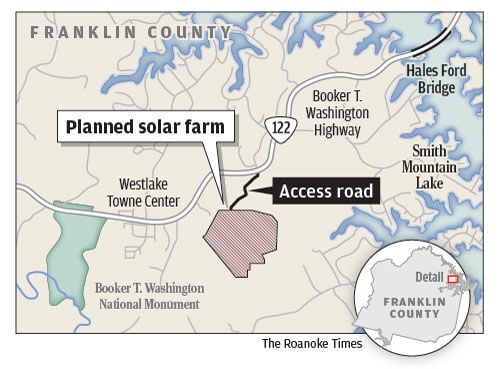 Renewable energy company Energix US faced questions from the public during a virtual community meeting held Monday to discuss a proposed solar farm in Westlake.
The project, Westlake Solar, would be located on 220 acres between Virginia 122 and the Bettys Creek section of Smith Mountain Lake. A portion of the property was once intended to be the location of Lakewatch Spa and Resort, which was never constructed due to lawsuits and a shift in the housing market.
The company plans to lease the property from a local landowner. Dominika Sink, project acquisition and development manager for Energix, did not say who the landowner was, but did say the company was only leasing a portion of the nearly 600 acres available.
Sink said solar panels would only be placed on 100 acres. The remaining 120 acres would provide buffers and setbacks for the project.
The solar farm would have the potential to generate 20 megawatts of electricity, or enough to power 2,400 homes. The energy would be sold to utility companies.
More then 40 people signed into the meeting on Monday, held through Zoom. One question asked several times was why the Westlake location was chosen. Sink said the main focus when choosing a project location is the capacity on the local electrical grid that allows the company the opportunity to sell energy back to the local utility company.
"That is really the primary driver for siting any energy project," Sink said.
James Colby, a member of the Franklin County Planning Commission, questioned the solar farm's location since it is a designated growth area for the county.
Sanket Kolte, a project developer for Westlake Solar, said a solar farm would be a better alternative for those who didn't want a large development. "That is why we came in with solar, because we thought its going to be a much better alternative than a big housing complex," he said.
Another question was about the project's environmental impact and what would happen when the project ends. Sink said the proposed lifetime of the solar farm would be 35 years.
Once the solar farm is decommissioned, Sink said the solar panels and underground equipment would be removed and the property would be re-seeded.
Sink said the property would not be harmed during the project's lifetime. Westlake Solar would also work closely with the Virginia Department of Environmental Quality to ensure that erosion and sediment control and stormwater management requirements are followed.
Westlake Solar is expected to provide a proposal to the planning commission for a recommendation in June or July. It will likely go to the board of supervisors the following month. Assuming that local approval is granted, the solar farm would then need to obtain a permit from DEQ.