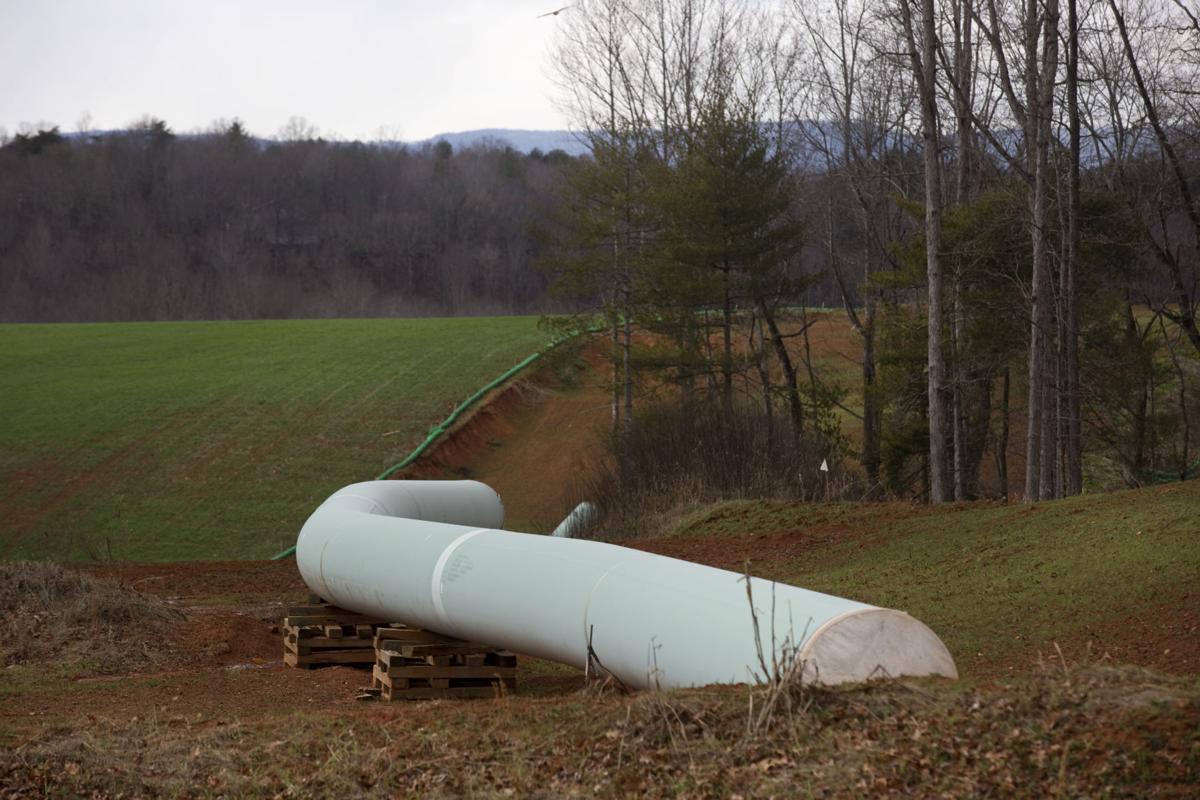 Mountain Valley Pipeline was given another two years Friday to complete a natural gas pipeline already marked by six years of community opposition, environmental damage, legal fights and delays.
In orders filed late Friday afternoon, the Federal Energy Regulatory Commission also lifted a stop-work order for all but a 25-mile segment of the interstate transmission line that includes the Jefferson National Forest and adjacent land.
While acknowledging problems with erosion and sedimentation during the first two years of construction, FERC found that allowing the pipeline to be completed is best for both the environment and the public.
"The presence of equipment, personnel, and partially completed construction is disruptive to landowners, some of whom have endured perturbation since February 2018," the commission wrote in a 2-1 decision.
"As such, proceeding to final restoration is in the best interest of these landowners and the environment."
In a dissent, Commissioner Richard Glick wrote that lifting the stop-work order is "plowing ahead with construction in the face of uncertainty."
While two permits set aside by legal challenges have since been reissued — allowing the pipeline to cross streams and wetlands and for work to resume without jeopardizing endangered wildlife — Mountain Valley still lacks approval to pass through the national forest.
By allowing work in other areas to resume, Glick wrote, "the Commission has put the cart before the horse."
"That is a mistake," he continued, because even if the Forest Service were to approve the pipeline's passage through about 3.5 miles of federal woodlands, it could require a different route, "leaving the work done to date little more than a pipeline to nowhere."
Glick also dissented in part to FERC's second order, which was to extend by two years its certificate of public necessity, a major decision that allowed construction to begin. Issued Oct. 13, 2017, the three-year certificate would have expired next Tuesday.
While Glick joined commissioners Neil Chatterjee and James Danly in supporting the two-year extension, he had strong words for a part of the decision that precluded landowners who were not part of the original proceeding from having a say in the matter.
"Time and time again, landowners do their very best to navigate the complexity of FERC proceedings," he wrote. "And, time and time again, the Commission relies on technicalities to prevent them from even having the opportunity to vindicate their interests."
The owners of about 300 pieces of property in Virginia did not want to sell their rural land to a private venture, which then took it using the power of eminent domain.
"When it comes to protecting landowner interests, we should look at what the Commission does, not what it says," Glick wrote. "With that in mind, today's order tells you everything you need to know about how much the Commission cares about landowners."
A spokeswoman for Mountain Valley said the company is pleased with FERC's ruling.
"We look forward to safely resuming construction of this important infrastructure project," Natalie Cox said.
The 303-mile pipeline will take 2 billion cubic feet a day of natural gas drilled from the Marcellus and Utica shale formations and transport it through Southwest Virginia to connect with a pipeline in Chatham, where it will then be distributed to markets along the East Coast.
However, new legal challenges could limit the scope of work.
The Sierra Club and seven other environmental groups have petitioned a federal appeals court to review what they call unlawful permits issued Sept. 25 by the U.S. Army Corps of Engineers, which allow the pipeline to burrow under nearly 1,000 streams and wetlands in the two Virginias.
On Monday, they asked the 4th U.S. Circuit Court of Appeals to stay the permits while it hears the case. A decision could come as soon as next week.
Construction of the $5.7 billion project, undertaken by five energy companies that include an affiliate of Roanoke Gas Co., has been stalled for the past year. FERC ordered work to stop last October, after Mountain Valley lost a third key permit.
Roberta Bondurant, co-chair of the anti-pipeline coalition Protect Our Water, Heritage, Rights, called the decision to resume construction "maniacal, wholly destructive to land, forest, water and living beings."
"MVP construction crews have yet to traverse the most intense and well known geohazards — steep, in some places nearly vertical slopes, slip prone soils, karst and earthquakes — in the height of a global pandemic, during hurricane season," Bondurant wrote in an email.
Pipeline work has been plagued by widespread problems with muddy runoff. Mountain Valley paid $2.15 million last year to settle a lawsuit filed by Virginia regulators, who cited more than 300 violations of erosion and sediment control standards.
While FERC admitted "slightly different outcomes" than those it predicted three years ago, the commission attributed the erosion problems to "unpredictable rainfall events."
Allowing work to resume, it held, would limit environmental harm because areas where the pipe has been buried and the soil above it permanently restored are more stable than idled work zones with temporary erosion controls.
About 16% of the pipeline has yet to be installed, FERC said. "Some of these areas will experience temporary increases in sediment yields when construction resumes," the order stated.
But "a disturbed right-of-way already exists in these areas as trees have been mostly felled and right-of-way clearing preparation is mostly complete," according to the 22-page order that partially lifted the stop-work order.
As for concerns that Mountain Valley could worsen the spread of COVID-19 by bringing in up to 4,000 workers, many of them from out of state, FERC wrote that it does not regulate workplace safety.
Virginia and West Virginia have issued pandemic safety protocols, it said.
In the view of Russell Chisholm, co-chair of POWHR, the decision Friday was an attempt by the federal government to rescue Mountain Valley from its own mismanagement.
"FERC favors energy policy by force, rewards negligence over the objections of thousands, ignores the evidence of harm to our communities, and shamefully denies climate realities," he said.
"To do this as the COVID-19 crisis spreads through rural Virginia and West Virginia puts MVP and FERC's disregard for our safety on full display."