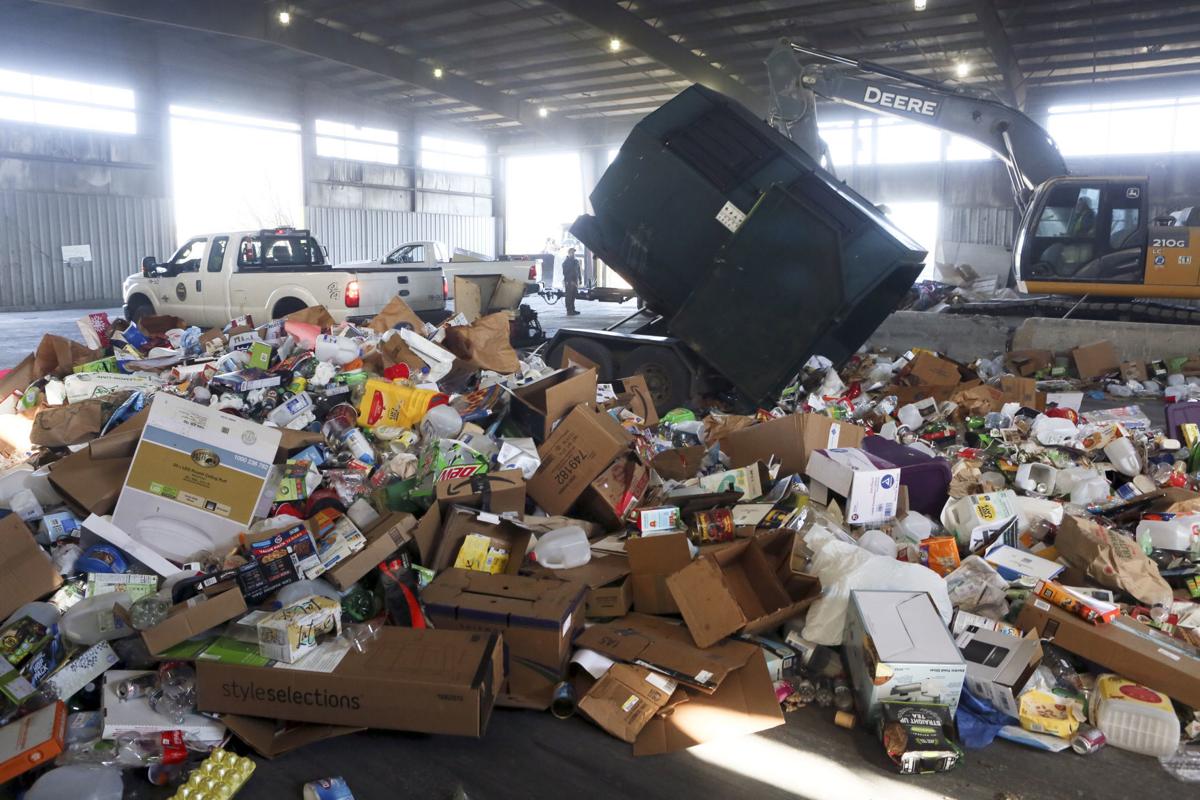 CHRISTIANSBURG — Concerns about government unfairly burdening local businesses led town council on Tuesday to vote down an ordinance requiring all trash collected within Christiansburg to be initially delivered to the Montgomery County transfer station.
The council, on a 4-2 vote, rejected the so-called flow control ordinance, a replica of a measure the Montgomery County Board of Supervisors discussed and passed more than a month ago.
The Christiansburg council is the lone governing body in Montgomery County to have rejected it. Blacksburg Town Council, which convened Tuesday at roughly the same time as its Christiansburg counterpart, approved the ordinance on a 5-0 vote.
Officials with both towns have said that they needed to vote on their own flow control ordinance because measures passed by Montgomery supervisors typically apply to the parts of the county outside of Blacksburg and Christiansburg.
The ordinances approved so far only apply to common trash, not recyclables, manufacturing and construction waste. The ordinances also give companies a five-year grace period for compliance.
The issue of flow control has prompted debate among local governments and private waste companies.
Supporters of the ordinance believe it would lead to increased waste tonnage for the Montgomery Regional Solid Waste Authority, which can then rely on the additional business to avoid enacting fee increases, staff cuts and eliminating highly valued services such as recycling.
Some elected officials have raised concerns about the potential of increased MRSWA fees being passed on to municipal trash and recycling customers across the county.
"When it comes to cost increases … for our citizens, we err on the side of the citizens," said Christiansburg Councilman Henry Showalter, one of the two council members who voted in favor of the measure.
Councilman Steve Huppert, who echoed Showalter's comments, was the other vote in favor of the ordinance.
Waste companies, however, have argued that flow control ordinances are anti-business and created by governments in response to competitive challenges from the private sector.
Additionally, companies contend the ordinances lead to monopolies by requiring all waste haulers to dispose at a single location — or in Montgomery County's case, the MRSWA transfer station just outside of Christiansburg's town limits.
Companies have also emphasized that MRSWA's tipping fee of $54.50 per ton, is approximately $22 higher than the rate paid at the New River Resource Authority landfill near Dublin.
At least one company, the Christiansburg-based Container First Services, has argued that the flow control ordinances undermine the investments it has made in the community in recent years.
Among those investments is CFS' ongoing construction of a $1.5 million materials recovery facility that would allow the company to increase its daily tonnage from 40 to 300 tons per day.
Some Christiansburg council members echoed those concerns .
"Sadly, I feel we should have had this in place before businesses came into town and invested millions of dollars," said Councilwoman Merissa Sachs, who voted against the ordinance.
Sachs, however, said her decision was not easy. She said she is aware of the problems that can arise in the absence of the ordinance.
"I believe in private enterprise. I believe the public and private [sector] should have separation," Councilwoman Johana Hicks said.
Councilman Sam Bishop said: "We want to bring business into the town, not out."
Councilman Brad Stipes said he saw no clear advantage to having a flow control ordinance or not."Both paths are dimly lit," he said.
In Blacksburg, Mayor Leslie Hager-Smith said she supported the ordinance because local government has an obligation to provide basic services to citizens.
"MRSWA has done a phenomenal job. They have a very good track record, they have set fees low and they offer a very high level of service to do with recycling," she said. "I'm solidly in favor of maintaining the useful services we have enjoyed all these years."
While both towns within Montgomery County and the county itself have made individual decision on flow control, the matter remains un settled.
CFS has filed a suit in Montgomery County Circuit Court asking that the county's ordinance be struck down .
CFS argues Virginia law allows flow control only if no other viable waste disposal facilities exist in a locality. The county doesn't meet that condition, CFS says.
CFS also contends that flow control applies only to waste disposal facilities. The company has said the MRSWA facility is just a transfer station, a point that the authority itself has challenged.
While the trash delivered to the county transfer station is ultimately taken to the landfill near Dublin, MRSWA has said that it provides services beyond those of a typical similar facility. The authority has, among other things, highlighted its local outreach activities and its redistribution of items such as shredded paper, cardboard, books, batteries, light bulbs and electronics.
Also on Tuesday, Christiansburg's contracted attorney Reid Broughton said there is no definitive answer to whether the county can still impose its ordinance on the town.