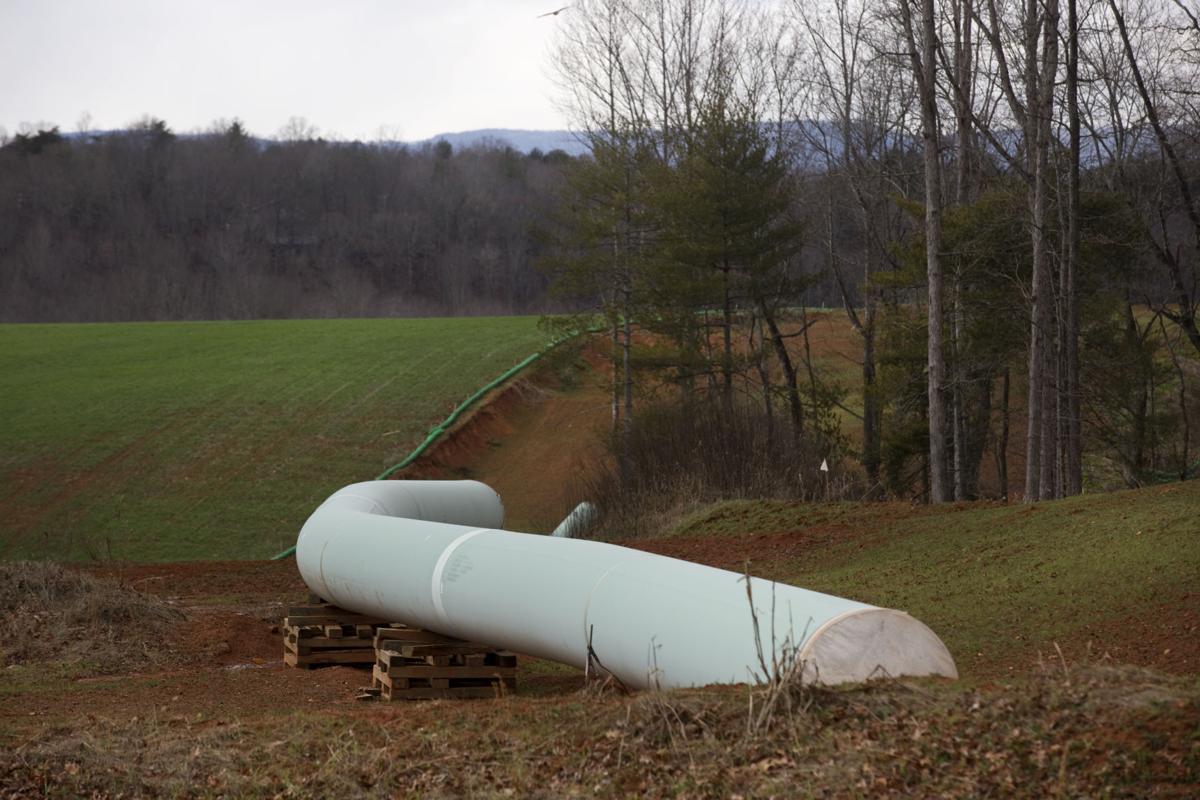 The latest problems with muddy runoff streaming from construction sites along the Mountain Valley Pipeline's route through Southwest Virginia have been resolved, with the company paying $58,000 in fines.
The agreement, reached after several months of negotiations with the Department of Environmental Quality, marks the troubled pipeline's latest penalty for violating erosion and sediment control regulations.
Mountain Valley had balked at DEQ's initial demand for $86,000, which was made after the joint venture of five energy companies building the natural gas pipeline had paid $2.15 million to settle a lawsuit brought by state environmental regulators.
The lawsuit filed in 2018 covered violations during the first year and a half of construction; the latest fines were for problems that persisted even after Mountain Valley was ordered to stop work last fall.
DEQ initially had cited Mountain Valley for 29 violations from September through March 10, but agreed to drop seven as part of the negotiation process, according to Ann Regn, a spokeswoman for the agency.
Negotiations were allowed by a consent decree that settled the 2018 lawsuit, which claimed more than 300 infractions on Mountain Valley's path through the counties of Giles, Craig, Montgomery, Roanoke, Franklin and Pittsylvania.
Also included in the settlement were more intensive, court-ordered environmental inspections, and tougher penalties for additional violations.
The fines imposed so far are a paltry sum when compared to the project's $5.7 billion budget, pipeline opponents have said in calling for tougher enforcement by state and federal officials.
"How does MVP continue to rack up DEQ violations when they are supposedly doing repair work under court monitoring and supervision under a court order from a Henrico County judge?" Bonnie Law of Preserve Franklin County said in a statement released by opponents.
Critics say erosion from work sites has contaminated nearby streams, which have carried harmful sedimentation as far as the Roanoke River, the source of drinking water for thousands.
Mountain Valley spokeswoman Natalie Cox released the following written statement Tuesday:
"While the MVP project team takes all non-compliance seriously, we note that these items did not result in any impacts to water sources, aquatic species, or other environmental resources," the email read in part.
The company looks forward to completing the project early next year with final restoration work, which the statement said is "the most protective measure for the environment."
But the pipeline has been hampered by multiple delays and cost overruns, created in large part by legal challenges filed by environmental groups.
Another legal difficulty came last Friday. One of the contractors doing work in West Virginia — where the 303-mile pipeline will begin its path to Pittsylvania County — sued Mountain Valley for nearly $104 million.
In a lawsuit filed in Monroe County, West Virginia, Trinity Energy Services claimed that its work was "delayed and disrupted from the beginning" by Mountain Valley's failure to regain permits set aside by litigation.
As a result, Mountain Valley owes Trinity for change orders, final adjustments, repairs to erosion control devices and other items caused by the delays, the lawsuit claims. It asks that the pipeline be sold at a public auction to satisfy the debt of nearly $104 million accrued in Monroe County.
Trinity also did pipeline work in the West Virginia counties of Greenbrier and Summers. It was unclear if additional lawsuits had been filed there. Lawyers for Trinity did not respond to calls and emails Tuesday.
Cox declined to comment in detail on the lawsuit.
But she wrote in an email that "it's important to note that the lawsuit involves the release of funds that MVP currently believes is contractually justified in withholding and other amounts that Trinity has requested that were not agreed to."