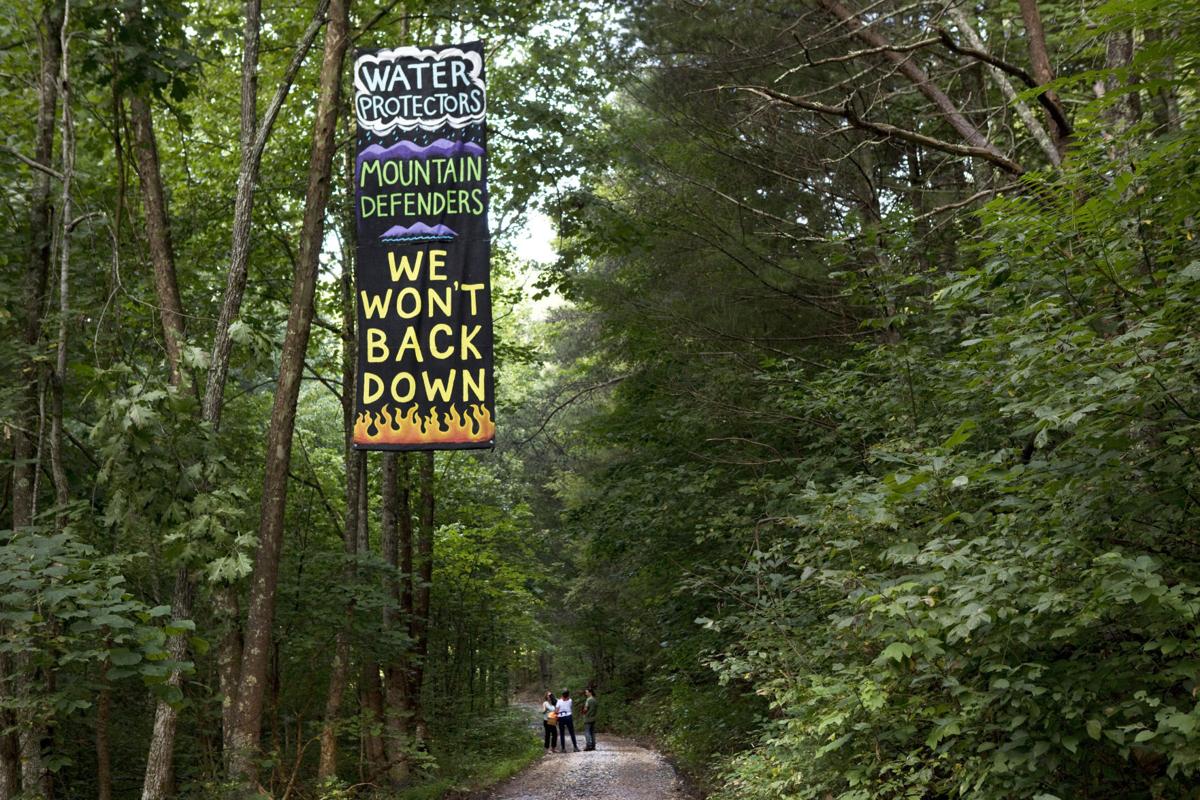 Unable to convince a federal judge to remove two tree-sitters blocking work on the Mountain Valley Pipeline, attorneys for the company are turning to state court in an effort to end the long-standing dispute.
Mountain Valley filed a request Tuesday in Montgomery County Circuit Court for a temporary injunction to have the protesters extracted from two trees they have occupied on a wooded slope near Elliston for nearly a year.
On Friday, U.S. District Court Judge Elizabeth Dillon denied a similar request on the grounds that the company had improperly gone after the two unidentified protesters as part of an eminent domain case used to take private land for the controversial pipeline.
The tree-sitters had no ownership interest in the land and therefore could not be named as defendants in the case, Dillon ruled. She suggested that Mountain Valley pursue other options in either federal or state court.
In its filing Tuesday, the Pittsburgh-based company expressed frustration in dealing with what is now the longest active blockade of a natural gas pipeline on the East Coast, according to Appalachians Against Pipelines.
"MVP will sustain irreparable harm if the occupations are permitted to continue," attorney Wade Massie wrote, saying the company had already spent more than $100,000 in extra construction costs and could incur another $250,000 to work around the tree-sitters.
Perched on wooden platforms about 50 feet off the ground, in a white pine and a chestnut oak, the protesters have blocked work off Yellow Finch Lane since Sept. 5, 2018. They are positioned in such a way that any attempt to cut the trees — some of the last still standing along the pipeline's 303-mile route through the two Virginias — could result in a life-threatening incident.
Mountain Valley asked a circuit court judge to order the tree-sitters to come down, and if they refuse, to "direct law enforcement to take all necessary action to remove defendants from the tree stands and easements."
The request for an injunction also seeks fines of $400,000 each against the two current tree-sitters, three others who have previously occupied the stands and 11 members of a ground team that has provided food, water and support from a nearby camp.
A hearing is scheduled for Aug. 15.
Since tree-cutting for the pipeline began last year, protesters have clung to a variety of airborne stations — including trees, poles, a platform suspended from trees, an elevated Ford Pinto and the booms of excavators parked along the construction zone — to impede workers.
With the exception of the Yellow Finch tree-sitters, all of them have either come down voluntarily or been removed by police. More than 40 people have been charged, and some have been sentenced to jail time.
The protesters say they are trying to prevent the environmental destruction caused by running a 42-inch diameter pipe through mountainous terrain and across pristine streams and sensitive wetlands.
"Today is day 333 and we are STILL HERE!" Appalachians Against Pipelines said in an Aug. 3 post to its Facebook page.
Mountain Valley has already paid a $266,000 fine for violating erosion and sediment control rules in West Virginia.
A lawsuit filed by environmental regulators in Virginia accuses the company of more than 300 similar violations, and last week the Department of Environmental Quality ordered work to stop on a 2-mile stretch of the pipeline based on the latest infractions.
Five energy companies building the $5 billion joint venture, including a corporate sister of Roanoke Gas Co., say it will provide a needed supply of natural gas to the immediate area and up and down the East Coast.
Last year, Mountain Valley used eminent domain laws to sue the owners of nearly 300 parcels of private land in Southwest Virginia, obtaining easements to bury the pipeline through their property and over their objections.
One of the parcels, owned by Cletus and Beverly Bohon, is where the tree-sitters have been camped since September.
Cletus Bohon has said he knew nothing of the tree-sitters' plans before they entered his land. He did not grant them permission, Bohon said, and said that he is letting his attorney take the lead.
The Bohons were not named as defendants in Mountain Valley's request for an injunction.
The business news you need
With a weekly newsletter looking back at local history.