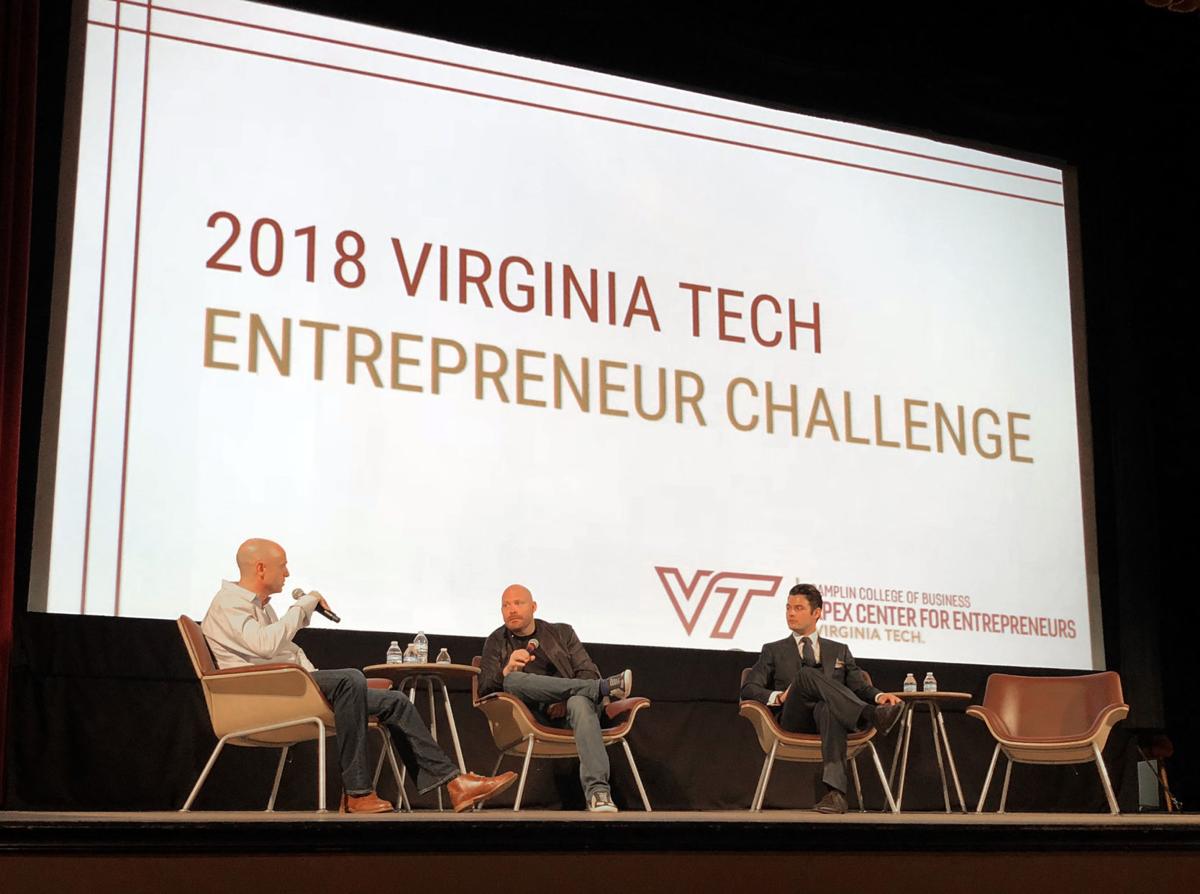 BLACKSBURG — Nearly two decades after selling their startup for $50 million, the co-founders of Webmail.us shared more about the story of what happened behind the scenes before their blockbuster deal.
Pat Matthews and Kevin Minnick keynoted the Virginia Tech Entrepreneur Challenge on Friday, talking about a string of bad ideas and failed business ventures that ultimately led to one of Blacksburg's first big technology startup wins.
Matthews, Minnick and a third Webmail founder not in attendance Friday, Bill Boebel, moved away from Blacksburg after the company was acquired by Rackspace in 2007. Minnick is now back in town with another startup, Chartio, and Matthews has moved on to venture capital investing.
But the story, they told the crowd at the Lyric Theatre Friday, begins inside the Rivermill bar in downtown Blacksburg.
Minnick and Matthews had been randomly paired together as dorm roommates during their freshman year at Tech. In 1999 they were seniors, internet startups like Google were just getting off the ground and they hatched an idea over beers for a sort of social networking website.
It was called FieldParty.com, and would be a place where people could find a list of events happening in college towns across the U.S. One of the perks the business offered users was an email address when they signed up.
"The dotcom thing crashed and we realized nobody was going to fund our idea," Matthews said. "We realized it was the wrong idea, wrong time, wrong place, wrong everything."
The three college friends ditched their startup and moved on to their next idea: content management software for newspapers.
They called their second company Excedent Technologies, which Matthews can admit now was a terrible name. The business grew to a handful of employees and around $10,000 in monthly revenue.
Again, the startup offered customers email hosting services along with its other offerings and, again, the business fizzled out.
But Minnick, Matthews and Boebel noticed a common thread through both failures. People weren't buying what they had been trying to sell, but everyone seemed to like the company's email service at a time when that technology was just catching on.
Matthews said it's hard to imagine today, with free services like Gmail and Yahoo. But back then businesses were trying to set up their own email accounts and it was hard to find a reliable hosting service.
"At one point we just said, 'Well maybe we can start selling email addresses,'" Minnick said. "Pretty much within a few months we had flipped completely and just focused on selling email to businesses."
The college friends had their third startup idea in as many years, this time called Webmail.us.
They raised about $500,000 from friends and family, including $10,000 from Matthews' aunt.
Then they started growing.
Webmail's annual revenue hit $250,000 in 2002 and doubled every year after that to $500,000 in 2003, $1 million in 2004, $2 million in 2005, $4 million in 2006 and $10 million in 2007.
That $10,000 investment from Matthews' aunt, meanwhile, ballooned to $700,000.
The company had been using Rackspace to store its data for years, and the two businesses formed a strong relationship long before acquisition talks began.
"They [Rackspace] could see our growth because we would grow like crazy and they would have to go put five more servers online," Matthews said. "I kind of always teased them about buying us. I would say, 'I know you're going to buy us someday.' Stuff like that. It worked."
Rackspace eventually acquired Webmail in a stock deal that would one day be worth $50 million. When the offer came in, Minnick remembered a long night celebrating at Poor Billy's on North Main Street.
The founders recounted their story on Friday just blocks from where they first hatched the idea two decades prior.
It was an event sponsored by Virginia Tech's Apex Center for Entrepreneurs, which was designed to promote startups and included a business pitch competition with a $60,000 grand prize.
The whole event would have been unthinkable just a few years ago, the founders said of their time in the startup trenches.
"We did not have this at all when we were in school. We just felt like a couple of odd ducks doing stuff that nobody else was doing," Matthews said. "I think this is really awesome to see."