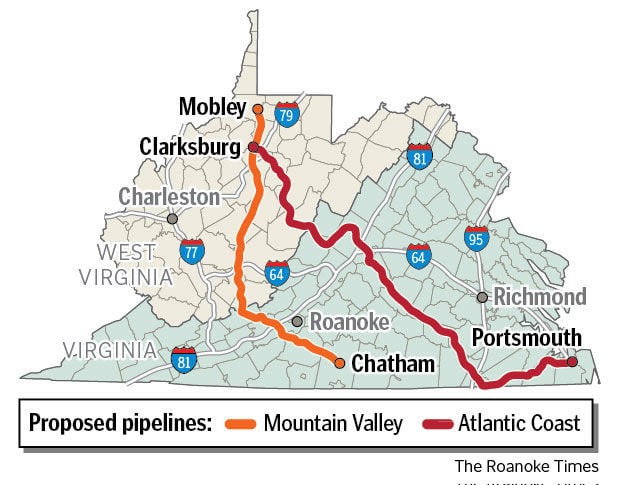 One partner in the controversial Mountain Valley Pipeline project informed investors that "competition for pipeline infrastructure within the Appalachian Basin is intense" and warned that lack of access to such infrastructure could drag down company earnings.
EQT Corp.'s annual report, filed Feb. 11, said investments in affiliate EQT Midstream, one partner in the 301-mile Mountain Valley interstate pipeline, should help yield the infrastructure desired.
Yet a study by a Cleveland-based think tank that promotes renewable energy contends that natural gas pipelines out of the Marcellus and Utica shale formations in the Appalachian Basin are being overbuilt.
David Messersmith, an educator with Penn State Extension's Marcellus Education Team, said he believes the truth resides somewhere in the middle.
"There is clearly a need for additional pipeline infrastructure, although perhaps not as much as is currently proposed," he said. "This is a market-driven process, and we are perhaps beginning to see the market correct itself regarding pipeline capacity."
He cited a recent decision by Kinder Morgan and subsidiary Tennessee Gas Pipeline to suspend the Northeast Energy Direct interstate natural gas pipeline project. A statement from Kinder Morgan said it decided to suspend the 420-mile, $3 billion project because not enough customers had signed on to ship gas through the pipeline.
"It wouldn't surprise me to see additional projects in the Marcellus-Utica basin canceled or put on hold," Messersmith said.
The study suggesting that pipelines are being overbuilt was published by the Institute for Energy Economics and Financial Analysis at the request of Appalachian Mountain Advocates and Appalachian Voices, two nonprofit organizations opposed to both the Mountain Valley Pipeline and the separate Atlantic Coast Pipeline.
Karl Cates, a spokesman for the institute, said the two groups did not pay for the study. Funding came from philanthropic foundations that support the institute's work and renewable energy, he said.
The study never explicitly states that the two pipelines are not needed. Instead, it suggests that the Federal Energy Regulatory Commission's analysis of proposed interstate pipeline projects lacks a comprehensive process to establish the need for new natural gas infrastructure.
Messersmith said FERC does not comprehensively evaluate the need for all pipeline projects serving the same market.
"To some degree, I believe the market will identify which projects are needed and capital will flow to those projects," he said. "It may be an inefficient system but ultimately I believe it works."
Yet Messersmith also said he believes "there is some merit to comprehensively evaluating pipeline infrastructure projects, especially those following a similar path and serving the same market."
Many opponents of the Mountain Valley and Atlantic Coast projects have said FERC should prepare a Programmatic Environmental Impact Statement to consider together these similar projects and their cumulative impacts.
FERC has repeatedly said its role does not include a plan or policy focused on the development of natural gas infrastructure. Instead, FERC has said it acts on individual applications and will authorize an interstate pipeline project if it "is or will be required by the present or future public convenience and necessity."
Meanwhile, the companies backing the multi-billion dollar Mountain Valley and Atlantic Coast projects say the demand is clear. And FERC says its review process does evaluate the possibility of overbuilding.
A FERC filing by Mountain Valley Pipeline reports that natural gas shippers have signed on for 100 percent of the pipeline's capacity and are committed to long-term agreements.
Mountain Valley said its $3.5 billion pipeline will help meet the growing demand for natural gas by local distribution companies, industrial users and electric power plants in the Mid-Atlantic and Southeast U.S. markets.
Natalie Cox, a spokeswoman for Mountain Valley, said an analysis by Wood Mackenzie, an energy consulting and market research firm, confirmed demand for the natural gas that the pipeline would transport. She said the report made it clear that the Southeast market demonstrates more than enough natural gas demand to support the pipeline's current capacity.
Aaron Ruby, a spokesman for the 600-mile, $5 billion Atlantic Coast project, emphasized that it, too, will serve strong demand.
"There is no question about the urgent public need for the Atlantic Coast Pipeline," Ruby said.
He said ICF International, which he described as a leading economic consulting firm, reported last year that demand in Virginia and North Carolina for natural gas will increase nearly 165 percent from 2010 to 2035. He said Atlantic Coast paid for the analysis.
He said the natural gas supplied by the Atlantic Coast project will serve electric utilities building or converting power plants to generate power from natural gas instead of coal.
And he said the pipeline will provide additional supplies of natural gas to the Hampton Roads region, where he said service to large industrial customers is sometimes curtailed during periods of peak demand.
Ruby cited a March 11 letter from the Hampton Roads Caucus of state legislators to Virginia's U.S. Sens. Mark Warner and Tim Kaine. The letter, signed by 33 legislators, advised the senators that the region's pipeline infrastructure "is now operating at capacity and subject to severe stress during periods of extreme demand."
The Institute for Energy Economics and Financial Analysis study also suggests that FERC supports pipeline overbuilding by a rate system that allows pipeline companies to earn a robust profit, with rates that allow a return on equity of up to 14 percent.
Tamara Young-Allen, a spokeswoman for FERC, declined to comment about the issue of return on equity, noting that the commission does not comment on studies like the one by the institute.
The study also lifts a quote from an earnings conference call in August 2015 for Energy Transfer Partners, a major player in natural gas pipelines. CEO Kelcy Warren responded to an analyst's question about the potential for overbuilding infrastructure.
"The pipeline business will overbuild until the end of time," Warren said. "I mean, that's what competitive people do."
The institute's report also said customers of local distribution companies like Roanoke Gas could end up absorbing costs tied to overbuilding.
Roanoke Gas is a subsidiary of Roanoke-based RGC Resources, as is RGC Midstream, the subsidiary involved in the Mountain Valley Pipeline. RGC Midstream has a 1 percent interest in the project.
RGC Resources' most recent annual report, filed Dec. 10, featured a lengthy overview of risks tied to the investment in the project. A related statement warned investors in RGC Resources: "Any significant delay, cost overrun or the failure to receive the requisite approvals could have a significant effect on the company's earnings and financial position."
Investors face that risk. But what about customers of subsidiary Roanoke Gas? Will they help pay for the pipeline? RGC Midstream anticipates its contribution to pipeline construction ultimately will total about $35 million. It has paid in more than $1.4 million to date.
John D'Orazio, president and CEO of RGC Resources, said Roanoke Gas customers will not be affected by pipeline construction costs. He said RGC Midstream's costs are "walled off" from capital improvements by Roanoke Gas, costs that the company might seek to recover through customer rates.
But energy analyst Cathy Kunkel, one of the authors of the Institute for Energy Economics and Financial Analysis study, offered another perspective.
"Roanoke Gas has entered into a shipping contract for 0.5 percent of the capacity of the pipeline," she said. "The rates for shipping contracts are set to recover the capital costs of constructing the pipeline."
She said that although it is true that pipeline shippers, including Roanoke Gas, are not paying up front for the cost of pipeline construction, the shipping rates are designed to recover those costs over the lifetime of the project.
"Thus, Roanoke Gas customers will be paying for that share of the pipeline's construction costs in their natural gas rates for the next 20 years," Kunkel said.
D'Orazio did not dispute Kunkel's analysis but said he would emphasize that Roanoke Gas' costs as a shipper reflect the expense of reserving natural gas moving through the pipeline.
He said it is prudent for RGC Resources and Roanoke Gas to have another source of natural gas to serve regional demand.
Meanwhile, the study calls on FERC to suspend review of applications from Mountain Valley and Atlantic Coast for the certificate needed to begin construction. The commission should establish "a comprehensive planning process" for natural gas pipelines, the report declared.
Young-Allen declined to comment.
If FERC grants a certificate to one or both projects, the pipeline companies will have access to eminent domain to acquire rights-of-way across private property when negotiations fail to reach an agreement on compensation.
The study warned that "landowners are at risk from having their land seized and potentially damaged for pipeline projects that are not needed."