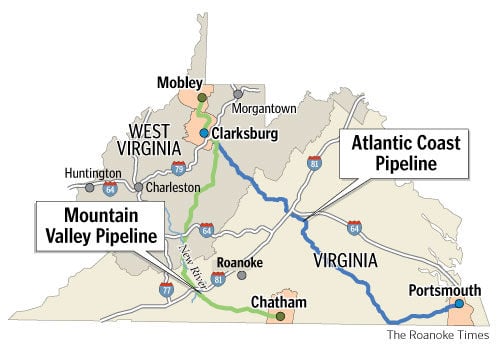 That was the reaction among many Floyd County residents organizing opposition to the proposed Mountain Valley Pipeline when, during a Sept. 2 news conference, Gov. Terry McAuliffe touted the economic benefits of a separate interstate natural gas pipeline envisioned for a different region of the state.
A news release that day from McAuliffe's office described the proposed Atlantic Coast Pipeline as "an energy superhighway" that would create thousands of jobs during construction, yield about $1.42 billion in economic activity and generate hundreds of thousands of dollars each year in state tax revenue.
Mara Robbins is acting director of Citizens Preserving Floyd County, a group that opposes the Mountain Valley Pipeline — an interstate transmission line that would move natural gas at high pressure through Floyd and several neighboring counties before terminating at another pipeline's compressor station in Pittsylvania County.
Robbins described McAuliffe's support for the Atlantic Coast Pipeline as profoundly disappointing.
Starting in West Virginia, both pipelines would pump natural gas that has been extracted through hydraulic fracturing, or fracking, from Marcellus and Utica shale formations.
"We hope he reconsiders," Robbins said, noting that the governor's stance regarding the Atlantic Coast Pipeline seemed at odds with his opposition to fracking in the George Washington National Forest.
"I was actually shocked when he declared the Atlantic Coast Pipeline to be such a tremendous opportunity for Virginia," Robbins said.
The 550-mile Atlantic Coast Pipeline would be a joint venture by Dominion, Duke Energy, Piedmont Natural Gas and AGL Resources. Dominion would build and operate the 42-inch diameter pipeline.
McAuliffe's source for the economic development benefits he cited Sept. 2 was a report prepared by Chmura Economics and Analytics of Richmond. The report was commissioned by Dominion.
McAuliffe has not yet taken an official position about the Mountain Valley Pipeline and likely won't until more is known about the project, according to Brian Coy, a spokesman for the governor.
"The governor offered his support for the Atlantic Coast Pipeline after the company decided to build it and had offered a concrete projection of the route and the clear economic benefits to the commonwealth," Coy wrote in an email. "If the Mountain Valley Pipeline progresses to the same stage he will evaluate it at that time."
EQT and NextEra Energy are the companies whose joint venture would build the 330-mile Mountain Valley Pipeline. EQT has said the envisioned route of the pipeline would likely take it though Giles, Pulaski, Montgomery, Floyd, Franklin and Henry counties before terminating at another company's pipeline in Pittsylvania County.
In an email, Natalie Cox, a spokeswoman for EQT Corp., said the joint venture has not yet sought McAuliffe's support.
"We look forward to briefing Gov. McAuliffe and his administration when we have more definitive details on the project," she said.
Cox said the pipeline's diameter would be either 36 inches or 42 inches, based on the capacity necessary to serve customers who commit to buying gas from the pipeline.
EQT contributed $15,000 to McAuliffe's inaugural committee.
Both pipelines would need approval from the Federal Energy Regulatory Commission to move forward with construction.
Jane Cundiff is a member of Citizens Preserving Floyd County and one of the many landowners in the county contacted by a contractor requesting access to their land for scouting a possible route for the pipeline.
"This vast expansion of fracking and piping a fossil fuel across sensitive ecosystems is a slap in the face of conservation," she said.
Cundiff said McAuliffe has received large donations from the companies that want to build pipelines "and ignored the environmental consequences."
Coy said Dominion, which has contributed $150,000 to various McAuliffe-related political committees since 2012, "has indicated that this pipeline will help them transition some of their energy production away from coal, which has twice the carbon of natural gas."
Yet other donors to McAuliffe-related political committees have, like Robbins and Cundiff, expressed dismay about the governor's support for the Atlantic Coast Pipeline.
The Virginia League of Conservation Voters contributed nearly $1.7 million to McAuliffe's campaign for governor. Michael Town, the league's executive director, has characterized the Atlantic Coast Pipeline as "a project that by many measures is of dubious value."
In a Sept. 2 news release, Town said that the league "is especially concerned with the impacts this project will have on the local communities disrupted by the pipeline."
Elizabeth McCommon of Blacksburg shares that concern. She referenced the Sept. 2 news conference in Richmond that included McAuliffe and Tom Farrell, chairman, president and CEO of Dominion, and other backers of the Atlantic Coast Pipeline.
"My personal opinion is that McAuliffe's photo op was in response to the heavy opposition in the eastern states to the many lines proposed," McCommon said.
"The opposition in other states is intense," she said. "There had to be a positive response implying good news for the sake of the industry, its advocates and their huge investments so far."
Dominion has said that the abundance of natural gas extracted through fracking has made natural gas a "low-cost energy source that is decreasing the nation's dependence on foreign imports" while also providing a cleaner alternative than coal for power generation.
Coy said McAuliffe "supports the Atlantic Coast Pipeline for one reason: It will be good for Virginia."
Coy added, "Bringing cheap and abundant natural gas to Virginia will create thousands of jobs, keep energy costs low and reduce Virginia's carbon footprint."
Robbins countered that the interstate natural gas transmission pipelines proposed for the state could cause incalculable damage.
"It is astounding that we are placing our commonwealth's resources at the mercy of the unpredictable, environmentally reprehensible practice of fracking when we could be expanding sustainable energy solutions such as solar power," Robbins said.