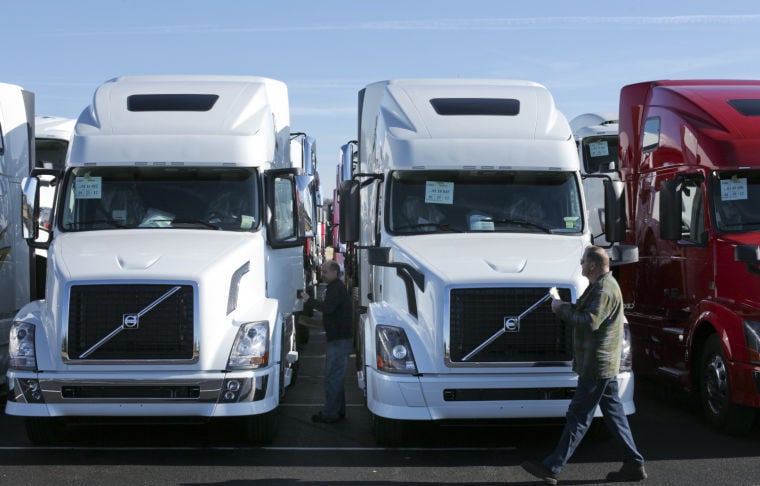 Volvo's New River Valley assembly plant in Dublin is now completely powered by methane gas, making it carbon neutral, the company announced Wednesday.
The gas that produces the plant's electricity comes from 13 landfills in the region.
The fossil fuels previously used to generate the NRV plant's electricity in 2013 produced 40,408 tons of carbon dioxide (CO2) emissions, according to a company news release. Volvo's electricity provider now uses landfill gas to produce power for the plant that otherwise would have required fossil fuels to produce.
"We are proud that Volvo's commitment to sustainability goes beyond producing fuel-efficient trucks," said Göran Nyberg, president of Volvo Trucks North American Sales and Marketing. "Our customers can be assured that we strive for energy efficiency every step of the way."
"I want to congratulate the entire NRV team for their contributions to our core values of quality, safety and environmental care and their work toward creating a better future for our shareholders, our customers and our people," said Franky Marchand, vice president and general manager of the NRV plant. "Today, our electricity is produced without any additional CO2, contributing to an improved environment for our community. The trash of the past is the methane gas that fuels our plant today."
Plant management and employees have also worked together to identify and implement various initiatives to reduce the plant's CO2 footprint through energy efficiency. Some notable results of those efforts include capturing solar heat absorbed on an exterior wall of the plant to provide heating and removing the lighting from vending machines throughout the plant. These initiatives resulted in a reduction of energy intensity by
The NRV plants energy conservation efforts have been recognized with certification under both ISO 50001 standards and the U.S. Department of Energy's Superior Energy Platinum (SEP) program — the top international and U.S. certifications for driving continuous improvements in energy efficiency, according to the release.
The company announced last year that recycling initiatives added up to zero landfill status — meaning nothing gets thrown away.
 A lot of the trash is eliminated through traditional recycling methods, some Volvo pays to put to more creative use, and whatever is left over is converted into energy for Virginia's power grid.
One implemented employee idea was as simple as adding a bucket. A spray bottle was used to clean parts before they were added to the trucks. It didn't make sense to use the soap solution just once before rinsing it down the drain. Now the parts are sprayed above a bucket hung on the side of her workstation. That way the soap can be collected and reused.
It's changes like that that company officials say have made all the difference.
Some of the improvements have come from the top down, but the majority of ideas are born on the assembly line.
About half of the factory's waste was recycled when it started its waste reduction initiative in 2003.
As of last year, Volvo was using 30 percent less energy per truck than it did in 2008, and 70 percent less water, according to company data. Solar panels line the parking lot, contributing a small amount of electricity to the facility, and a wind turbine powers the lights that welcome visitors at night.