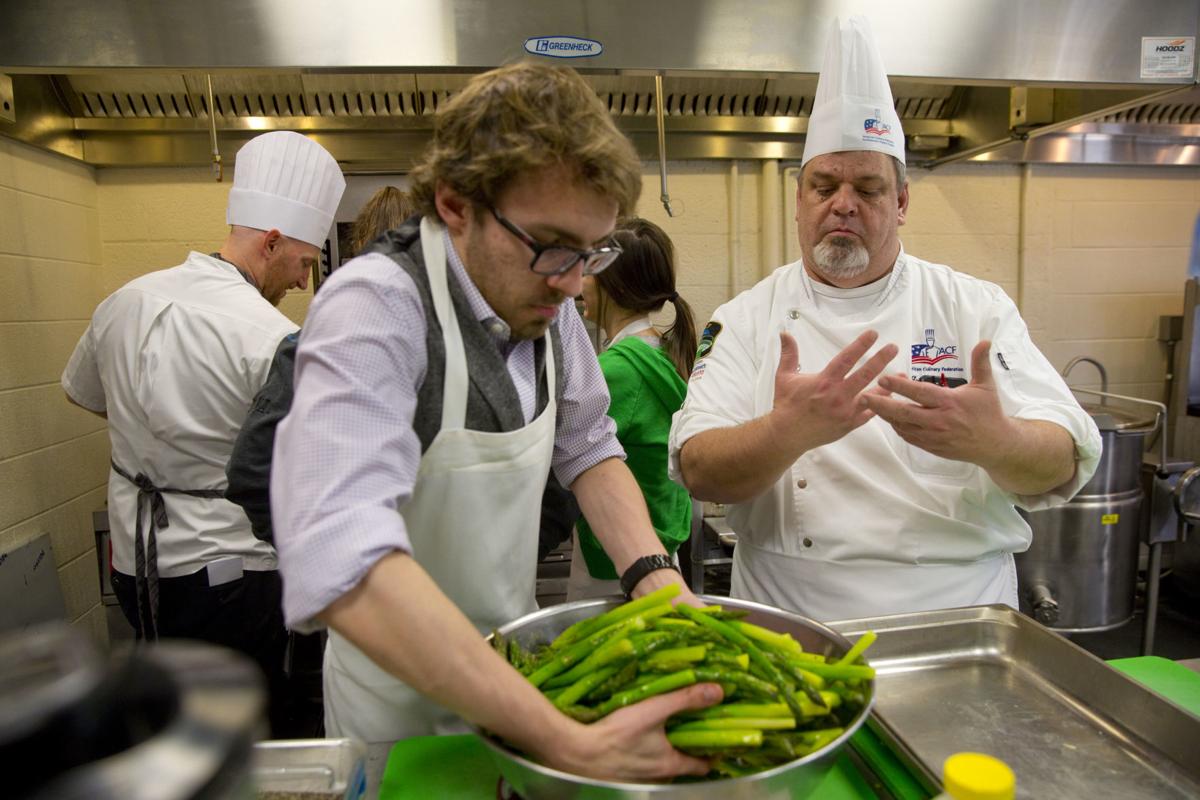 From the ovens, wafting aromas of baking seasoned chicken and spice-bathed Granny Smith apples began to commingle.
Students in the commercial kitchen at Virginia Western Community College's Al Pollard Culinary Arts Institute were tossing vegetables into a pot for stock, trimming asparagus, whipping up meringue.
Tucked in a kitchen corner, Jefferson College nursing student Brooke Windley and Virginia Tech Carilion School of Medicine student Meyha Swaroop were finally ready to roll balls of dough into circles.
They had waited patiently together for the 20 minutes required to let the gluten rest after they had separated the dough and weighed the portions. If they rolled too soon, the dough would shrink.
Slowly, one by one, the circles were formed and popped into the oven. A few minutes later, the dough, too, had popped as it baked, creating the pocket found in pitas. The students beamed at their success.
Cooking lessons are a staple of this kitchen inside the Claude Moore Education Complex. But on this day, these students weren't looking to pursue careers in culinary arts — rather, in the healing arts.
If, in the future, they offer a prescription for longer, healthier lives to their patients — to eat whole foods, exercise regularly and sleep well — they will be better prepared to convey the complexities of what those simple words mean.
Two of the medical students, Alyssa Vassallo and Miranda Creasey, said they found out at a young age how the wrong foods can contribute to poor health. Neither can eat gluten for different reasons. Vassallo follows a Paleo diet, Creasey the FODMAP.
But they were rare among the students working in the kitchen, many of whom cram meals into busy schedules.
Some were learning new skills, how to chop vegetables or roll dough.
As they worked, they soaked in lessons from the chefs about the choices going into the two meals they were preparing — one low-sodium and one low-fat — before their guests would arrive.
The Virginia Tech Carilion medical school is not the first in the country to incorporate culinary medicine into its program, but it may be the first one to mandate students take it. And the school has added another flavor to the program by mixing the medical school students with physician assistant and nursing students from Jefferson College of Health Sciences.
Since its founding a decade ago, the Virginia Tech Carilion School of Medicine has required its students to work in teams with students from other disciplines. Interprofessionalism, as it is called, is one of the core principles of this medical school, and is a relatively new development in health care that promotes collaboration among different types of caregivers.
Overcoming 'major disconnect'
Ally Bowersock, program director of health and exercise science at Jefferson College, said she was working on her doctoral dissertation on exercise science and exercise prescriptions when she looked into what others training for health care occupations were learning to prepare them for counseling patients on healthy lifestyles.
"I realized there was little training in medical school, dental schools, nursing — all of health care training — to learn how to help patients have healthy outcomes," Bowersock said. "That's a major disconnect. Patients will have questions, and folks should be poised to answer them."
Bowersock said she met Dr. Beth Polk, a family physician with certification in lifestyle medicine, who has been in charge of third-year students during family medicine rotations since the medical school opened, and Polk then made it possible.
"I have the ability to put something in the curriculum," Polk said. "Two years ago, we had a half-day program with them about nutrition, exercise and sleep — how they can talk to patients about those things, but also to have them look at their own behaviors."
Students now have a culinary component in their curriculum. Part of it is to help students learn how to have conversations with patients.
"One of the techniques is to try and take the negative language out of it by talking to them about their body mass index being above the target range. Based on your height, your weight is high, and this is why we care as there is a risk for diseases like diabetes and high blood pressure," she said. And then talking to patients about ways to prevent, maintain or even reverse the course of disease.
Students learn that this takes time, Polk said.
During the workshops, a fictional patient shows up and is counseled on a diet. She returns and is given an exercise program. The third time, she comes complaining she's tired, so the talk centers on sleep hygiene.
"There are so many things they need to know, and everyone is vying for their time. This stuff, to me, affects any field they go into — family medicine, surgery, neurology. All of it is touched by lifestyle. They need to know about it, even if they are not the one that needs to manage it," Polk said. "We learn a lot of things in medical school that we don't use. This, we use again and again."
Tulane University's Goldring Center for Culinary Medicine was the first in the nation to have a teaching kitchen. Other medical schools offer culinary medicine, but as an elective.
Polk and Bowersock belong to the Lifestyle Medicine Education Collaborative, which Polk said is figuring out how to get lifestyle medicine into medical schools.
"Our school is out there in the forefront," Polk said. "We're really excited that the medical school has added this to the first year. That's awesome."
Understanding 'eat healthy'
Dr. Dave Trinkle, the school's medical director for interprofessionalism, saw an opportunity to spice up the lessons through culinary arts.
Interprofessionalism is "so students become aware early on what other health care students are studying, and what they will be bringing to the table for patients. It's how to work in teams so patient quality and safety go up," he said.
The 42 first-year medical students team with 42 physician assistant students and 30 or 40 first-year nursing students from Jefferson College.
Trinkle said they've tried lectures, panel discussions, small group activities, lots of simulations.
"Some of it's worked, and some of it hasn't," he said. "We saw this whole culinary piece as an excellent opportunity for young, first-year students to be required to do team work in a busy, high-pressure situation."
So they reached out to another school: Virginia Western's Al Pollard Culinary Arts Institute.
"To learn team skills in a hectic commercial kitchen, you have to prepare a meal for a special population, not be sure who's working with you, not be 100 percent sure of your role, but you know in a couple of hours you have to deliver a safe meal with customer satisfaction in mind," he said.
Trinkle said the exercise is analogous to an operating room, emergency room and many other medical settings where the team members change every day and you have to quickly understand who the other players are and what they do.
At the end of the culinary course, the students will have to publish a recipe and talk about the costs of purchasing the right food, how to tweak recipes with spices and some of what they learned, he said. All of it will be made into a book.
Trinkle said the title, "So You Tell Your Patients to Eat Healthy," is a play on the joke that doctors are always telling patients to eat healthy but not really understanding themselves what that means. More difficult, he said, is explaining how to cook affordable, nutritional meals to a patient who's holding down a couple of jobs, is caring for children and has limited money and access to a grocery store.
"At the end of the day, when you say 'eat healthy,' you better understand what that means," he said.