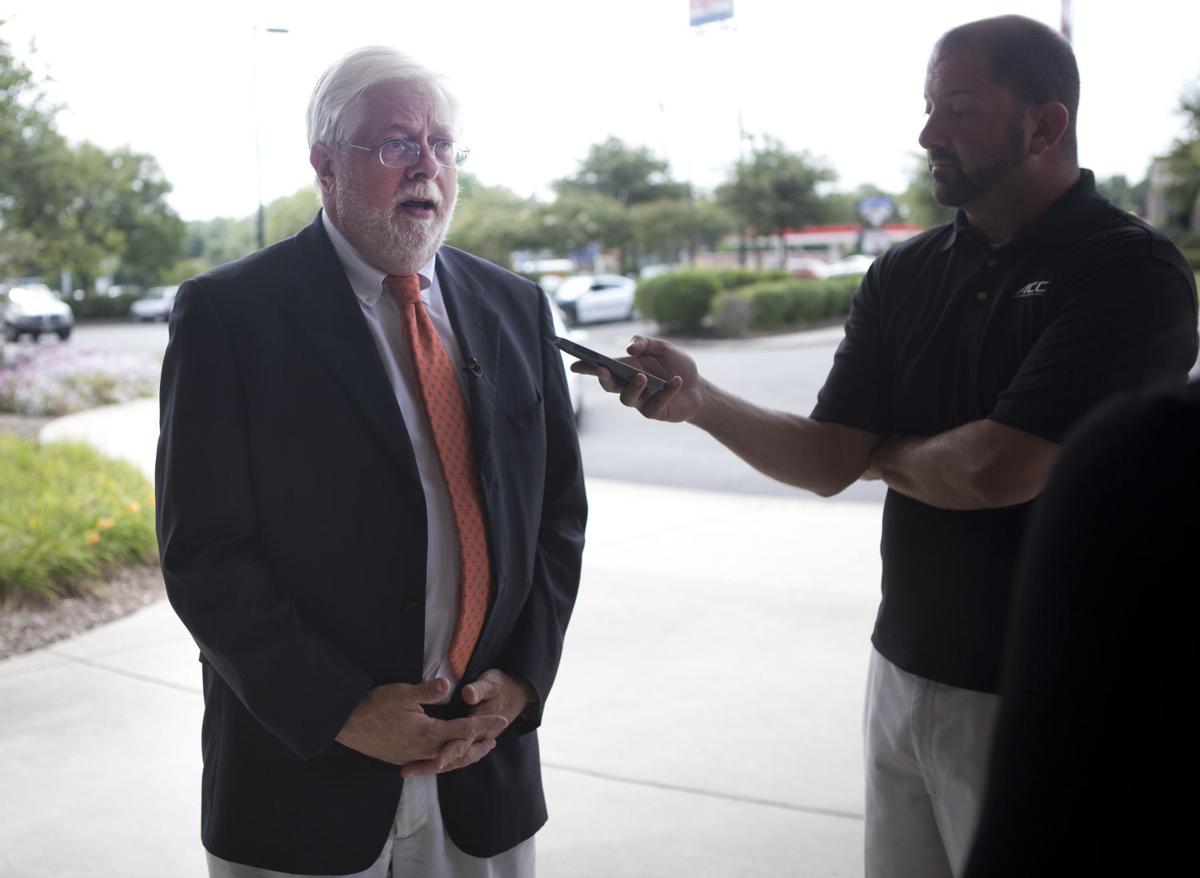 Jeffrey Marks, the president and general manager of WDBJ (Channel 7) who guided the station through the shock, mourning and recovery that followed the on-air killings of two Channel 7 employees last year, will leave Roanoke's top-rated television station for a role with its new corporate owner.
Marks said he will become director of talent development for Gray Television, the Atlanta-based media company that is buying WDBJ and several other television stations from Schurz Communications of Mishawaka, Indiana. The sale of the stations could be complete by Feb. 1, according to a Schurz executive.
Marks said he decided to stay at WDBJ through the sale. In his new job, he said that he will help recruit and develop new talent for Gray's stations, which will number 50 after the sale. He plans to stay in Roanoke for the time being and will work from home and on the road.
"I expect I'll be working out of my briefcase," he said. "It's a big job, and one I think I will enjoy. Gray wants to step up their recruitment of talent and development of talent. This is something I can really sink my teeth into."
Marks, 63, has been the boss at WDBJ since 2007 and is just the fourth general manager in the 60-year history of Roanoke's CBS affiliate. His leadership came during a tumultuous time for news organizations, including broadcast outlets, as more digital offerings pried eyeballs away from traditional newscasts. WDBJ was also hit with a record penalty from the Federal Communications Commission after a 2012 newscast included a televised image from a website that briefly showed male nudity. WDBJ has appealed the FCC fine.
Still, nothing could compare to the tragedy that unfolded on Aug. 26 when reporter Alison Parker, 24, and cameraman Adam Ward, 27, were shot and killed by a former WDBJ employee during a live segment aired on the "News 7 Mornin' " broadcast.
Following the deaths of Parker and Ward, Marks became a national voice for WDBJ's anguish. He conducted interviews with dozens of national media outlets that camped in Channel 7's parking lot, spoke at memorial services and continued to make sure the station produced daily newscasts while reporters and co-workers processed their grief, sometimes during emotional broadcasts.
"When August 26 happened, I was so thankful to have him there," said Marci Burdick, senior vice president of broadcasting for Schurz. Burdick praised Marks' "ability to manage all of the external forces, all while never taking his eye off the way the staff was feeling inside. He never thought about himself, it was always about the staff. That's the mark of a true leader."
A native of Lexington, Kentucky, who was inducted into the Kentucky Journalism Hall of Fame last year, Marks came to Roanoke from WAGT in Augusta, Georgia, in July 2007. His broadcasting career began in 1971, when he was a student at the University of Kentucky, and he has been a radio reporter, TV news producer, editorial producer and general manager. He was an executive news producer at WJLA in Washington, D.C. and worked at stations in New York, New Jersey and Maine before joining Schurz in 2005.
Marks also presided over a transitional period for WDBJ, the longtime leader in the Roanoke-Lynchburg TV market. The station saw the departures of longtime anchorman Keith Humphry, sports director Mike Stevens, news director Amy Morris and other veteran reporters. Marks' 2011 hiring of then-23-year-old Chris Hurst as co-anchor alongside Jean Jadhon at the signature 6 p.m. newscast was a surprise move at the time.
Now, four and a half years later, WDBJ is still the market leader in broadcast news. The station's newscasts are the most-watched from morning until night.
Kevin Latek, a senior vice president for Gray Television, said the WDBJ job will be advertised after acquisition of the Schurz stations is completed. He said that Marks' experience will benefit his company, which will expand from 30 markets in the United States to 50 after the deal.
"News is incredibly important to us, and we want to marry his skills with our needs," Latek said. "We're a company that's expanding, and we want to make sure we keep up with training talent as we should. Jeff has decades of experience in television and television news. We're grateful he's not ready to retire yet."
Marks has also been active in Roanoke's charitable and cultural circles. He has chaired the boards of United Way of Roanoke Valley and Opera Roanoke and has been on the board of the Roanoke Valley Convention & Visitors Bureau.