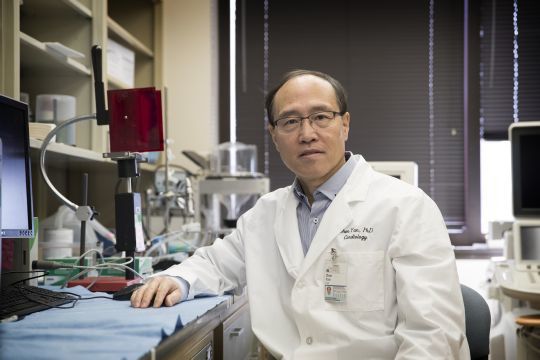 A walk a day may keep the coronavirus away, or at least keep it from killing you.
A University of Virginia researcher who studies the protective effects of exercise said Wednesday that endurance exercises — running, brisk walking, swimming, jumping — prompt our muscles to make an antioxidant that travels through the blood to our hearts, lungs and kidneys.
It then binds to organs, awaiting intruders.
"I use an analogy they are like a Patriot missile stationed somewhere, waiting to defend," said Zhen Yan, a professor in UVa's departments of medicine, pharmacology, and molecular physiology and biological physics.
Yan said his research shows these antioxidants — known as extracellular superoxide dismutase, or EcSOD (pronounced by saying each letter) — can be transferred from a mouse genetically engineered to produce an abundance of the protein into a normal mouse, which can then withstand acute respiratory distress syndrome, a leading factor in COVID-19 deaths.
"Exercise capacity is inversely related with all kinds of mortality. So if you can exercise better, run faster, jump higher, lift more weight, you are less likely to die. That is the best predictor for mortality, including, I think, COVID-19," he said.
Yan is developing two different ways of getting more EcSOD antioxidants into people — one is through developing a medication, and the other is by extracting it from one person's blood and sharing it with another.
While these take time to develop and test, Yan said anyone can start today to build their own supply of antioxidants.
They just need to get moving and stimulate their muscles to produce it.
"At the gene level, a single bout of exercise, like you go running today, will start to stimulate the expression of this gene. It's like taking medicine. One dose of medicine doesn't mean you get enough protection," he said. "I would say it takes a few weeks to gear up this and get to the level that you can get a benefit from this."
Yan is talking about any aerobic exercise that is equivalent to about a 30-minute run. He also recommends weight-lifting exercise, not because it produces EcSOD but because it helps to maintain and build muscle mass.
In his lab, mice are engineered so their muscles produce EcSOD as if they were energetic exercisers. The researchers observed EcSOD bound to all the vital organs, except the brain.
"The exciting thing about this finding in relationship to COVID, when we subjected the mice to a condition called ARDS, or acute respiratory distress syndrome — this is the one I think kills most of the COVID-19 patients — we found animals are protected," he said.
He said they then ran two types of experiments. In one they took the engineered mouse's blood serum and transfused it into a normal mouse and found it also protected that mouse from the respiratory syndrome.
Yan said they also surgically fused two animals: one that produces a lot of EcSOD and a normal mouse. Then they injected the normal mouse with a toxin that would cause ARDS.
"The normal animal transfused with the other animal does not get ARDS because they share blood," he said.
The toxin wasn't the virus that causes COVID-19, but Yan believes EcSOD would offer the same protection.
Yan said when he submitted his article to the scientific journal Redox Biology he wasn't thinking about COVID-19. But after the paper was accepted and pending revisions, he searched the literature and found that ARDS played a role a large percentage of the people who were needing ventilators and dying from COVID-19.
"This idea really became vivid," he said.
He is looking to move his work from mice into humans, and has a biomed company making a drug that could function like EcSOD. All of that will take time to study.
A quicker approach is through protein therapy, by extracting it from blood for transfusions.
"I have already proved the principle will work," he said. "To do it in a better way, I need to purify the protein."
How quickly it could be developed depends on funding for large-scale production and study, he said.