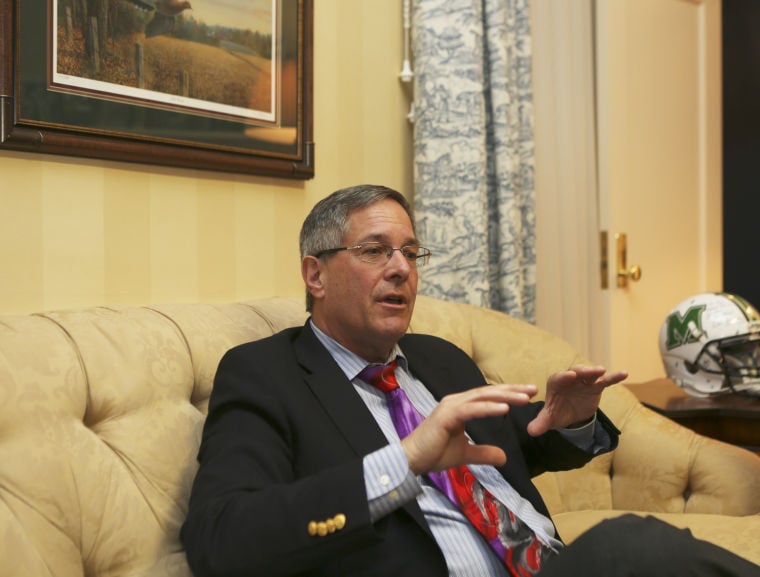 If your electric bill jumps 10 percent to capture climate-warping carbon dioxide from power plants, you can blame Tom Clarke.
But Clarke is betting you'll prefer that to suffering the heat, megastorms and sea rise that climate change scientists predict from rising carbon pollution.
Clarke, one of the region's best-known environmentalists, plans to help save an overheating planet by selling electric utilities coal that's been bundled with carbon credits, which would be an industry first, he said.
He's going to mine coal, the usual fuel for electricity generation, and bundle each shipment with an exclusive feature: a prepaid vehicle to sequester the carbon dioxide that burning coal for electricity emits. Trees, which he intends to plant by the thousands, are that vehicle.
West Virginia-based Patriot Coal Corp., which is in bankruptcy, plans to sell a Clarke affiliate the mines and disturbed mine lands the project needs, according to an announcement by Patriot on Monday morning.
Carbon dioxide management is a huge issue for industry, especially coal-consuming electric utilities. Ahead of a federal mandate in coming years, generating stations that long burned coal are converting to lower-emitting natural gas. It's not yet clear that the U.S. Environmental Protection Agency will let plants that continue to burn coal comply by buying carbon credits, but regulators still must draft new climate change rules.
Monday, Clarke went public with his latest venture, a coal company called ERP Compliant Fuels with an untested business model and large ambitions.
What would a health care executive-turned-environmentalist want with the dirty, dying business of mining coal? Clarke and the Virginia Conservation Legacy Fund have substantial land holdings and partners with holdings of their own. Between them, they control a slew of wild and planted forests, which are proven to rob climate change of its chief fuel — carbon dioxide.
"Trees store carbon, sequestered from the air, as the wood and plant material that makes up their mass," according to the Botanical Society of America.
Through a complex validation process, it is possible to monetize the carbon dioxide-sequestering capacity of a stand of trees. A salable "carbon credit" is the result. Purchasers of carbon credits offset the carbon dioxide pollution they emit.
If he gets the coal mines he has proposed to buy, Clarke said he plans to become the first U.S. coal producer to sell electric utilities coal bundled with reforestation/forestry carbon credits. For about a 10 percent spike in cost, Clarke's coal would come with credits, equal to about 30 percent of the combustion emissions, already paid for, he said.
"The tree is the answer, it really is the answer," Clarke said.
It doesn't matter that Clarke will target coal-fired electrical generating plants in the Ohio River Valley with his pitch, while the designated trees are in Central America and the U.S. South or would be planted in Appalachia. Carbon emissions spread in the atmosphere and the concentration evens out; a party that wants to offset its carbon output can fund tree planting or tree preservation anywhere and benefit the globe, he said.
Clarke said he's not in it for the money, but for the earth. All coal venture profits will belong to the nonprofit and its mission, "to conserve Virginia's natural resources for public access and enjoyment." Clarke said he won't accept reimbursement even for his expenses involved in setting up the venture over many months.
Patriot, a coal miner in Scott Depot, West Virginia, is reorganizing in U.S. Bankruptcy Court for the Eastern District of Virginia in Richmond. It plans to ask the court for permission to implement an asset-purchase offer from Clarke's new company. ERP Compliant Fuels struck a deal Sunday to buy Patriot's Federal mining complex in northern West Virginia and its Corridor G mining complex in southern West Virginia and significant other assets. The tentative closing date is Oct. 9, assuming the judge agrees. Blackhawk Mining of Lexington, Kentucky, intends to buy all other Patriot mines and assets.
In return for taking on more than $400 million of Patriot's liabilities tied to employment and environmental matters, ERP Compliant Fuels would get Patriot's rights to letters of credit and bonds worth more than $300 million and reserves worth $100 million or more, Clarke said. ERP Compliant Fuels would end up with "meaningful positive equity," according to Clarke.
The company would employ about 700 people, including 683 now with Patriot, Clarke said. It would be based at Natural Bridge.
Patriot had told the bankruptcy court it wanted to break its collective bargaining agreement with union miners and change retirees' health care benefits, which drew objections from the United Mine Workers of America.
In contrast, Clarke said ERP is willing to sign replacement labor agreements with the United Mine Workers of America on present terms and conditions, except for a change in the source of funding for some employment benefits. Employees and retirees would own 25 percent of ERP Compliant Fuels, Clarke said.
A coal mining veteran, Ken McCoy, former chief operating officer for United Coal Co., has agreed to serve as CEO of ERP Compliant Fuels, Clarke said. Under the plan, ERP will mine eight Patriot mining permits and do reclamation work on 145.
"The purchase will help restore Appalachian communities through active mining and up to an estimated $176 million investment in land reclamation and water quality improvement," said a release from Clarke's office.
Bill Raney, president of the West Virginia Coal Association, said he liked the few details he had of Clarke's plan and strongly supports continued coal mining.
"I'm intrigued," Raney said. "I could agree with Tom Clarke that we need to continue to use coal because it keeps people working."
Significant possible hurdles lie ahead. The EPA has directed states to enforce new caps on power plant emissions of carbon dioxide. Virginia's rulemaking falls to the Department of Environmental Quality. David Paylor, who directs the DEQ, said the reforestation component of Clarke's plan would benefit Virginia's environment. Speaking through a spokesman, however, Paylor said EPA's written directive on carbon "does not appear to allow for this kind of approach to reducing carbon emissions."
Asked for its reaction, Appalachian Power Co. said it "will consider and evaluate all viable alternatives" to fuel its plants and abide by EPA regulations. "It would be too soon to say this will fit in for us," the company said through a spokesman.
Saying "compliant fuel is so novel that the rules don't even address it," Clarke expressed willingness to push for his plan, in court if necessary.