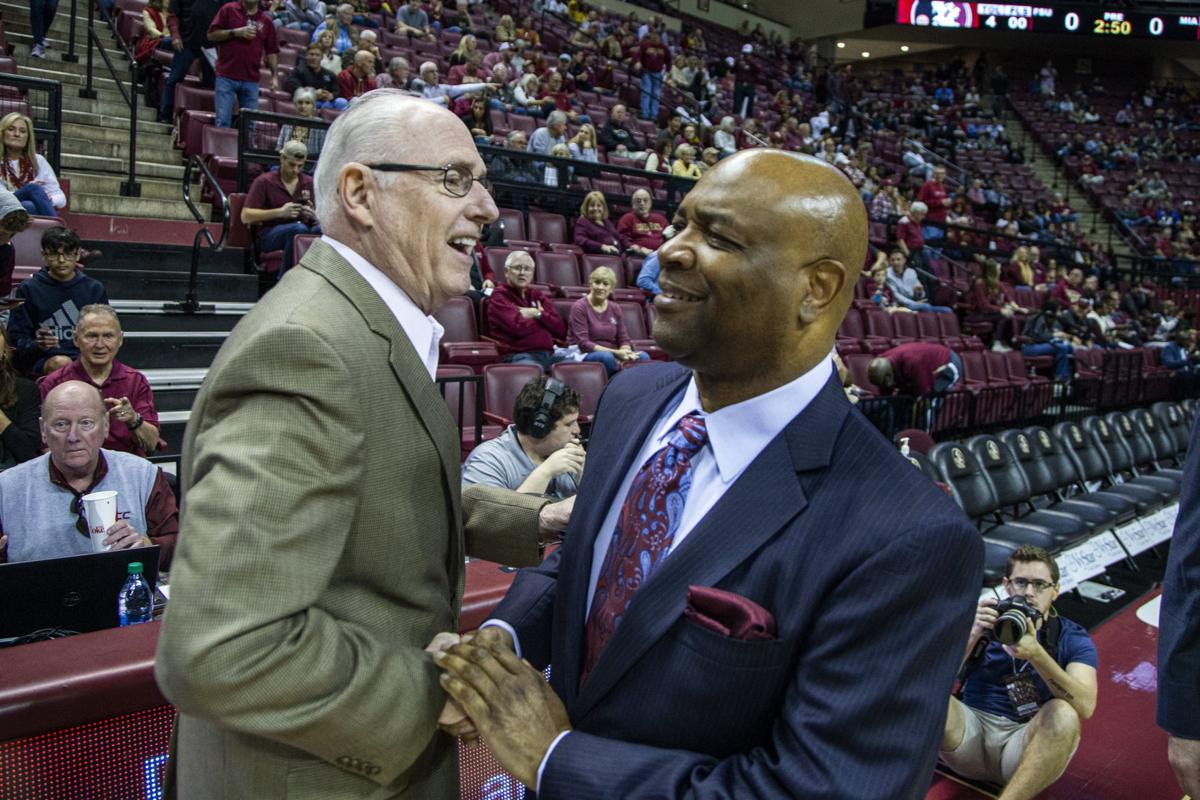 Georgia Tech hired Josh Pastner to coach its basketball program in 2016, and colleagues told him the timing was perfect. The narrative made sense.
Six of the ACC's head coaches were at least 63, and the inevitable regime changes figured to compromise their programs, if only for a spell.
Today, five of those men remain in the ACC.
"None of those guys is ever going to retire," Pastner said recently. "They'll be coaching until they're 100, I'm telling you. They're not going anywhere anytime soon."
Indeed, Syracuse's Jim Boeheim, Duke's Mike Krzyzewski, Florida State's Leonard Hamilton, Miami's Jim Larranaga and North Carolina's Roy Williams don't look or sound poised to exit. And good for them.
Each has excelled for decades, and together they grace the ACC with an unprecedented combination of age and wisdom.
Boeheim is 75, the oldest ever to coach in Division I men's basketball. Krzyzewski is 73, Hamilton 71, Larranaga 70 and Williams 69. They are the five oldest head coaches in ACC men's basketball history.
It's worth pondering again: The five oldest coaches in ACC men's basketball history are active right now and will be working at this week's conference tournament.
In case you're wondering: Prior to this group, the oldest coaches to work in the ACC were North Carolina's Dean Smith and Maryland's Gary Williams, both of whom retired at 66.
"I marvel," Pittsburgh coach Jeff Capel said. "I sit and watch them when I'm scouting, and … they seem so calm on the sidelines. I just think they've seen so much and have so much experience in this profession. They've seen the changes. They know how to adapt. They're all unbelievable coaches, unbelievable leaders
Capel, 45, was the starting point guard on Krzyzewski's 1994 Final Four team at Duke and a Blue Devils assistant when they won the 2015 national championship. Similarly, Notre Dame coach Mike Brey, 60, was a Krzyzewski assistant from 1987-95, during which time Duke reached six Final Fours and won two NCAA titles.
Brey said he looks at his ACC elders and wonders to himself: "Are you going to be able to do that in 10 years? Will you still have that fire? … For a guy that's getting near that age group, that's encouraging to see that juice still."
Hamilton on Monday was named ACC Coach of the Year, two days after Florida State (26-5, 16-4 ACC) won the league's regular season for the first time — FSU won the ACC tournament in 2012. The Seminoles reached the NCAA Tournament regional finals in 2018 and semifinals last year, and Sunday they will receive their eighth NCAA bid in the last 12 years.
Florida State doesn't routinely sign McDonald's All-Americans, but Hamilton and his staff have found a niche recruiting long, athletic prospects at every position, affording the Seminoles depth and a defensive presence almost every season.
"It seems to have fallen into a good rhythm," Hamilton understated.
"Does the 'R' word ever cross your mind?"
"What's the 'R' word? he replied.
Hamilton laughed out loud.
"Absolutely not," he said. "As long as I can see the numbers on the players' uniforms, I'll be out there trying to enjoy myself. … On a serious note, I enjoy what I do. I enjoy working with young people, and I've been fortunate enough to have good health, and I enjoy coming to work each and every day. I think I'm going to be here for a while, if you [media] guys don't run me off."
No chance of that, but we do envy how Hamilton hasn't visibly aged since arriving in Tallahassee 18 years ago following head-coaching stints at Oklahoma State, Miami and with the NBA's Washington Wizards.
Retirement speculation has long swirled around Boeheim. In fact, five years ago Syracuse designated then-assistant Mike Hopkins as Boeheim's eventual successor.
But two years later, with Boeheim signaling his desire to continue working, Hopkins accepted the head-coaching job at Washington. Overcoming mediocre regular seasons, Syracuse made surprising runs to the 2016 Final Four, Boeheim's fifth, and 2018 regional finals, but the Orange (17-14, 10-10) is unlikely to reach the NCAA tournament this season.
"You just keep coaching and see what happens at the end of the year," said Boeheim, completing his 44th season as his alma mater's head coach. "I have no plans to do anything else.
"The energy is the same that it's always been. Try to get our team to play better and be better. The worse you play, the more energy you try and put into it. We've had to put a lot of energy into it this year and have not gotten the results we would like. … When the energy's not there I won't coach anymore."
When asked about his energy, Larranaga answered with a question of his own.
"If you look at the locker room scene after our Virginia Tech triple-overtime win," he said, "I don't think anyone would say he looks like he's tired and ready to retire. Did you see my dance moves? Go online."
Larranaga then texted me a link to the Instagram video of him dancing with his players after the Hurricanes' victory in Blacksburg.
"I've got a long-term contract and plan to be at Miami a long time," said Larranaga, who guided George Mason to the 2006 Final Four. "My favorite time of the day is the two hours we put into practice. I love being around the players."
Plagued by injuries, the Hurricanes (15-15, 7-13) endured a second consecutive losing ACC season this winter. But in Larranaga's first seven years at Miami, the Hurricanes earned four NCAA tournament bids, reached two Sweet 16s and won the 2013 ACC regular season and tournament championships.
Please excuse Roy Williams for not sending Larranaga a sympathy card. North Carolina's most gifted player, freshman point guard Cole Anthony, missed 11 games with a bum knee, triggering, along with myriad other ailments, the worst season in Williams' 32 years as a head coach, 15 at Kansas and 17 at UNC (13-18, 6-14).
Completing his 40th season at Duke, Krzyzewski has raised five national championship banners in Cameron Indoor Stadium. He is Division I's career victories leader with 1,157, and his 2001 Hall of Fame induction came a few months after the Blue Devils' third NCAA title.
With victories over Kansas, Michigan State and Florida State, Duke (25-6, 15-5) is again a national force, and with more elite prospects secured for next season, the Devils' prominence shows no signs of waning. Duke has thrived in the one-and-done era, and Krzyzewski said his age and eventual retirement are not frequent topics with recruits and their families.
"I think they see how I coach and I'm not just sitting on my butt and I'm still working at it," he said. "And if they did [ask], I'd tell them that I don't know because that would be the honest answer.
"Whenever you're working in an … environment that you love, it's going to be a lot more enjoyable, no matter what the stress of the job is. … I love Duke and I love the type of youngsters that Duke attracts. Anyone who's been on a college campus as a professor, or whatever it might be, understands that each year is new and in the fall it's like a rebirth."