A reader writes in about a flag she observed, featuring a four-letter word in conjunction with our 46th president's surname.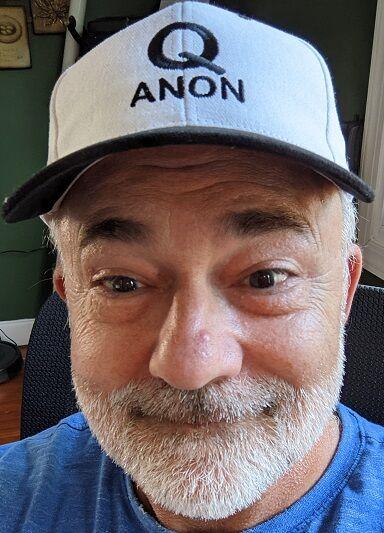 The last time I heard from reader Jami Poff, she was peeved about her mail.
That was August 2020. She and her husband, Marty, were missing some important business correspondence. They knew because they had signed up for Informed Delivery, a free service the U.S. Postal Service offers.
That sends you an email image of soon-to-be delivered letters before they make it to your house. But not all those mail pieces were getting to the Poffs' home in the Cave Spring area of Roanoke County.
Anyway, more recently the retired teacher reached out on a different matter of concern. She posed a multipart question that carries significant constitutional implications, and there's at least a tenuous historical connection to Western Virginia.
"I have a question for you," Poff's email began. "I saw a truck with large flags flying saying '[Blank] Biden.' Is that really legal?"
Just to be clear, the four-letter word in question is considered unprintable in newspapers such as The Roanoke Times. In more polite vernacular, it's commonly referred to as the "F" word. And although it typically refers to sexual intercourse, the term has a broad tableau of uses in English vocabulary.
Because Poff used to teach English at Patrick Henry High, let's first analyze it from a grammatical perspective.
The word is most commonly used as a verb, and in that respect it may be transitive (as in, "I [blanked] so-and-so") or intransitive ("So-and-so was [blanked] by me").
It's also useful as a noun, ("I don't give a [blank]"). On many occasions, I've heard cyclist-friends use it as an adjective in the form of a gerund — a la, "This hill is [blank]ing steep."
Perhaps the term's greatest fan was the late, great comedian George Carlin. He called it "a magical word," because "just by its sound it can describe, pain, pleasure, hate and love."
Now what about Poff's first question? Is the flag legal? The answer to that is a resounding "Yes!" As a political statement, the magical word is protected by the First Amendment. Even when it's used to describe sodomizing the 46th president of the United States.
A couple of U.S. Supreme Court precedents seem relevant.
One involved the late Rev. Jerry Falwell — founder of Liberty University and Thomas Road Baptist Church in Lynchburg — and the late Larry Flynt, founder of Hustler magazine.
Those two had quite a tangle in the 1980s, over a fake liquor ad Hustler published as a joke. It quoted the reverend purporting that he lost his virginity to his mother when they were both "drunk off our God-fearing [posteriors]" in an outhouse loaded with buzzing flies.
Psychologically devastated, Falwell sued Hustler in U.S. District Court for Western Virginia, alleging invasion of privacy, libel and intentional infliction of emotional distress.
The trial judge dismissed the invasion of privacy claim. A jury decided the other claims. It found Hustler had not libeled Falwell because no rational person would take the joke ad seriously. But jurors awarded Falwell $150,000 on the emotional distress claim.
In the fall of 1986, a three-judge panel of the U.S. Fourth Circuit Court of Appeals upheld that verdict. Flynt appealed to the U.S. Supreme Court, which disagreed. Its 8-0 decision overturned the appeal court's decision and the jury's award to Falwell.
Today, Hustler Magazine v. Falwell is considered a landmark case in First Amendment law.
It suggests that while Biden could sue for hurt feelings over that banner, it's doubtful such a case would go anywhere. It seems like a sure loser in light of the Falwell-Flynt dustup.
Another precedent that seems relevant is a 1989 case, Texas v. Johnson, in which the justices ruled, 5-4, that burning the American flag was protected speech, too. If torching the stars and stripes is kosher, how could flying a flag with the magical word be against the law?
Another question Poff asked: "What about my rights or little children's rights not to see that?"
Alas, the U.S. Constitution is entirely silent on one's "right" not to be offended. (That's probably a good thing for yours truly — otherwise I'd be sued every week.)
Poff's next question was, "Where does this nonsense come from?"
If she's talking about that particular flag, it's quite possible it came from the Trump Store in Boones Mill. That I discovered early in July, when I dropped in to purchase a QAnon hat ($15, or two for $25). It's another nifty item that store sells.
Set in a former church along U.S. 220, the Trump Store is owned by legendary huckster Whitey Taylor, who's rarely been shy about chasing a quick buck. But somewhat oddly, the Trump Store doesn't seem too proud of their magical-word + Biden banners. They don't promote them at all.
None was on display when I shopped there. But I had seen photos of similar flags being waved by participants in the violent insurrection in Washington, D.C., on Jan. 6. So I specifically asked a store clerk if any were available. Helpfully, she showed me three varieties.
They were hung on a wall, but beneath some other less offensive flags, as if the store was deliberately concealing them. That's kind of the way tobacco shops used to hide the porn they sold on the sly.
One featured the exact two words that Poff described. Another had the word "Joe" inserted between the magical word and Biden's surname. The third used the magical word thrice, in a two-verb plus one-adjective configuration: "[Blank] Joe Biden and [blank] you for [blank]ing voting for him."
Charming, eh?
One question Poff didn't ask was the best way to react to such a display. I have perfect advice for that: Close your eyes and say a prayer for the fool flying that flag.
Because, while Poff has no "right" not to be offended, the banner-bearer likewise has no "right" to force her to see the thing. (Just don't perform that maneuver while driving.)
And what about if a child spots the banner and inquires?
Here's another reply: "It means the driver's an ignorant jerk."
Contact metro columnist Dan Casey at 981-3423 or dan.casey@roanoke.com. Follow him on Twitter:@dancaseysblog.