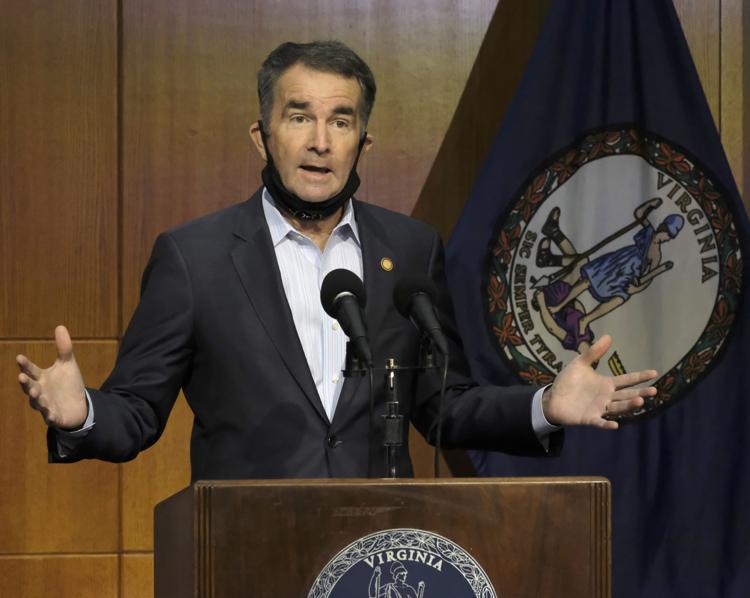 Gov. Ralph Northam said Tuesday that Virginia will not heed the federal government's call to send teachers exposed to the coronavirus back to classrooms, or its directive to stop testing everyone who's been in close contact with an infected person.
"Two weeks ago, the Trump administration reclassified teachers as critical infrastructure workers. This means they could be expected to continue working even if they were exposed to COVID-19. And that's the wrong thing to do," Northam said during a news briefing. "Virginia is taking a different approach. If you are a teacher and there is a high chance you have been exposed to COVID-19, you should get tested and stay home until you get the result even if you don't have symptoms."
The Trump administration has pushed for schools to restart and for teachers and students to be in the classroom. Reclassifying teachers as critical infrastructure workers would mean they would be considered the same as essential health care workers, who can continue to work after exposure to the virus if they don't have symptoms and if keeping them off the job poses a greater harm by having no one to care for patients.
Northam also bucked the Trump administration on new Centers for Disease Control and Prevention guidance that says not all people exposed to the virus should be tested.
"Let me be clear, despite recent changes in the CDC guidelines, Virginia will continue to encourage those who need testing to get it," he said. "If you have symptoms, you think you've been exposed or you need a test to go back to work, you should consult your physician. Period. Again, if you need a test, please get a test."
Northam began his briefing by running through coronavirus data for each of the state's health regions. The virus is holding steady in much of the state, except for the Southwestern region, which has gone from about 80 new cases a day a month ago to 220 new daily cases now.
"The cases there unfortunately are trending up," Northam said. "This is especially concerning in a region where there are fewer hospitals with critical-care capabilities."
The Southwestern region is large geographically and includes the Central Virginia Health District and all localities to the west. Its rate of new cases is about the same as heavily populated Northern Virginia.
When Northam finished presenting all of the regions' numbers, he said, "I hope you are encouraged by these numbers. I know that I am. The reality is that the virus is still alive and well around the commonwealth."
When asked to address additional measures his administration could take to help out with hot spots in Southwest Virginia, Northam said, "We are paying particular attention and enforcing the guidelines we have put forward and so visits are being made to restaurants, bars, etc."
Radford went from 69 cases Aug. 18 to 467 on Tuesday. Most of them are attributed to students. Montgomery County has also seen nearly 200 new cases in the past two weeks since the return of Virginia Tech students.
Different stories are playing out in the region.
On Tuesday, the Mount Rogers Health District reported multiple outbreaks in houses of worship, with one church recording more than 40 cases.
"We value our faith communities and the support and encouragement they provide during these trying times," Dr. Karen Shelton, director of the health district, said in a news release. "We want these communities to continue to be able to provide these important services, and implore both faith leaders and congregants to take steps to keep themselves and their communities safe."
She said that faith communities should hold gatherings outside, maintain 6 feet of distancing and increase the distance to 10 feet if there is singing or shouting. All should wear face coverings, wash their hands and avoid passing objects between members.
The far Southwest Virginia coal counties have experienced a surge in cases that are tied to those in northeastern Tennessee.
The large increase in the number of people needing hospitalization prompted Ballad Health, the predominant health system in the region, to ask its Tennessee counties to adopt mask mandates. Case counts have since slowed.
Ballad has also shifted services among its hospitals and created more COVID-19 units to care for the uptick in seriously ill patients. On Tuesday, Ballad had 100 patients with confirmed COVID-19 cases, with 22 of them in the intensive care unit and 14 on ventilators.
In the Roanoke City and Alleghany Health Districts, cases are trending downward, with between 100 and 150 new cases a week, Dr. Thomas Kerkering, a member of the districts' communicable disease response team, said during a news conference Tuesday.
Just 13 COVID-19 patients were being cared for at Carilion Roanoke Memorial Hospital, LewisGale Medical Center and the Salem VA Medical Center.
He expects an uptick with the opening of schools, the return of college students and the Labor Day weekend. Most of the recent cases have been mild and in young people.
"We will see a number of new cases, and an increase in cases. Then we will have to sort that out through the disease investigation and contact tracing as to what was responsible, schools or vacation. But I would expect to see a bit higher number next week but there are two reasons behind it."
The problem is when the disease moves into older, more vulnerable people.
Galax and Carroll counties have had deadly outbreaks in nursing homes, and the disease has spread through large families.